When Hillary Clinton and Bernie Sanders joined forces last month, they combined their higher education plans into an approach that aims to make public colleges across the nation both debt-free and tuition-free. The plan also offers interest relief to millions of Americans carrying debt from college, and expands support to private colleges, including historically Black colleges and universities, that serve disadvantaged students.
I was involved in the development of Clinton's original debt-free proposal, so I had a sense how the costs of that original plan were estimated. But with the addition of the tuition-free component for those with a family income below $125,000, I was not sure what the effect would be on the costs of the plan. All I knew was that the campaign had set aside $500 billion over 10 years for the revised plan (paid for with a surtax on high investment income), compared to $350 billion for the original plan.
So I decided to take a fresh look at whether a federal budget allocation of $500 billion over 10 years would be enough to cover the tuition and loans of public college students.
The short answer? It's more than enough.
For my analysis I used a federal database (NPSAS), which has a wide array of data on a representative sample of students from across the country. It provides a pretty complete picture of how families actually pay for college because it includes both administrative data on costs and loans and also information gleaned from interviews with students and parents. Importantly, the database has figures on private student loans as well as federal aid.
To determine the cost of the tuition-free portion of the plan, I first calculated the average tuition, after grants, paid by in-state undergraduate students. I also calculated the amount of Pell grants, because an important part of the plan is that low-income students get the full benefit of the tuition reduction even if their Pell grant had already wholly or partly reduced tuition. I calculated these figures for dependent students (for whom parental income matters) and for three types of independent students (single, married, and with dependents). I multiplied those amounts by each group's proportion of the nearly 11 million in-state public college students below $125,000, yielding the total amount it costs to cover the net annual tuition paid now by all of those students (even if it's covered by a Pell grant).
Eliminating tuition does not make college debt-free because many students need loans to cover the costs of food, lodging, books, other supplies, and transportation. To estimate the additional distance the plan needs to go to make public college debt-free, I calculated the average student loans for the independent students, and both student and federal parent loans for dependent students, and then figured out the total annual cost of eliminating those loans after taking into consideration the new tuition aid.
I multiplied the combined total of tuition and debt elimination by the ten-year budget window. The result, after incorporating an average state contribution of one-third, is a federal cost of $252 billion. I did not account for inflation over the decade, but I also did not include the planned phase-in that starts with free tuition only for families under $85,000 income, a feature that should more than balance out the costs of inflation.
The other elements of Hillary's original plan were estimated to cost about $180 billion over ten years (including about $60 billion for refinancing loans of current borrowers). That brings us to a grand total of $432 billion―well below the cost estimate of $500 billion. This rough analysis means there is a substantial cushion for enrollment increases and, if necessary, room to rethink the state role that some have seen as problematic (I consider the state role to be an important component).
I am not saying that it will be simple to design and implement Hillary Clinton's higher education plan. There are a lot of issues that need to be worked out. But there is enough money in her budget to achieve debt-free and tuition-free public higher education.
Before You Go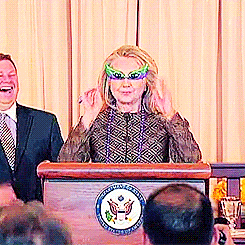 19 Perfect Quotes From Hillary Clinton
Popular in the Community