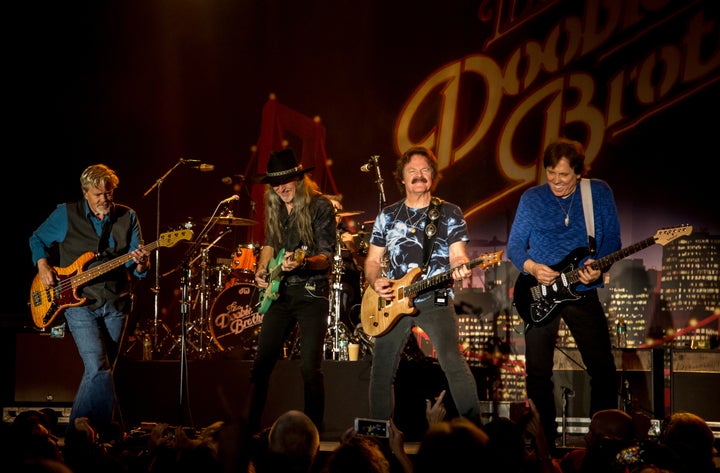 It's a beautiful summer evening in San Diego right on the water. A sold out crowd at the popular Humphrey's by the Bay venue erupts as the Doobie Brothers kick off their set with "Jesus Is Just Alright." Boats in the harbor are packed in tight, enjoying a freebie under a prismatic sunset.
For the next hour and a half plus, the band will roll out all the hits, woven nicely with some evocative deep cuts. The show is a joyous celebration that is clearly unlocking many memories for the crowd. It's rock and roll. But it's also soul, folk, R&B, bluegrass; a rich reflection of many American musical styles that help define the band.
I say to someone nearby, "Do you think the Doobies deserve to be in the Rock and Roll Hall of Fame?" "Hell, yes" he says definitively. That's why they are in there." I tell him they are not, and he doesn't believe me. He actually looks it up on his phone. And I won't repeat here what he said next. In polite language, he was shocked, appalled and thought it an outrage.
I couldn't agree with him more.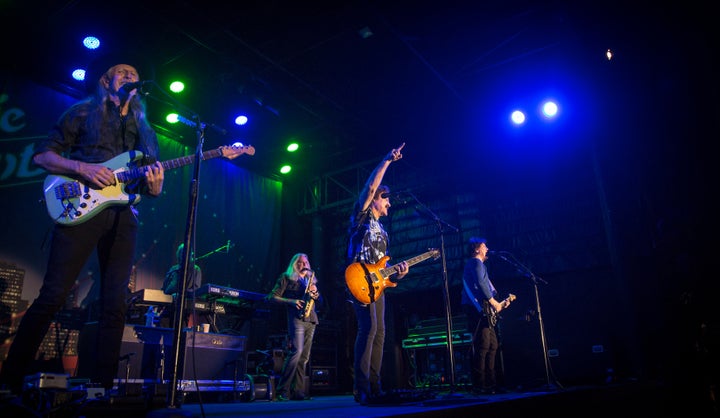 Look, we all have our list of bands/artists that we think should be in. No matter how political the place may be, no matter what agendas may be at play, we want deserving bands to be acknowledged.
For nearly 50 years they have thrilled millions of fans all over the world. They have worked as hard as any other major touring band, still putting in as many as 100 shows per year. They've given 11 successful albums, a recognizable, commercially successful and critically acclaimed sound. A boatload of signature songs including Listen to The Music, Jesus Is Just Alright, Long Train Runnin, China Grove, Black Water, Take Me in Your Arms (Rock Me), Takin' It To The Streets, What A Fool Believes, Minute By Minute, Real Love, The Doctor and more. Two of their songs hit #1, three additional ones hit the top 10, and eleven more of their songs hit the top 40. Two of their songs were nominated for the Grammies for Song of the Year in the same year, and one of them "What A Fool Believes," won.
What more are they supposed to do?
They were inducted into the Vocal Group Hall of Fame in 2004, have won four GRAMMY® Awards and sold more than 48 million records worldwide (including three multi-platinum, seven platinum, and 14 gold albums). Their 1976 Best of the Doobies has sold more than 12 million copies, earning rare RIAA Diamond status. In all, The Doobies have tallied five Top 10 singles and 16 Top 40 hits.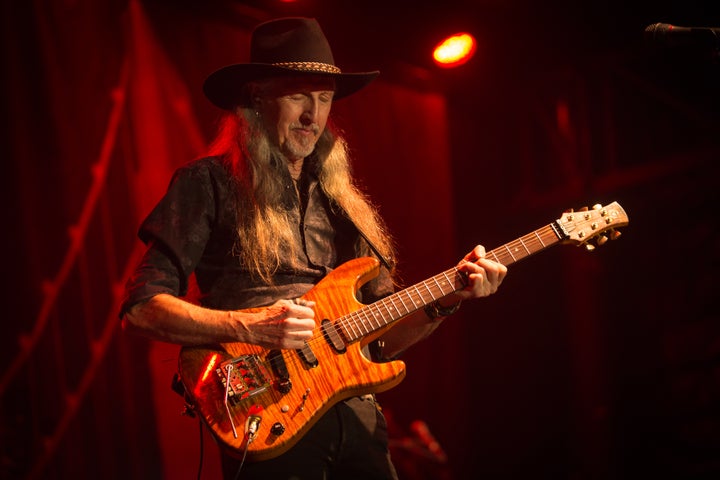 But it's more than just numbers and awards. It's how they make people feel. The crowd around me on this night knows every word to almost every song. And you can tell the songs mean something to them. They have carried them for decades and they only get stronger with age.
They have always adjusted and adapted over the years to to shifting tastes and an unbundling industry. And somehow they just figure out a way to keep going. By evolving and growing. They have had some members come and go as many bands do, but when you see the Doobies today, and you look up at Pat Simmons and Tom Johnston up there, two men who've been doing this now for almost 50 years, it seems absolutely absurd that they would not be acknowledged for all they have given the world.
I could list dozens of artists right now who have been inducted in my opinion don't come close to the Doobies' qualifications. But I'd rather not. As a fan I don't believe in sour grapes. And it doesn't really matter who else is in. The point is, they are not and they deserve to be.
As a recent Digital Journal editorial added in its defense of a Doobies hall induction, "They are a band that always gives back for causes that are dear to their hearts. The charitable organizations that they are involved with includes the Lucille Packard Children's Hospital, Stand Up to Cancer, The National Wildlife Foundation, and many veterans non-profit charities. They have also donated their musical equipment to help advance music programs in schools."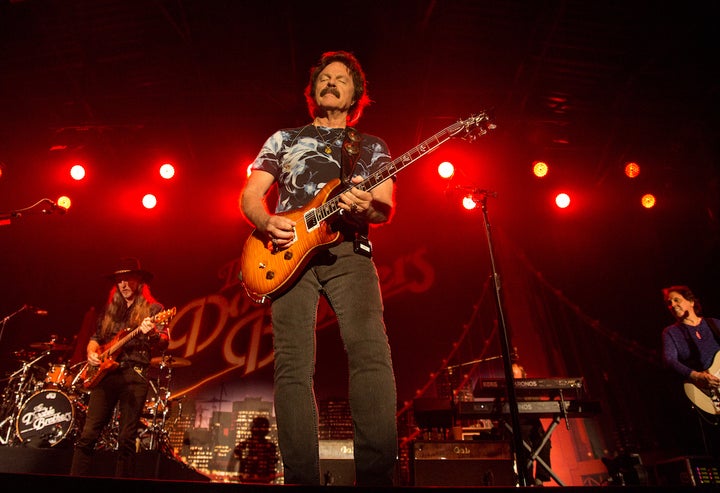 They are more than just good musicians. They are good people. They are what we want in a rock and roll band. They have created a standard and work ethic for other bands to follow. What else do you want in a Rock and Roll Hall of Fame inductee?
To any voting members that might be reading this, perhaps ask yourself this: why wouldn't you induct the Doobie Brothers? Compare those answers with the facts and I hope you'll agree. There is no honest equation that keeps them out.
If you'd like to sign a petition some fans recently started, you can find it here.
REAL LIFE. REAL NEWS. REAL VOICES.
Help us tell more of the stories that matter from voices that too often remain unheard.
BEFORE YOU GO