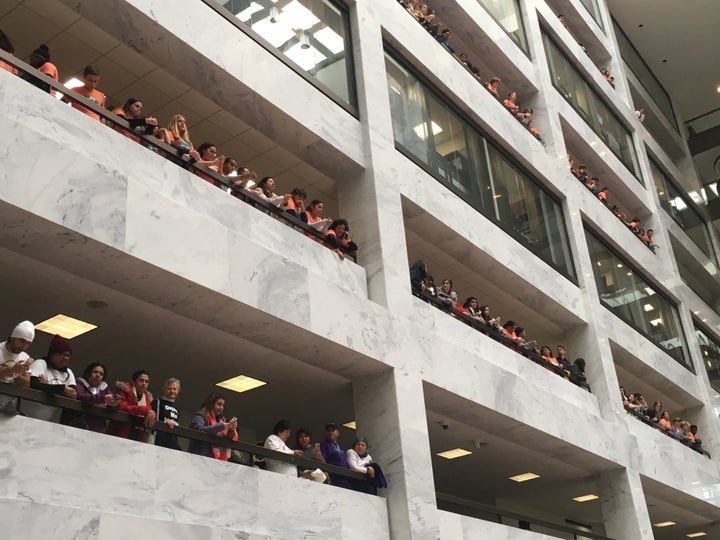 But we Virginians were the ones who had to endure daily, largely negative campaign ads. Perhaps the most disturbing and inexcusable was Virginia Republican gubernatorial candidate Ed Gillespie's misleading TV ads that raised the specter of violent, immigrant youth gangs running amok thanks to the policies of Democratic candidate Ralph Northam.
For sure the ads were a 'dog whistle' to Trump supporters in Virginia, but they also served as a trigger for those of us who had watched in fearful horror the deadly fascist demonstrations in Charlottesville in which anti-immigrant hate speech figured prominently. Based on the outcome of the election, more of the latter group turned out than the former.
The fact that there is a significant group of voters in Virginia whose idea of young immigrants is dangerous thugs is alarming. And it runs counter to reality.
Today that reality was validated for me once again as I joined thousands of mostly young, mostly immigrant protestors on Capitol Hill.
Today was a day of action for a clean DREAM Act — legislation that would restore the protections offered by DACA (Deferred Action for Childhood Arrivals) created by President Obama in 2012 and ended by President Trump this year. DACA allowed immigrants brought to the U.S. as minors to work, attend school, and otherwise contribute to their communities without fear of deportation. In the face of Trump's action which at the time laid the issue at the feet of Congress to fix, DREAMers and their supporters have been pushing for legislation without any anti-immigrant add-ons.
In hundreds of actions around the country: marches, lobby days, protests, civil disobedience, walk-outs, and more; DREAMers have put their security on the line by speaking out.
On this chilly morning, a sea of young people and their allies wearing their orange United We Dream t-shirts walked two-by-two into the Senate office buildings and converged in the Senate Hart building. The crowd filled the atrium and lined every opening looking down from all sides and all floors of the building. Initially the crowd stood silently—evidence of the impressive discipline and organization that has characterized this movement from the start.
In a coordinated move, the crowd, chanting "DREAM Act Now" unfurled banners from the highest floors and laid banners on the atrium floor in a message to senators whose offices they would visit after the action. Reports are that 15 demonstrators were arrested.
These determined activists and the hundreds of thousands of DACA recipients—college and high school students, members of the U.S. military, hard-working employees, young parents, and others—are the real face of immigrant youth in our communities. These are the immigrant young people whose faces should fill our airways. They are a source of great pride and not the fodder for fear-mongering and racism.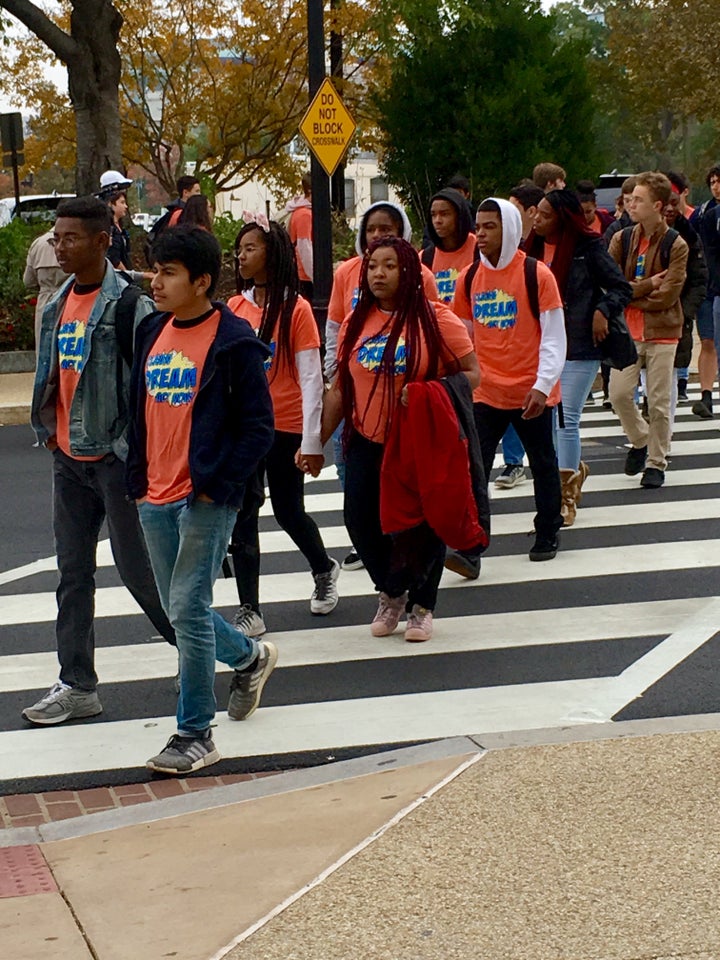 Calling all HuffPost superfans!
Sign up for membership to become a founding member and help shape HuffPost's next chapter
BEFORE YOU GO