It's March again -- time for another Women's History Month.
Which means it's also time again for the question skeptics love to ask: Do you mean to say that women have their own history?
Yes, I do. In fact, I'm so convinced of it that we're going to inaugurate a new center at the New-York Historical Society, with its own programs and collections, dedicated just to the study of women's history.
Why are we doing this? Because evidence of the reality of women's history has been in our institution for years, staring us in the face.
If you want to picture that evidence, imagine a treasure trove of Tiffany lamps -- 132 of them, all exquisitely beautiful. In the 1980s, a collector named Egon Neustadt donated them to us, with a generosity that made our Tiffany collection one of the points of pride for New-York Historical.
What we did not know at the time, and could not have anticipated, was the information we would receive about 20 years later through the work of several scholars, including our own Curator of Decorative Arts, Margi Hofer. This was the knowledge that led inevitably to a Center for the Study of Women's History.
It turns out that dozens and dozens of our lamps were designed not by Louis Comfort Tiffany or any of the men under his supervision, but by a young woman named Clara Driscoll. She was directly responsible for a great many of the celebrated works of art glass that emerged from the Tiffany Studios. She led her own 35-woman department, which was so successful that in 1903 her male colleagues threatened to strike unless it was shut down.
Needless to say, male designers did not have to weather such opposition. They were not expected to abandon a flourishing career when they married, as Driscoll did in 1909. Nor were they all but erased from memory for almost a century. For these reasons and more, Driscoll and others like her already stand outside the more generalized historical narrative. The effort to recover their stories and interpret their lives is necessarily the work of women's history.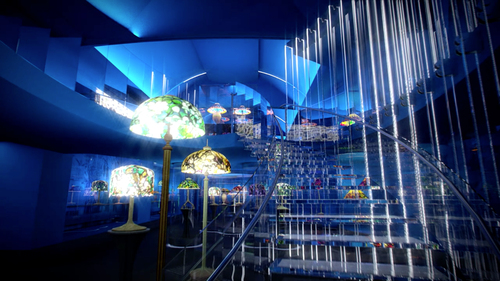 New-York Historical Society, Henry Luce III Center - Tiffany Gallery reinstallation. Rendering by Eva Jiřičná Architects.

At New-York Historical, we did not begin that work overnight. We started by building a new, all-glass gallery for our Tiffany collection. We expanded on Driscoll's story by putting her into the context of other, better-known women from the New York of her era: Eleanor Roosevelt, Lillian Wald, Nelly Bly. We commissioned a film by Donna Lawrence, telling about New York in the late 19th and early 20th centuries as seen through the eyes of women. And now, going further, we are readying a distinct Center for the Study of Women's History.
It's little enough to do for half the people who ever lived, but we think it's a start.
REAL LIFE. REAL NEWS. REAL VOICES.
Help us tell more of the stories that matter from voices that too often remain unheard.