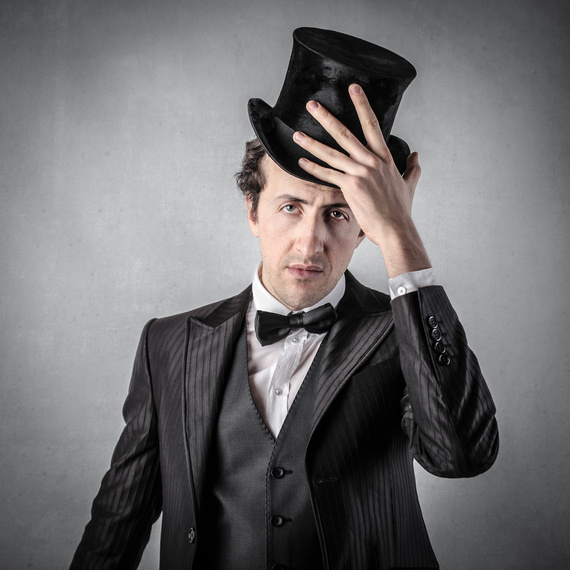 The word philanthropist sounds pretty fancy. Conjures images of Carnegie or Rockefeller, Zuckerberg or Gates. Someone extravagantly wealthy who breathes different air.
But philanthropy is a gift accessible to us all. And on #GivingTuesday, it's important to remember that even small acts of service can be a big deal to everyone involved. Which is why this day creates such an enormous opportunity for business owners to connect with employees by channeling their own goodwill.
Take Marty Tuzman. He runs Jenkintown Building Services, a window washing company in Philadelphia that employs about 100 men, many of whom are struggling to make ends meet. They may not have money to spare for charity, but these men still found an incredible way to give back: every #GivingTuesday, they spend the day washing the windows of local homeless shelters and low-income housing for free. From there, they head to cultural centers, libraries, and museums - anyone who's doing good work in the community and deserves this gift.
The window washers' small donation of kindness has had a huge impact, and not only on those on the receiving end. Marty recalled one of his employees, a single father of six children, bursting into tears because he finally realized he had something to give to those whose struggles are even greater than his. Many of Marty's employees have even requested not to be paid for the hours they spend serving the community.
"We are inspired by the dedication of the individuals, families and communities who have built this global giving movement, here in the U.S. and across the world," said Henry Timms, Co-Founder of #GivingTuesday and Executive Director of 92Y. "Together, millions of people are demonstrating our common capacity to give."
While #GivingTuesday has become the single biggest day for giving, it started as a simple idea: after two days for getting deals - Black Friday and Cyber Monday -- how about a day for giving back? From there, a giving movement was built by individuals, families, organizations, and communities across all 50 states and around the world. In 2015 alone, nonprofits raised over $117 million on #GivingTuesday - and much more was generated through donations of time, clothes, food and other resources.
The best gift of #GivingTuesday could be the way it shifts people's sense of what's possible, awakening an appetite for impact, whether through big corporate volunteer opportunities or the smallest personal gestures of kindness.
A girls' prep school in New York took #GivingTuesday to a whole new level when it launched the "85 Acts of Kindness" on #GivingTuesday two years ago. The campaign asked students in each homeroom class to perform a combined 85 acts of kindness by May and post photos of their works to social media. One 17-year-old student, who was volunteering at a local day care, said about her contribution, "I love waking up in the morning, knowing that I am giving back to these children."
Even the tiniest acts of generosity counted towards the goal - for example, a student who left extra quarters on a laundromat washing machine with a note to "use me if you don't have change!"
#GivingTuesday is not meant to be a single day of giving, but rather a day that heralds the start of the charitable season, when many focus on their holiday and end of year giving. Even if you haven't organized a #GivingTuesday campaign this year, small acts of service can be a powerful way to give back and get others excited to do likewise.
On your own without a company campaign for #GivingTuesday? Here are some ways that everyone can dive into the spirit of the day and join this day of global giving:
Share why you give and support nonprofits by posting your personal giving story on social media, using the hashtag #MyGivingStory is back. Access tools provided by #GivingTuesday to write a winning story or click here to share your story now.
There are many ways you can donate your time to organizations in your community. Search for nonprofits in your neighborhood and email them to see how you can help.
Be an informed giver on #GivingTuesday and throughout the year. Visit #GivingTuesday's Great Giving resource page or check out these materials from the Laura Arrillaga-Andreessen Foundation to elevate your giving from having momentary meaning to becoming monumentally meaningful.
Donate to a charity or organization that has impacted your life. Remember to share that you gave and encourage your family and friends to join you in giving back on #GivingTuesday.
Use your skills to help nonprofits with their campaigns. You can search for pro bono opportunities on Taproot+ or reach out to you local nonprofits to see how you can use your talents to good. Check out this pro bono toolkit to learn more.
Share how you're giving back on #GivingTuesday by posting your #UNselfie on your social media. You can use our #UNselfie sign and toolkit to get started!
Payroll giving is becoming more and more popular at both companies and nonprofits. Donate a part of your paycheck to charity or talk to your management how your organization can make giving back part of its official policy.
Everyone has something to give back to their communities on #GivingTuesday. For company leaders, if you haven't organized a campaign this year, use this day to tee up a fantastic campaign for 2017. For employees, take the initiative on this day to show your company that you care, and use your experience to demonstrate the possibilities for company unity and impact next year. #GivingTuesday has changed our notion of who is a philanthropist. Turns out it's every single one of us.
Take advantage of our special #GivingTuesday discount for Causecast's +IMPACT Conference in San Francisco on December 5th and 6th. REGISTER HERE. Code is: givingtuesday.
Related
Popular in the Community