"...for all our lip service about improving the education of America's children, we've failed to make teaching the draw that it should be, the honor that it must be. How do we make teaching more rewarding, so that it beckons to not only enough college graduates but to a robust share of the very best of them?" -- Frank Bruni, "Can We Interest You in Teaching?"
Now more than ever, there is increasing discussion around the lack of teacher voices in the broader conversation on education. But in spite of all the media attention, these authentic perspectives are still missing. A Teacher Like You asked educators across the nation for their voices in this dialogue. Here's what Jeff Montgomery, 12th grade English teacher from Austin, TX, had to say.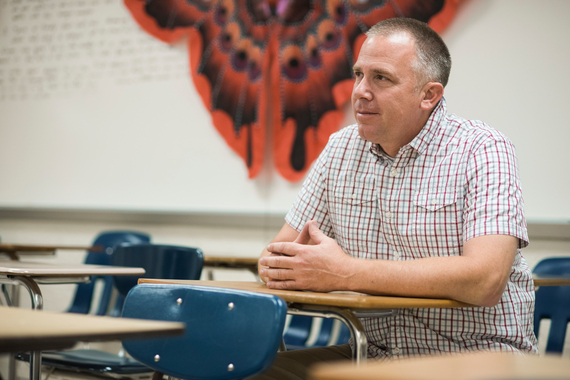 "Stepping into a classroom for the first time can be a very daunting experience for a first year teacher. They've spent countless hours studying theory, observing veteran teachers and then putting their skills into practice under the watchful eye of a seasoned professional as a safety net. When it finally comes time to take the training wheels off, it is crucial that we do so in a manner that supports them to the fullest. I'm reminded of an amazing student teacher whom I had the honor of mentoring. She intentionally took an inner city teaching assignment at a low performing school with dreams of making a difference, only to spend one year there. It was so sad to see such a brilliantly bright star burn out so soon in something that she felt called to do. She has since then taken her talents to the private sector where she has been accepted as a valuable asset to the company. Her pay is better. Her clients appreciate her diligent efforts. And the higher-ups expect her to bring a creative touch to the workplace.
I've actually spoken with friends and acquaintances from other countries who have said that their cultures value teachers more than our culture in the U.S. does. They put them in the same socio-economic bracket with engineers or government officials. They are also treated with a bit more reverence because of their contribution to the community.
I'm fortunate in that I walk in the doors of my school and find myself surrounded by teachers who truly lean on each other every day to make a difference. Some of the best teachers I know are right down the hall. Most of them have forgotten more stuff than I know. These people are true rock stars in their disciplines.
Our community has deep pockets when it comes to their children. We have amazing resources because of how generous our community is both with their treasure and their time. We have fantastic engineers who willingly volunteer their free time to come and mentor our impressive robotics students. That's crazy awesome to see. The students love it.
I say all this to illustrate that it is going to take a huge group effort by all parties to change the culture of education across this nation. To make this profession attractive, we have to get this picture out to the masses. Our universities need to continue doing a great job of giving graduates the tools necessary to step into a world that revolves around technology. Our parents have got to make education a number one priority in the family dynamic. Our administrators need to continually encourage the teachers they supervise to hone their craft like any other profession. And our students need to own the fact that, with technology at their fingertips, they can take charge of their personal learning style and their teacher, who used to be the 'be all end all,' is now their guide, counselor, confidant, and fellow learner.
I want teachers to love what they do day in and day out. I walk into a classroom of teenagers who really are the pulse of this nation, and I love it. These guys are our future, and I have a hand in it every day. Is that a lot of pressure? Sure. But it's the kind of pressure every good athlete wants when the game is on the line and he or she gets the ball. It's the kind of pressure that the soloist gets in choir or band when it's his or her turn to bring the concert home and the crowd to a standing ovation.
So, when I hear that we're experiencing teacher shortages, I just want the opportunity to speak to these college freshmen or sophomores who get caught up in the me-me-me culture of life and let them know that they can really be part of something special if they step out of their comfort zone. The comfort zone of "me" is easy. Swimming in the shallow end is easy. Come on out to the deep end. It's a little more risky but the reward is great.
Sometimes people ask me, "How are your classes this year?" To be honest, I should say, "Don't know. Let's wait 10 or 20 years and then I'll tell you." I look at some of the cool things that my students from 10, 15, 20 years ago are doing today and I'm so proud of them. Sure, there are great professional athletes out there, great artists, successful businessmen and women, doctors, lawyers, engineers, government officials, pastors, and...teachers. But there are also some pretty darn cool fathers, mothers, brothers, sisters, friends, and mentors out there in those positions as well. I like to think I got to play a little part in that, and it's a nice feeling.
In the end, I really hope I get to see at least one of my students carry on the passion I have for this profession and take it to the next level and beyond. If we don't stoke the fire by recreating ourselves as teachers, it's going to go out -- and our country deserves way more than that."
Jeff Montgomery teaches 12th grade English at Westlake High School in Austin, TX.
Visit ateacherlikeyou.com to hear thoughts from other educators and share your own on Twitter and Instagram via #ateacherlikeyou.

REAL LIFE. REAL NEWS. REAL VOICES.
Help us tell more of the stories that matter from voices that too often remain unheard.