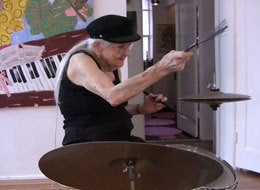 Why is Allee Willis's new video "Hey, Jerrie" one of the fastest growing videos on YouTube? Because it's what I call The Anthem of the "YES YOU CAN" Movement. This post is the launch of our movement. So read on!
As a coach and speaker I am blessed to meet with so many amazing women and men. In these very interesting times I'm seeing a trend of people giving up on themselves. Do you have dreams that are still unfurled? Do they sit in the dusty, dark corner of the utility closet of your life?
Do you wonder why this happens?
Because of what you are telling yourself.
Don't believe me? Do you tell yourself any of the following?
I can't. I don't have the training.
I can't. I am too old.
I can't. I might fail.
Each of us (myself included) piles that utility closet so full of negative mental garbage that it is no wonder that we never get to our dreams.
You already know that what you focus on grows. Here are some videos to give you the motivation to throw out your negative mental excuses instead of your dreams.
There is so much to learn from the amazing Allee Willis that proves every one of your "No, I Can't" theories wrong. A few months ago, Allee and I sat down and chatted about process. It was remarkable how similar her creative process and the coaching process were. Here is some behind the scenes moments captured on my humble Flip camera.
If you want to see an artist is fully engaged in the creative process, then study Allee. If you have a goal to reinvent any part of your life, study Allee.
No Training...Yes You Can!
Allee Willis doesn't know how to read, write or play music. Yet, she is a Grammy winner who has sold over 50,000,000 albums.
Allee is a white woman (ok...she is from Detroit) who wrote many of the disco anthems for Earth, Wind and Fire and a gazillion other hits as well. She wrote the theme for Friends.
She is a brilliant visionary that created Willisville (eBay years before eBay) along with her partner the equally amazing Grammy, Emmy and MTV award-winning Prudence Fenton.
Allee had never written a musical and went on to write the Tony Award nominated, The Color Purple. Oprah loved it enough to make it her own. We haven't even covered the art or Internet accomplishments!

But How?
How do you dive into a new area with no training? The first step is to tell yourself, "Yes, I Can."
Impossible as it seems, I am here to testify that it is possible. I have reinvented my own career several times and assisted clients to reinvent their careers. (One example was that I had never taken a writing class and wrote a book that won three national book awards.)
Allee said that she hears songs in her head. My client, Kelly listened to her gut instinct and applied for a job -even though she wasn't qualified. She got the job instead of the 800 other applicants.
One common key was listening. From many of my past posts you know that I am a big fan of listening. Take 15 minutes today and listen to yourself. Hear what you are saying. Check it out. If it works for you follow your inner guidance.

Too Old.... Yes You Can!
Come on! Jerrie Thill is 91 and on an oxygen tank. Follow Jerrie's lead. She'd take a drum over a diamond. Jerrie is doing what she loves. Are you?

But How?
Take 15 minutes today to do what you love. Dance, make a mud pie, and wear a tiara. If you don't know what you love - do something you loved as a child. Remember, anybody can do anything for 15 minutes.
I Might Fail.... Yes You Can!
Learn from Allee. I believe the one reason that Allee has the freedom to be a genius in so many areas is that she is focused on the process. She is learning every step of the way. When you look at your life as a process of expanding your wisdom and loving there are no failures. You continually learn and grow from each experience.
But How?
Did anyone give you The Instruction Manual for your life? I never got one, so if you did please send it over. If you are like me you are learning as you go. Let life teach you. Be open to learn. Value the process-regardless of the results.
The amazing YES YOU CAN Movement is taking up a great bit of my time, so I will be back on line in March. I look forward to staying in touch with you so please shoot me an email at coaching@elidavidson.com!
Eli Davidson is a nationally recognized executive coach and motivational speaker. Her book, "Funky to Fabulous: Surefire Success Stories for The Savvy, Sassy and Swamped", (Oak Grove Publishing) has won three national book awards. Eli is a reinvention catalyst, who can transform your professional and personal life from Funky to Fabulous with her ten, trademarked Turnaround Techniques that create rapid and remarkable results.