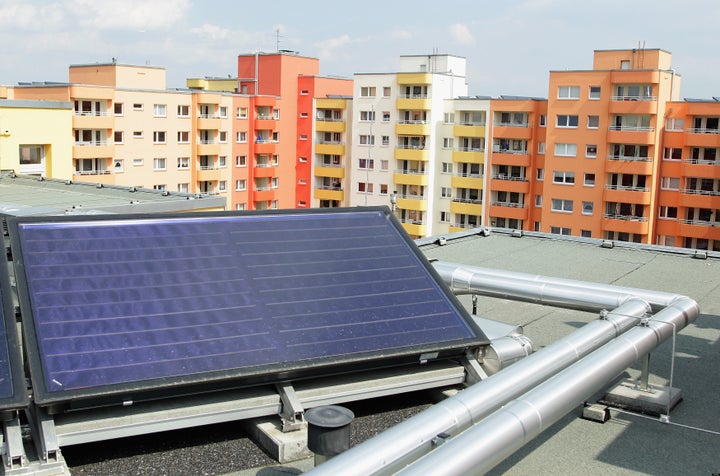 As much of the world suffers through a stifling summer, one corporate team is keeping close watch on the solar panels on their building's roof -- which quadrant is producing the most energy?
It's a sign of things to come, and I want to share their story. But, first, a little background.
When I began writing about the New Radicals, people who are putting skills acquired in their careers to work on the world's greatest challenges, readers told me that they figured they had to become Activists or Entrepreneurs. I've maintained that while all New Radicals are doing important work, Innovators -- those who stay inside their field or organization and drive change from within -- are the ones to watch. That the world needs bus drivers and ballerinas, plumbers and IT specialists -- and most of them want to do good, too.
Today, the smartest organizations are realizing that they need to encourage this kind of innovation, and that there are clear advantages, including recruitment and retention, marketing and client relations (not to mention the bottom line).
Debbie Baxter is a terrific example of a New Radical Innovator. She's VP, Corporate Sustainability for LoyaltyOne, a global provider of customer loyalty programs, based in Toronto. Generally when I introduce an interview in this column, I say something like, "I sat down with..." And while it's literally true, Debbie and I did sit down together, it felt more like a ride at an amusement park. She is one high-energy gal; the whole time we were talking I was aware that her mouth could not keep up with her mind. Love that!
This is an edited version of our conversation.
Debbie, let's start with a thumbnail of your career.
Before I was a green chick, I was a tech chick and I've realized there's not that much difference. I started out as a programmer, and moved into system implementation for government and business -- where each program was designed to save time or money. Then I had an opportunity to work with a small start-up, a green rewards program. When that firm got acquired by LoyaltyOne, I came on board to build this company's sustainability initiatives. The commonality is that we're still looking for efficiencies and using metrics but in a new area, sustainability.
Tell me about some of LoyaltyOne's sustainability initiatives.
We have a passionate environmentalist as leader (Bryan Pearson, President and CEO), and that makes all the difference. But much of what we do begins in a grassroots way: people suggest and we respond. All the things you might imagine, like a recycling program that diverts up to 90 percent of all waste, and an environmental fair to help people learn about the issues and green products and services.
We've partnered with local transit authorities so that employees can take public transit to work -- and when our people told us that meetings in the middle of the day meant they still had to drive downtown, we struck a deal with a local autoshare company, and now team members drive around in branded Smart cars. Plus, by the end of this year, 85 percent of our staff will be working in LEED certified spaces (LEED is an internationally recognized green building certification system, developed by the U.S. Green Building Council). Our Mississauga-based Customer Care Centre is a LEED gold building. And the solar system on its roof is the largest of its kind in Canada. (Here's Debbie talking about the new building.)
This gorgeous new facility is a call center?
Yes, we consider our call center agents to be our brand ambassadors; they speak directly to our customers. We strongly believe that they need an environment that's inspirational. And our commitment is reflected back to us in high levels of employee engagement and recruitment and retention metrics.
Talk to me about employee satisfaction.
When I took on this role, we looked around to see who our stakeholders are. First, we have our collectors [that is, the people who collect points; 70 percent of Canadians participate in their Air Miles program, for instance]. We launched a program directed at collectors last year, helping them earn additional miles by buying environmentally friendly products. Our second major stakeholder group is our employees. The environment is very important to them, and they've made it clear that it's growing in importance.
There's a lot of engagement and pride in what we're doing as a company. We just did a survey about our new waste management program and 25 percent of our staff responded -- the fact that one in four people took time out of their busy days to respond blew me away, especially given that it's such a big team and spread out across the continent. And 93 percent of respondents are really happy with what we're doing, saying things like "it's great that you've made it easy for us to recycle." It's pretty clear that people want us to do more -- and we're adding new features all the time -- and that they really care about making the world a better place.
Debbie, readers are going to want to know where they can find out more.
They can visit our website. And they might be interested in reading our first sustainability report, The Legacy of One. It's going to become an annual.
One final question: is the world paying attention?
We were selected as one of the 50 Best Employers in Canada this year, and just won two green awards. We're thrilled.
Special thanks to Debbie Dimoff for suggesting this column. Next Saturday, the Innovators series continues: a PR agency's "little give".
Now it's your turn. What is your company doing to help a planet, and people, in peril? What would you LIKE them to do? What have you heard about that you can share with us? Can we all become New Radical Innovators?