Safari is on the bucket list of many travelers with Americans often waiting until retirement to experience the animals of Africa. This needn't be the case. Kids naturally adore animals and seeing them in the wild (the animals, that is) can be a great teaching experience. Here's what you can expect when you take your kids along on a safari.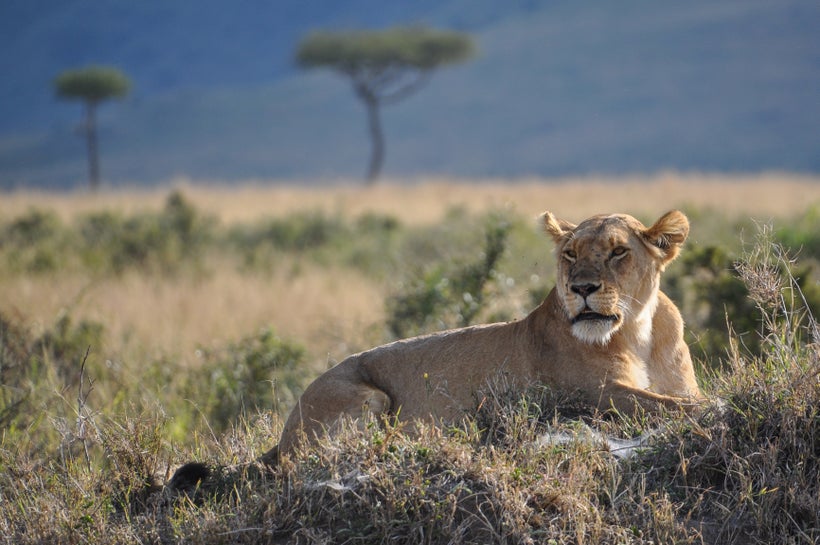 Assuming you're looking to see Lion King style vistas and the 8th Wonder of the World known as the "Great Migration", a trip to Kenya is in your future. To be frank, a quick trip to Disney World will look pretty appealing once you check out the flight options. But fret not, as Kenya's Jomo Kenyatta airport was just approved to have direct flights to and from the US. Although not yet announced, US carriers will surely pick up the route to Nairobi, which will make the trip much easier. Once in Kenya, expect an hour-long flight to the Maasai Mara National Reserve (or "Mara Triangle").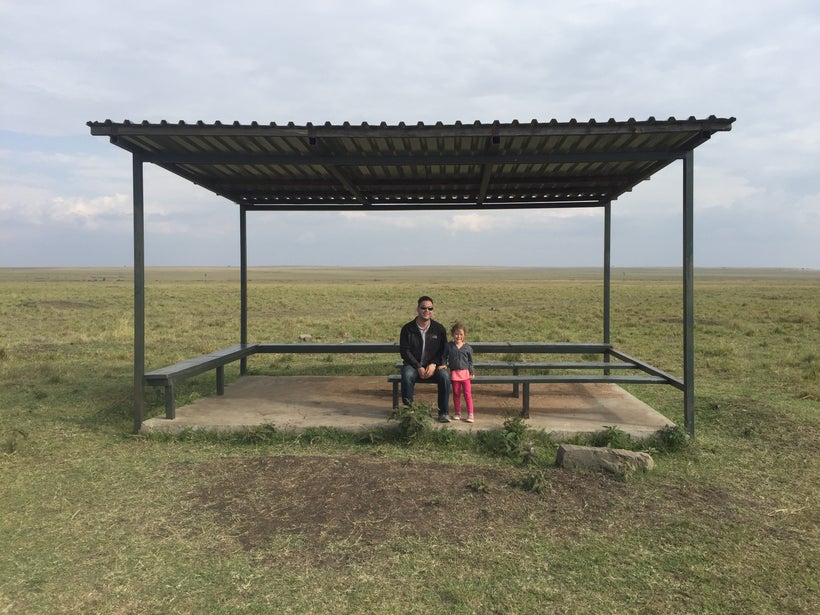 Kid Tip: Unless you're booking on a direct flight to Nairobi, the journey is long for kids and you'll have a layover. To make things easier, consider what lounges are available to use at your connecting airport. We connected through Istanbul with a layover from midnight to 5am - not good. Fortunately we were able to use Turkish Airlines' lounge, which has suites available with proper beds for the kids to sleep. Check if your credit card offers a lounge pass or if you can purchase a day pass.
"Camps" vary from luxury to rustic and everything in between. Kids are natural explorers and love the outdoors while parents can appreciate that "tented camp" can actually mean "permanent structure with running water, a proper toilet, bed and shower." Hot water bottles were placed in our beds each night to keep us cozy. We were also treated to animals noises each night! Believe me, you're safe inside your tent, but it does get a bit scary to hear. Of course, our daughter thought it was the coolest thing.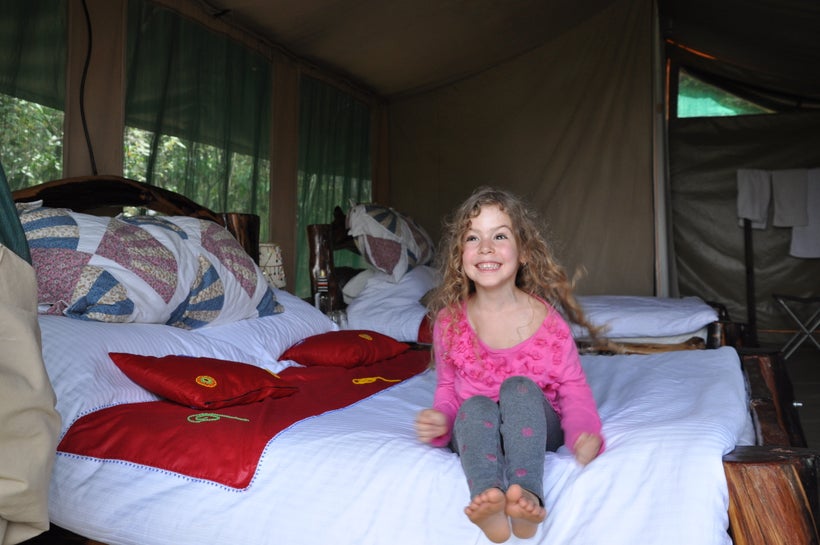 Kid Tip: A safari can be a great time for kids to unplug and appreciate that they are not the boss of the animal kingdom. Generator power may be limited so there will be no superfluous iPad use or extra long showers. Unless you're in a fenced camp, you'll walk to dinner with an experienced guide who will keep a lookout for animals that may be dangerous. That said, the experience will still make you feel at home. We stayed at Bush & Beyond's Tangulia Mara Camp and the chef turned out delicious cuisine that we all enjoyed. The chef also catered to our daughter's tastes at each meal. She's not picky, but they understand that kids always appreciate the sauce on the side and smaller portions.
You are going to see some amazing animals and LOTS of them. There's the standard hits (the elephants, giraffe, zebra and lions) plus loads of others such as warthog, ostrich, cheetah, wildebeest, topi, springbok, impala and crocodile. A typical game-drive schedule is to leave early in the morning for a 2-3 hour drive, return for breakfast around 9am, enjoy the camp and lunch until around 4pm, then do another drive in the afternoon until roughly 7pm. You'll then have dinner and head to bed. After waking up so early, it won't be just the kids with an early bedtime.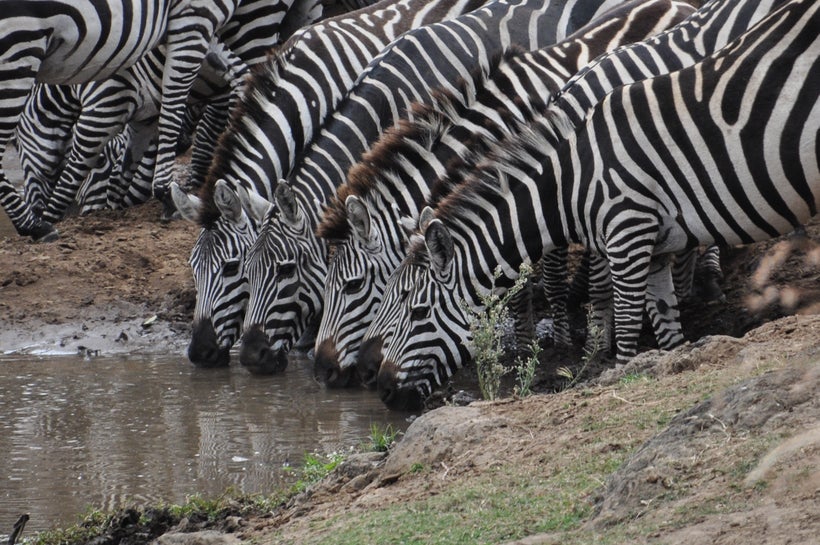 Kid Tip: The "roads" around national parks in this part of world are generally pretty rough. However, the vehicles are heroic in their ability to plow over rocks and ditches and even through small streams and rivers. Often the ride can be pretty bouncy, but even our severely car-sick prone daughter did not have an issue. The cars are mostly open so you'll constantly feel a cool breeze on your face. You'll never encounter traffic and you'll stop every time you see cool animals. What's not to like? Our ranger at Tangulia also stocked our cooler full of tasty beverages and snacks that our daughter liked. Don't worry, a bathroom is available behind the vehicle anytime you're stopped in a predator-free area. If your kids are particularly young, make sure your camp provides a private vehicle so that if you do need to cut your game drive short for any reason, you aren't inconveniencing other guests. Tangulia did this for us without even asking.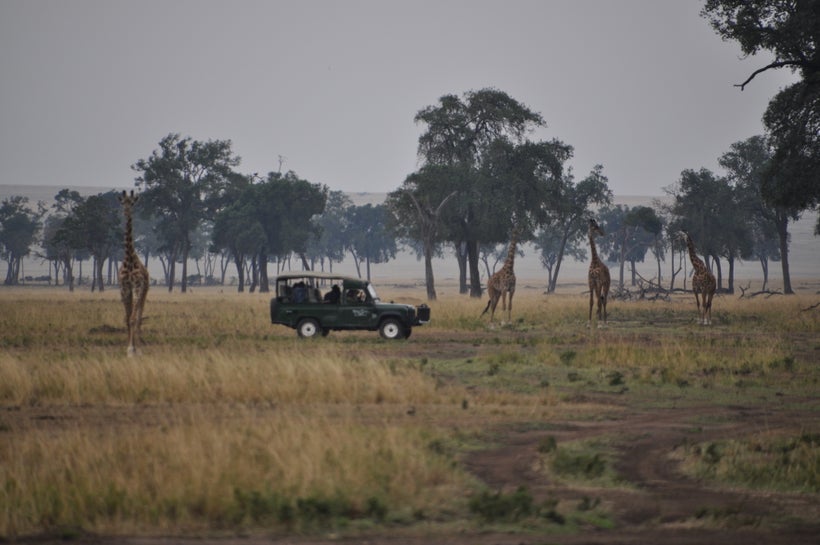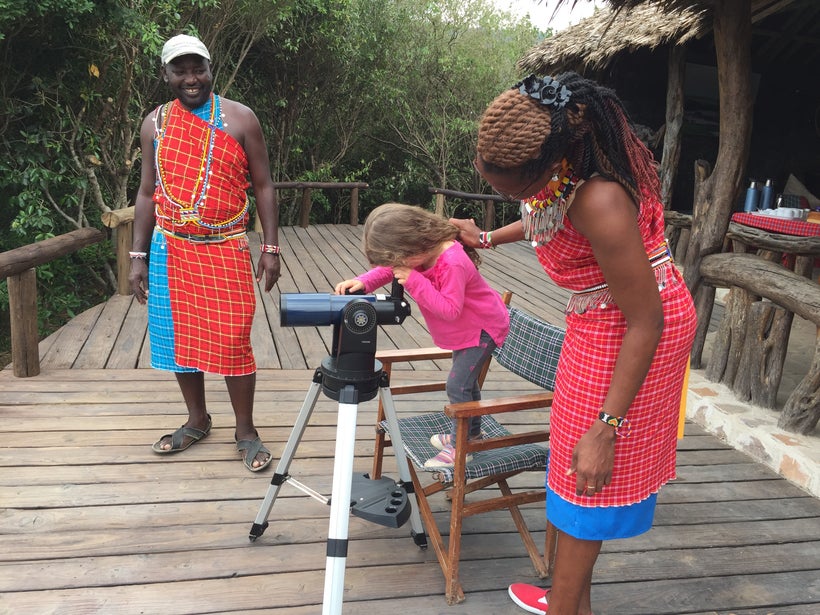 Kid Tip: These visits can be an unexpected treat and a way for your child to learn about a people and culture that are relatively unfamiliar to many Americans. Small items, such as jewelry or beaded belts, are for sale and appeal to kids with their bright colors and unfamiliar designs.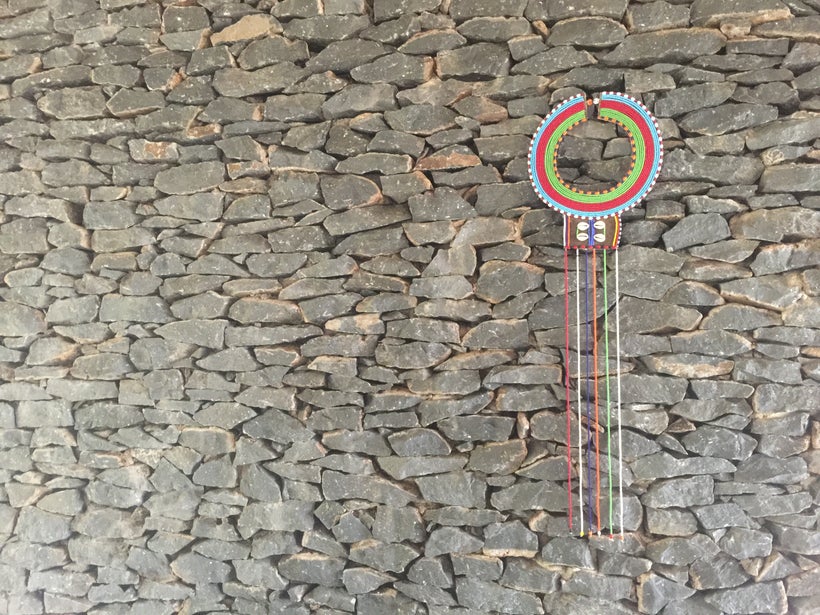 So go ahead, don't wait until you're older and cross this one off the bucket list with your kids. If planning far in advance, as will usually be the case, consider gifting your child a cheap digital camera for the next holiday or birthday. Taking photos on safari is incredibly satisfying and you'll be close enough to the animals that even a younger kid can manage to snap some great pics. After so much planning, you'll enjoy showing off your photos as much as your kids will.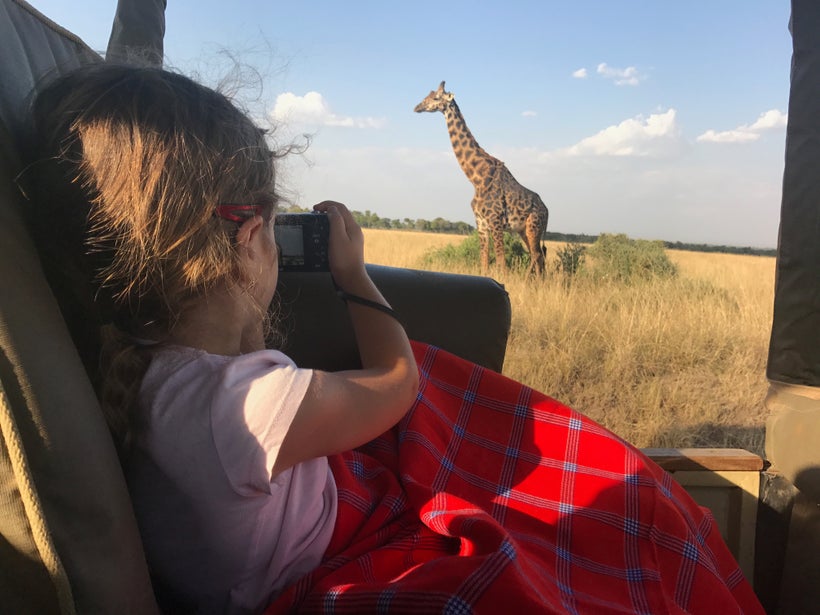 Additional Items on Your Checklist
Before traveling to Kenya, ensure you visit your local travel clinic to receive a yellow fever vaccine. Once immunized, you're set for life. The vaccine needs to be administered at least a week before travel and you should carry the certificate of immunization with your passport. You may need it when traveling from Kenya to another country, including back to the US.
Malaria prophylactics may be required depending on the season and your travel itinerary. Your regular pediatrician or doctor can prescribe these. The most common medicine is Malerone, which is taken one day prior to entering a high-risk malaria zone, during your stay, and 7 days after departure.
South Africa recently passed a law requiring all children travel with an original copy of their birth certificate. As you may transit through South Africa, or add the country to your itinerary, it is prudent to order a copy of your child's long-form birth certificate to keep alongside your child's passport and yellow fever vaccine paperwork. Additional documentation may also be required if both parents are not present, as is the case with all international travel.
REAL LIFE. REAL NEWS. REAL VOICES.
Help us tell more of the stories that matter from voices that too often remain unheard.
This post was published on the now-closed HuffPost Contributor platform. Contributors control their own work and posted freely to our site. If you need to flag this entry as abusive,
send us an email
.