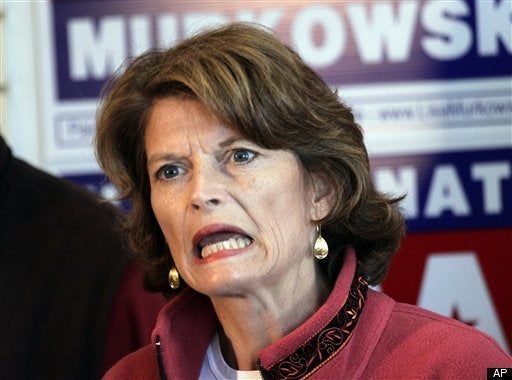 In following the polling on Alaska's Senate race, I have been writing about the special challenge of measuring support for Senator Lisa Murkowski's write-in candidacy. Early this morning, I reviewed two new polls whose questions offered Murkowski as an explicit choice, even though her name will not appear on the ballot. Later we learned of a new poll from Ivan Moore, an Alaska pollster who sometimes works for Democrats, using an approach similar to what I described a week ago. It's worth a closer look.
The subject of measuring voter preferences is a little wonky but not terribly complicated. The basic idea is that Moore asks the vote question two ways. The first replicates the choices on the ballot, and thus does not mention Murkowski's name:
If the 2010 General Election for U.S. Senate was held today and the candidates were Joe Miller, Republican. Scott McAdams, Democrat, [and] Frederick Haase, Libertarian, for whom would you vote for U.S. Senate.
Asked that way, Moore's survey of 573 likely voters finds Miller leading McAdams by 15 points (43% to 28%), with 2% for Haase and 9% undecided. Moore also gave his interviewers the ability to record when a respondent volunteered Murkowski's name without prompting, and found 18% of the likely voters in that category. This measurement provides a clear current floor of Murkowski's support -- voters who already know that Murkowski is running as a write-in and feel strongly enough to volunteer their support even when the pollster does not offer the choice.
Next, Moore asks a second question that explicitly prompts for potential support for Murkowski. For those who do not volunteer support for Murkowski, Moore asks:
As you may know, Lisa Murkowski is running a write-in campaign for U.S. Senate. Knowing this, would you vote for U.S. Senate stay the same or would you write in Lisa Murkowski?
When recalculated to include the full sample, this questions finds 44% ready to support Murkowski, with 36% for Miller, 14% for McAdams, 2% for Haase and 6% that remain undecided.
The second question is obviously a bit artificial -- nothing guarantees that every voter in Alaska will learn about Murkowski's write in campaign -- but the question provides a measurement of the potential ceiling of her support, the highest that it is likely to go based on current voter attitudes.
What's especially interesting is the way Moore's results provide an upper and lower boundary that captures results from three other polls conducted over the last two weeks. As the table below shows, two recent polls by CNN/Time and Craciun Research that ask an aided three-way question find just slightly less support for Murkowski than Moore's aided follow-up question.

On the other hand, Moore's unaided question provides a much smaller estimate of Murkowski's support than the other polls, although a hybrid question asked by the Rasmussen automated poll which does not mention Murkowski's name until after offering choices for Miller and McAdaman, comes closest.
So to put it plainly, right now, the "truth" of voter preferences in Alaska's Senate race does not reduce to a single question. It almost certainly falls somewhere in between the floor and ceiling found by the Moore poll, depending on what assumptions you are willing to make about how much potential Murkowski supporters will learn about write-in voting over the next four weeks, and how many will opt to write in her name when they vote.
Put another way, the big question is whether the reality of voter preference that evolves over the next four weeks will come closer to the aided or unaided versions of the Moore questionnaire.
Is past history a guide? Unfortunately, we have very few similar historical examples, especially since Murkowski is a relatively well known and popular incumbent. But Brad Coker, the president of Mason-Dixon Polling & Research, sent me some past results today from the 1992 West Virginia Governor's race in 1992, the most similar scenario I have heard of to date. That year incumbent Democratic Governor Gaston Caperton received a spirited primary challenge from Charlotte Pritt, so spirited that when Pritt lost the primary she launched a write-in campaign for the general election.
In late October 1992, Mason-Dixon took a poll using a two-question approach similar to Moore's Alaska poll. They first asked a vote question without mentioning Pritt's name and found 49% support for Caperton and 33% for Republican Cleve Benedict, while another 9% volunteered that they planned to write-in Pritt.
Mason-Dixon then followed up with a sentence explaining that Pritt, "who finished second in the May Democratic primary election, has announced she is running as a write-in candidate," and then repeated the vote question. This time they offered a three-way choice between Democrat Caperton, Republican Benedict or the option to "write in Charlotte Pritt." On the second vote, Caperton led Benedict 41% to 27%, with Pritt's support increasing to 16%.
On Election day two weeks later, Caperton received 58% of the vote, Benedict 36% and Pritt just 6%. So in that case, the unaided question clearly provided the more accurate forecast. Coker says that "the non-prompt method appears to be the way to go" in Alaska.
We will soon see, although we should point out that Murkowski's current support -- aided or unaided -- is far higher than what Coker's surveys found for Pritt 18 years ago.
But one way or another, the Alaska Senate race is a case that pollsters will watch closely and ultimately study for years to come.
Calling all HuffPost superfans!
Sign up for membership to become a founding member and help shape HuffPost's next chapter