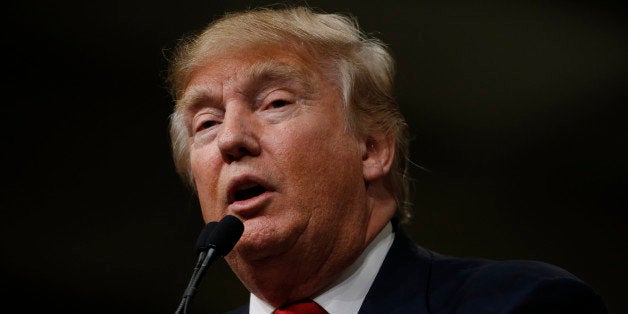 From the churches of Charleston to the casinos of Las Vegas, Donald Trump last week continued to add big league poetry to the national scene.
BEAUTY

There's nothing easy
about running
for president,
I can tell you.
It's tough.
It's nasty.
It's mean.
It's vicious.
It's beautiful.

Next morning, the Bard appeared on CNN's "State of the Nation" to discuss his re-tweets of Twitter posts by white separatists. In a spontaneous moment, he performed an impersonation of the famed "Hogan's Heroes" TV character, a beloved Nazi known as "Sergeant Schultz."
I know nothing
about. I mean,
I don't know
about retweeting.
I mean,
you retweet somebody,
and turns out to be
a white supremacist.
I know nothing.
TAKE THAT, MARK TWAIN

Upstate New York!

I'm like the
most popular person
that's ever lived!
Also Sunday morning, he appeared on ABC's "This Week," where he offered this poem about the GOP party apparatus.
VERY UNFAIR

I don't think I'm being treated fairly by the RNC
because every time I walk into a, into a debate...
(You know, I'm self-funding
my campaign, so I'm not getting money
from special interests and, you know,
the big drug companies, et cetera,
whereas everybody else is, everybody
on both sides, but everybody else is...)
And I walk in and they have all special interests,
lobbyists and donors sitting in the room...
(And I don't have any donors.
I don't have any special interests.
I don't have any lobbyists.
So I walk in, it's like dead silence
except for my wife and kids.)

And these guys walk in and they say something
that is stupid or not even good, and they get
standing ovations every time they open their mouth...
Bye bye. Look, see? He's smiling.
He's having a good time. Ohhh,
I love the old days, you know?
You know what I hate? There's a guy,
totally disruptive, throwing punches.
We're not allowed to punch back any more.
I love the old days. You know what
they used to do to guys like that,
when they were in a place like this?
They'd be carried out on a stretcher,
folks. Ah, it's true. You know.
I love our police, and I really respect our police.
And they're not getting enough,
they're not. Honestly. I hate to see that.
Here's a guy, throwing punches,
nasty as hell, screaming at everything else,
when we're talking, and we're walking out.
We're not allowed, you know, the guards
are very gentle with him, he's walking out
like, big high fives, smiling, laughing...
I'd like to punch him in the face.
BUT WAIT, THERE'S MORE!

It's hard for me
to turn down money!
Because that's not what
I've done my whole life!
I grab and grab and grab!
You know, I get greedy!
I want money, money!
And now I'll tell you
what we're going to do!
Right? We get greedy, right?
Now, we're going to get
greedy for the United States!
We're going to grab, grab
and grab! We're going to
bring in so much money,
and so much everything.
We're going to make
America great again!
Folks, I'm telling you...
FIVE POEMS ABOUT THE POPE

I.
He was told probably that, "Oh,
you have this man named Trump,
and he wants to create a very strong border,
and he wants to build a wall..."
II.
My people came up to me, and they said,
"Mr. Trump, the Pope just made
a big statement about you!"
I said, "GOOD OR BAD?"
III.
They said, "Not good!"
I said, "THIS IS A DISASTER!"
IV.
Then I said the first thing I thought of:
I said, "But I've seen the Vatican.
That's the most incredible wall."
V.
He was actually very nice,
but it was a very interesting period.
You don't want to hear,
the day before your election,
that the Pope said something about you.

I. No, no, I'm the only one
on the stage that's hired people.
You haven't hired anybody!
II. And by the way, I've hired --
and by the way, I've hired
tens of thousands of people
over at my job. You've hired nobody!
III. You've had nothing but problems
with your credit cards, et cetera.
So don't tell me about that!
IV. You haven't hired one person,
YOU LIAR!
V. That's wrong! That's wrong!
TOTALLY WRONG!
VI. I've hired tens of thousands
of people over my lifetime.
Tens of thousands...
VII. Be quiet. JUST BE QUIET!

The campaign continues next week with no doubt a Super Tuesday of verse on its way.
Popular in the Community