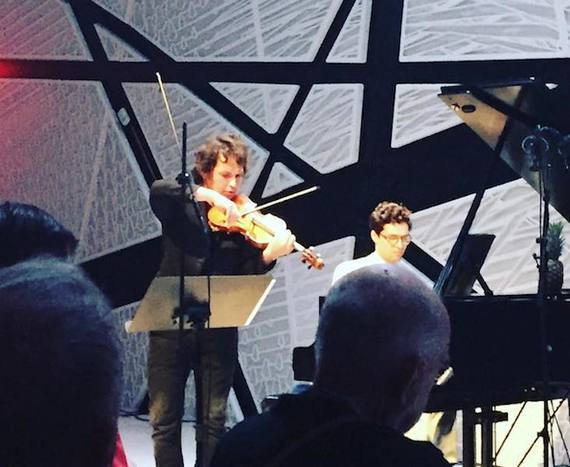 Yevgeny Kutik and Timos Andres at National Sawdust, October 19, 2016
Photo provided by Christina Jensen Artists
By Christopher Johnson, ZEALnyc Contributing Writer, October 25, 2016
Yevgeny Kutik tells a revealing story about his teacher Roman Totenberg: "When I was first starting college [at Boston University]," he writes, "I had a particularly disappointing lesson and while packing up my violin, poured out to him my frustrations about my playing, lamenting how I was practising over five hours every day, but without the progress I expected. To my consternation, Professor Totenberg, who was soft spoken and had a deep voice, simply stared at me silently for what felt like several minutes and then said one word: 'Listen'."
Back in the late 1960s, when I was at BU, the music and theatre divisions of what was then called The School of Fine and Applied Arts were jumbled together on the fourth floor of a vast Beaux-Arts structure that originally housed the swankiest Buick-dealership in Boston. Roman Totenberg strode those long halls like a god, and when he passed through the lobby between classes, crowds parted before him, and even proto-hippie acting-students who had no idea who he was had to stifle an overpowering impulse to genuflect. Only a fool blows off Totenberg, and Yevgeny Kutik is no fool.
There was a lot of listening going on at National Sawdust Wednesday night. In fact, the most impressive thing about the evening, which included two world premieres and introduced the latest of Kutik's very fine recordings, was the degree to which Kutik and Timo Andres, the up-and-coming composer-pianist, seemed to be attuned not only to one another, but to some third presence that spoke to them out of the air. You don't see the real thing all that often. This was the real thing.
Like Kutik's new recording, the program was built around Hans Christian Anderson's adage that "where words fail, music speaks." This may be something of a truism, but it made for a fascinating recital. The most substantial of the new pieces--Michael Gandolfi's Arioso/Doloroso/Estatico, for unaccompanied violin, and Andres's Words Fail, for violin and piano, both commissioned by Kutik--take off from the plaintive four-note motif that opens Mendelssohn's Song Without Words, Op. 19, No. 1. Gandolfi develops it melodically and through variation, paying homage to Bach's partitas for solo violin with lots of implied counterpoint, while Andres opts for a loose, shifting canonic elaboration exploiting nearly the full range of both instruments. Both pieces are cast in simple ternary form, rising to a crisis and then subsiding. After that, words (as they say) fail, and analysis is just irritating: these are substantial pieces that command and hold attention, amply justifying their upwards-of-nine-minutes' duration. Better yet, they reward repeated hearing.
The third premiere was Andres's arrangement of a characteristically gnomic little movement from Janáček's On an Overgrown Path, also called "Words Fail!", which Andres said he felt almost compelled to do after finishing his own piece and then discovering that Janáček had beaten him to the title by nearly a century. The arrangement is both thoughtful and clever, and makes the piece feel substantial out of all proportion to its brevity. Kutik and Andres played it beautifully, shifting gears every couple of bars with a breathtaking combination of spontaneity and precision.
Andres and Kutik have performed together only once before, but they make a wonderful pair. Andres, whose prose and whose taste in lifestyle-features can seem a touch airy, is all business onstage: focussed, transparent, naturally expressive. Kutik, who seems a model of controlled passion on disc, becomes almost abandoned in performance--not unduly so, but he looks and sounds like someone perfectly willing do anything, whatever it takes, to tell you what this music is saying to him, and the occasional wooly attack or lapse of intonation be damned. Their ensemble was nearly perfect, and the way they tossed thematic elements and inner voices back and forth--naturally, fluently, without Making A Point or analyzing out loud--was sometimes thrilling.
These guys are good. Watch out.
Yevgeny Kutik, violin, and Timo Andres, piano, in recital on Wednesday, October 19, at National Sawdust, 80 North 6th Street, Brooklyn, New York.
MENDELSSOHN (arr. Friedrich Hermann) Songs Without Words, Op. 19, No. 1, and Op. 67, No. 2
GANDOLFI Arioso/Doloroso/Estatico (premiere)
ANDRES Words Fail (New York premiere)
JANÁČEK (arr. Andres) Words Fail (premiere)
STRAVINSKY Suite Italienne
Christopher Johnson writes frequently for ZEALnyc about classical music and related performances.
Support HuffPost
The Stakes Have Never Been Higher
Related
Popular in the Community