The much-anticipated appearance between Bill Maher and Milo Yiannopoulos on HBO's "Real Time" came off more like a mutual admiration society. At one point, the host even playfully referred to the white nationalist as an "impish, British fag."
"You are the only good [liberal], literally the only good one," Yiannopoulos gushed Friday night to Maher.
"I think you're colossally wrong on a number of things," said Maher, smiling. Yiannopoulos replied, "And that's OK."
Maher did stress that he does have a problem with Yiannopoulos attacking certain people. The standard bearer of the self-described "alt-right" movement, who forged his reputation on Breitbart.com when White House chief strategist Steve Bannon was editor, is known for his vicious diatribes against minorities, immigrants, women, and the LGBTQ community, including a disturbing verbal attack on a trans woman in the audience at a talk at the University of Wisconsin-Milwaukee. An appearance at the University of California at Berkeley this month to plug his upcoming book was cancelled after violent protests broke out. A day after President Donald Trump then threatened to cut off federal funds for the university.
The host did raise Yiannopoulus' contradictions — that he's a rabid right-winger while also being gay. "Spoiler alert!" added Maher. Yiannopoulos shot back, smiling playfully with strings of pearls around his neck, "Come on, you can do better than that. What tipped you off?"
He currently has a black lover and once a Muslim lover, he told Maher, as if to counter claims he's racist or Islamophobic.
"You've spoken out against all these people," Maher noted. "You've said you won't hire gay people."
"Oh nooo," Yiannopoulos said. "You can't trust them to show up to work on time. Too much sex, too much drugs .... always making excuses. Not as bad as women." That netted him the first boos from the generally giggling audience. "Just kidding," he said, turning to the audience. "You're easy ... you're very easily triggered. It's pathetic," he added.
Yiannopoulos said he doesn't know if he is actually a conservative. "All I care about is free speech and free expression," he insisted.
But he did complain that most liberalism has gone off the deep end. "Your side has gone insane," he told Maher. "The Democrats are the party of Lena Dunham. These people are mental, hideous people." He then attacked comedians Amy Schumer and Sarah Silverman. "These people used to be funny before they contracted feminism," Yiannopoulos said.
He also groused about the "authoritarian" "policing of humor for racism and sexism," which he called "utterly wrongheaded." Such humor is "how we build bridges, not how we break them,"
"The reason [liberals] want to police humor is they can't control it — because the one thing all authoritarians hate is the sound of laughter," he added.
"I simply don't accept that the star of a Hollywood blockbuster is sitting in a Hollywood mansion crying over mean words on the internet. Get over it," he snapped. "Mean words on the internet don't hurt anyone."
As for himself, the self-proclamied "virtuous troll" said he loves to be attacked. "I get off on it," he said. "I'm a little broken."
Maher said that some would say his words incite violence. Yiannopoulos retorted, "Then they would be idiots." He also attacked journalist Jeremy Scahill for refusing to come on Maher's show when he found out the alt-right mouth would also be there. "That silly man who had a hissy fit ... if you don't show up to debate, you lose," Yiannopoulos said.
Scahill issued a statement when he backed out of the program that Yiannopoulos "has ample venues to spew his hateful diatribes." "There is no value in debating him," Scahill said. "Appearing on 'Real Time' will provide Yiannopoulos with a large, important platform to openly advocate his racist, anti-immigrant campaign."
Maher only threw a couple of Yiannopoulos' controversial attacks back in his face including his positions that "black lives matter is a hate group" and "there's no such thing as white privilege." But it seemed a lackluster effort and Yiannopoulos let it pass.
The comedian instead scolded liberals. "Stop taking the bait, liberals," he said, before delivering the "impish British" quip. He then read some cutting jokes from the late Joan Rivers to show, apparently, that Yiannopoulos isn't all that bad.
But Maher did urge Milo to "get off the Trump train" because he's not appropriate for someone purported to be free-speech advocate. But Yiannopoulos responded, "He's fabulous!"
Before You Go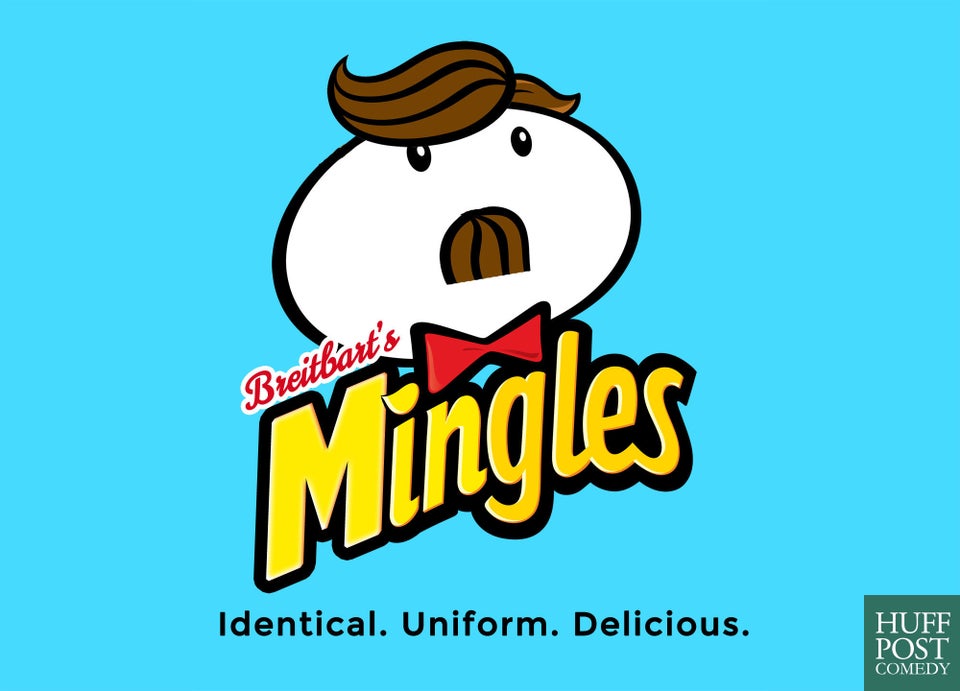 Breitbart Boycotted Kellogg's So Here Are Breitbart Brand Alternatives
Popular in the Community