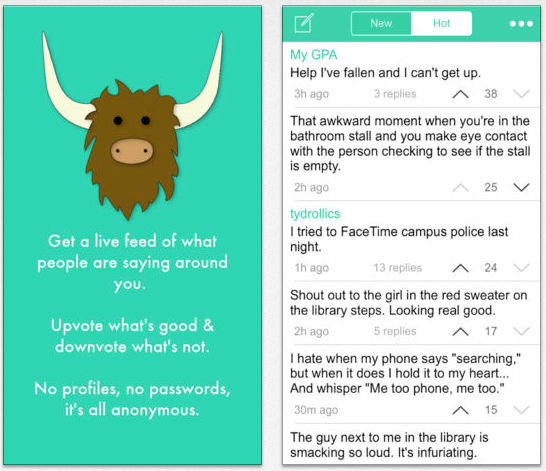 When I wrote about Yik Yak recently, this new social app was making headlines for being used inappropriately, and dangerously, by high school students across the country. Incidences of cyberbullying in Chicago and Georgia, followed by an anonymous bomb threat at my daughter's school, in San Clemente, CA, quickly placed Yik Yak at the top of every parent's and educator's "Least Favorite App" list.
My 18-year-old daughter, who, like many, downloaded the app after it became an overnight sensation, told me that within 24 hours of the lockdown, kids trying to use the app anywhere on or near the school could not. Curious about this, I contacted Yik Yak and spoke to co-founder Brooks Buffington.
"We were naïve," Buffington told me. "We designed the app primarily for college students. Using the app the way we intended it to be used requires a certain amount of maturity and responsibility, we were idealistic about who possessed that."
When Brooks Buffington and Tyler Droll, two recent graduates of Furman University, created Yik Yak last fall, their vision was to make a "virtual bulletin board," or a messaging system that would serve as a blank slate for random thoughts or postings. Its anonymity is a major feature, says Buffington, "because that guy in the back row of your science class might be the funniest guy you never hear."
The other feature that makes Yik Yak unique is that the app uses GPS location data to bring comments to a user's feed from other users nearby. In other words, it enables and encourages communities to share information within a geographical boundary, like a college campus or sporting event. A story Buffington likes to tell about the app's "ideal" use happened last winter break when a college freshman missed his flight home and returned to school to find his dormitory locked. He posted his predicament on Yik Yak, and was quickly offered a couch to crash on by an upperclassman.
Unfortunately, as we have learned from Yik Yak's predecessors -- including Ask.fm, Kik, and Snapchat -- social apps tend to gain notoriety not for the ways they bring people together for good, but rather for how they enable users to communicate hurt or harm. Our knee-jerk, and normal, reaction to learning about the nefarious use of an app to label it "bad" and then counsel our kids to delete it from their phones. But this is a short-term solution, for as sure as the day is long, a new app will come along to take the place of every app they delete.
That's why what Buffington and Droll did next is worth knowing about.

After finding out how Yik Yak was being used by watching the news, the pair immediately contacted Apple and requested an expedited review for their new app, which they were granted; this enabled them to quickly change the app's age rating to 17+ (parents take note: you can place restrictions on under-17-year-old children's phones that block them from downloading apps based on this rating).
When some Chicago-area high schools made the news for reported incidences of cyber bullying on Yik Yak, the pair blocked the entire city of Chicago from using the app. Then Buffington spent an entire day manually, and painstakingly, applying "geo-fences" -- or virtual geographic perimeters -- around every school in Chicago by using their GPS coordinates. This effectively blocked students from being able to use the app when on or near a school.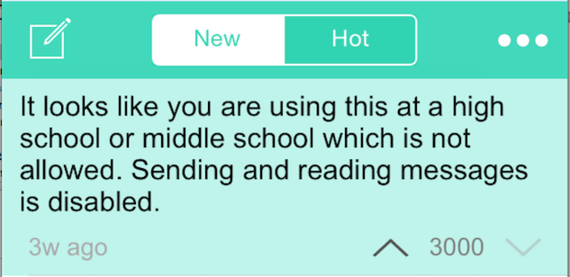 Once they saw this worked, the Yik Yak team conducted a Google search to look for a company that could help them geo-fence middle and high schools across the country. That's how they found Maponics.
Maponics, based in Vermont, is a company that "builds and defines geographic boundaries," primarily to offer rich data on school attendance zones, information that strongly influences real estate valuation. According to Will Marlow of Maponics, "Yik Yak reached out to us to see if Maponics' "location data'" could be used to prevent elementary, middle and high school students around the country from accessing the app."
It turned out that Maponics' had already "mapped" nearly 85 percent of the U.S. high school population, so they were able to effectively help Yik Yik, still in its bootstrapping phase (read: cash-poor), place "geo-fences" or virtual walls around schools, thus blocking kids from using the app. (Schools not yet mapped by Maponics can contact Yik Yak directly and one of its owners will manually input the school's location.)
"It's disheartening to see our app being used in an unintended way," says Buffington. "We don't want to see negative events become the face of the company. Every social app has its growing pains, we want to be the ones that are still around in two years or more."
Because that anonymous kid in the back row just might be the funniest kid you don't know.
What Parents and Educators Can Do To Monitor Social Apps:
Prevent your under-17-year-old from downloading apps rated 17+. If they have an iOS device: Go to "Settings," select "General" and tap "Enable Restrictions." You can set restrictions for "Installing Apps" and "In-App Purchases" here (the slider should read off.)
Since kids are really good at getting around #1 (above), a better solution is to talk to your kids, set rules, and then get familiar or cyber-wise about what they're up to online so you can see if your rules are being followed. If you need a little help with this (especially with younger kids) you might consider installing software, like SpectorSoft, that records and replays all of your child's Internet activity and provides a detailed report.
Even better than #1 or #2 is to advocate for digital literacy or "cyber civics" lessons to be taught at your school. Understanding how (and why) to be safe and respectful online is an indispensable skill in our networked world. Besides, the best Internet block or filter in the world is the one kids carry around between their ears. Let's teach them how to use it!
Related