CHICAGO -- Yik Yak is the latest anonymous messaging app to stoke cyber bullying fears among parents and educators, recently causing so much worry its creators temporarily disabled it for an entire city.
Created last fall, Yik Yak connects up to 500 people within a close geographic range (approximately one mile) and shows a Twitter-like feed of anonymous comments that can be up-or downvoted. The app already has more than 240,000 users, according to USA Today.
Whitney Young high school in Chicago recently blocked the app from its Wi-Fi network, though anyone with phone and a data plan was still able to access it. After complaints from parents and schools, Yik Yak's creators disabled the app for the entire Chicago area on March 6, selectively re-enabling it March 9.
"We have re-enabled the app for the Chicago area after attempting to geofence all high schools and middle schools in the area," Yik Yak co-founder Brooks Buffington told The Huffington Post via email Monday, noting the list of schools is not yet comprehensive.
Users trying to pull up the app in fenced Chicago-area schools find the following message: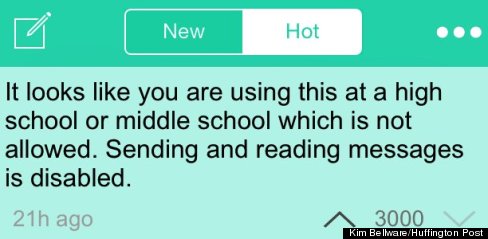 Brad Spirrison, managing editor of smartphone app site Appolicious, told ABC that a city-wide blackout for a social media app is uncommon.

"This kind of pulling from a particular town, city, region is -- if not unprecedented -- extremely rare," Spirrison said.
"Sadly, we have found that this app is allowing students to verbally abuse each other as well as faculty and staff at LFHS. Posts can be especially vicious and hurtful since there is no way to trace their source and it can be disseminated widely."
"In the future we plan to geo-fence all high schools and middle schools in America," Buffington told HuffPost, referring to a software feature that can define a virtual boundary for a real-world geographical area to prevent the app's use in certain places.
The app's terms of service stipulate that users must be at least 17, though there's no way to verify age or prevent unintended use by minors.
"As developers we always hate to see our app misused, so we want to do all that we can to prevent its misuse by anyone under college age," Buffington said. "We want to make sure that positive and constructive communities are being formed on Yik Yak, like the ones we see on college campuses."
Popular in the Community