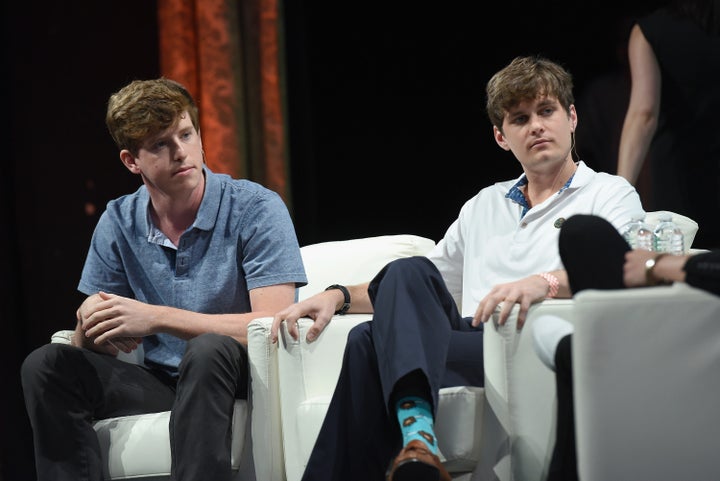 A lawyer working on behalf of civil rights and feminist organizations is ramping up pressure on Yik Yak to do more to combat racist, sexist and homophobic messages posted to the anonymous social media app.
Attorney Debra Katz sent a letter Wednesday evening to venture capitalists James Goetz and Timothy Draper, who collectively invested $72 million in Yik Yak -- $62 million of which came from Goetz's Sequoia Capital -- to request they meet with her law firm and feminist groups about harassment taking place on the app.
It's the latest push for the company to increase regulation of what gets posted on the app, which allows users near a certain city or campus to anonymously publish text or photos on a specialized feed and is popular among college students. However, free speech experts worry that efforts to limit what students can say in their posts could censor constitutionally protected speech.
Katz's firm last month helped organize a lengthy letter, signed by 72 national and local civil rights and feminist groups, to the U.S. Department of Education's Office for Civil Rights. It called on the federal agency to clarify what is expected from academic institutions regarding online harassment or offensive comments on social media. At that time, they also requested a meeting with Yik Yak co-founders Tyler Droll and Brooks Buffington.
That letter included a number of examples of offensive language that has appeared on the app. At American University, for example, racist comments about black students were spotted: "Their entire culture just isn't conducive to a life of success. It just isn't. The outfits. The attitudes. The behavior." Gang rape threats were posted in feeds at Kenyon College and Middlebury College. University of Mary Washington students dealt with jokes about rape and killing women, some of which targeted specific students. At Clemson University in South Carolina, an entire Tumblr account was set up to document racist and homophobic comments on Yik Yak.
Katz elevated her concerns to the investors because Droll and Buffington did not respond to her request to meet, she said.
Read the letter sent to the top investors of Yik Yak:
"The issue here is how Yik Yak is being used when people duck behind anonymity and say whatever they want and infringe on the other rights of other students to be free of sexual harassment or threats based on their race or sexual orientation," Katz said in an interview.
In the letter sent Wednesday, Katz accuses the app of having its "head in the sand" regarding these issues. However, Buffington wrote a blog post that same day imploring users not to use Yik Yak for hatred.
So what would Katz like to see Yik Yak do?
One suggestion she has would be for the company to reveal to universities the identity of any students found posting hostile or violent comments.
But Hilary McQuaide, a spokeswoman for the app, told The Huffington Post that may not be possible because Yik Yak is "bound by federal and state laws regarding any disclosure of user information."
She added that the company does not support "misuse" of the app.
"We work hard to encourage a positive and supportive community environment on Yik Yak, and we support school administrators in their efforts to encourage positive behavior and discourage inappropriate activity -- whether on campus or own any social platform," McQuaide said.
A college administrator may also have a hard time even identifying which posts constitute harassment, said Samantha Harris, director of speech code research at the Foundation for Individual Rights in Education. Offensive speech that isn't also a specific threat, she noted, is constitutionally protected.
"That's why offensive speech is not subject to punishment on the basis of its offensiveness alone," Harris said. "Additionally, people have the right to express offensive opinions if they are not threatening people."
Yet, students regularly expect their universities to respond to these sorts of posts.
Last week at Colgate University, for example, a group of students on campus protested what they believe is a lack of transparency in how the New York school handles reports of sexual assault. Some other students criticized the activists, using their names in Yik Yak posts and saying they are the "reason why people doubt actual survivors of assault," according to screenshots HuffPost reviewed. Some posts included details from individual sexual assault cases.
A year earlier, Colgate students demonstrated to call on the school to do more to stop racist comments on the university's Yik Yak feed.
Rachel Drucker, a junior at Colgate who has been involved in both protests, said she wants schools to do more to protect students from threatening messages.
"We shouldn't have to text our friends asking them to down-vote Yik Yak posts so that they go away," Drucker said.
In a statement, Dean of the College Suzy Nelson said she was "disturbed" by recent Yik Yak posts.
"Using anonymous social media for a negative and destructive purpose is not only cowardly but also undermines all that is good about our campus community," Nelson said. "We have a record of these posts, and ITS and Campus Safety are investigating to determine what further action can and/or should be taken."
Katz does not think the majority rule approach -- where users can down-vote offensive posts until they disappear -- is working because "that majority often chooses to target women, minorities, and unpopular viewpoints."
Yik Yak said it does not currently have plans to meet with Katz.
Related
Popular in the Community