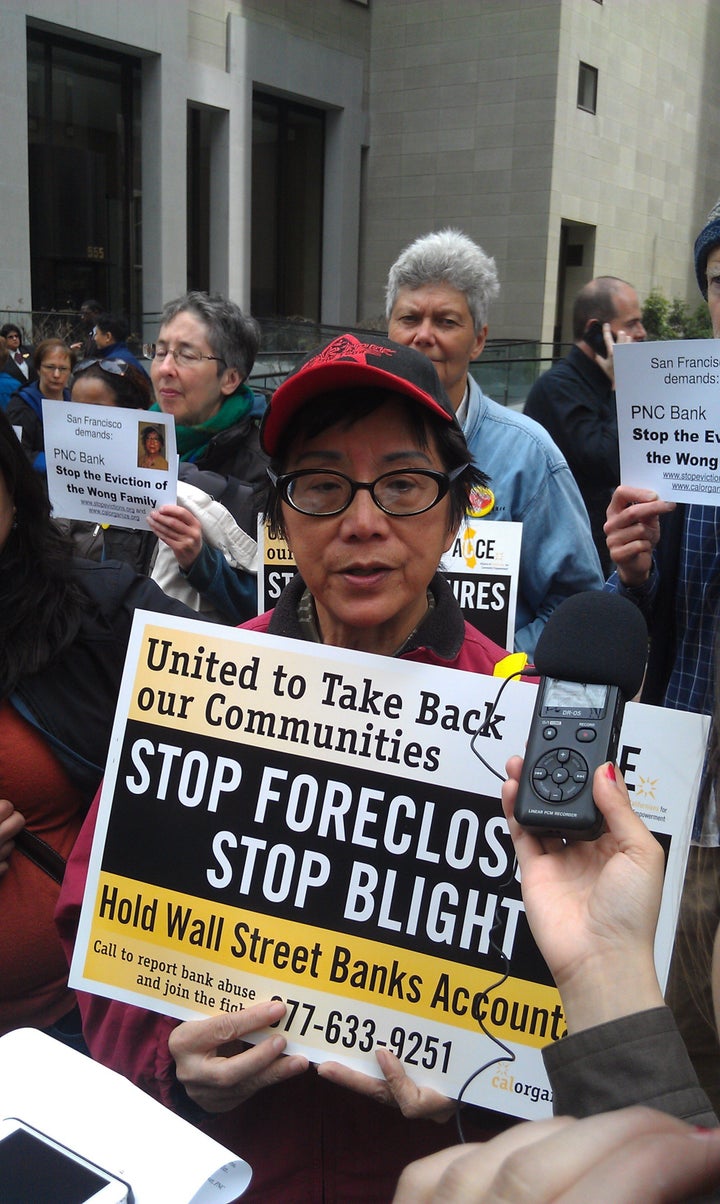 SAN FRANCISCO -- What if your home was foreclosed on even if you never missed a payment?
That's what the two dozen supporters of San Francisco resident Yin Wong, who gathered in front of the Market Street offices of PNG Financial Services Group on Friday afternoon, argue happened to the 64-year-old former lab technician after the banking giant attempted to evict her from her home of ten years.
Wearing Occupy SF buttons and chanting "PNC you know you're wrong, don't evict Yin Wong," the group, organized by a coalition of anti-foreclosure activists from the Alliance of Californians For Community Empowerment (ACCE), handed out flyers listing the home phone number of PNC CEO James Roar and the cell phone number of PNC President William Demchak urging people call and pressure the company to let Wong and her daughter stay in their home.
After spending a few minutes demonstrating on Market Street's busy sidewalk, the group pushed past a pair of security guards into the building's recessed plaza, but were stopped at the locked front door.
"We never paid late," Wong insisted to the assembled media. "We always paid on time."
For a decade, Yin Wong and her adult daughter had been living in a house in the city's Bayview district with a home loan held by National City Mortgage. During the 2008 financial meltdown, PNC, the sixth largest bank in the United States, purchased National City Mortgage and acquired Wong's home loan in the process.
In November of the following year, Wong received notice from the bank that it was no longer accepting her electronic payments. Partially due to her limited English skills, she was unable to determine how to reconfigure her payments so they would be accepted. A few days later, she received notice that the bank had begun foreclosure proceedings.
The next summer, PNC, which had reportedly increased Wong's monthly mortgage payment from $1,000 to $1,800, attempted to sell the home at auction, but Wong blocked the action by personally going to the sale and urging potential purchasers not to buy.
The company has since offered to sell Wong her house back. However, she can't afford the price of $222,000, which is more than the $160,000 she still owed on the mortgage.
The stress of the foreclosure has caused a marked decline in her health--Wong now suffers from depression and hypertension--which has made her unable to continue working at her previous job at Kaiser Permanente. She is now living off disability benefits.
ACCE organizer Grace Martinez charged that the bank has refused to negotiate down from their $222,000 offer. "We are just looking for a compromise, somewhere in between $160,000 and $200,000," Martinez told the Huffington Post.
"We have a lot of stress because of the foreclosure," explained Wong. "Now I am disabled. I've been to the hospital two times. PNC wants me to pay but I think its unfair. I want to negotiate but they refuse to talk to me."
A PNC spokesperson declined to comment, citing a policy of not speaking with the media about specific customers. The spokesperson did note that all of National's existing payment systems were maintained when the company was integrated into PNC.
"It's a very extreme situation if you're someone who doesn't speak English very well and suddenly, through no fault of your own, someone tells you that you no longer own your home," said Martinez. "It can unhinge you."
Take a look at images from Friday's protest below: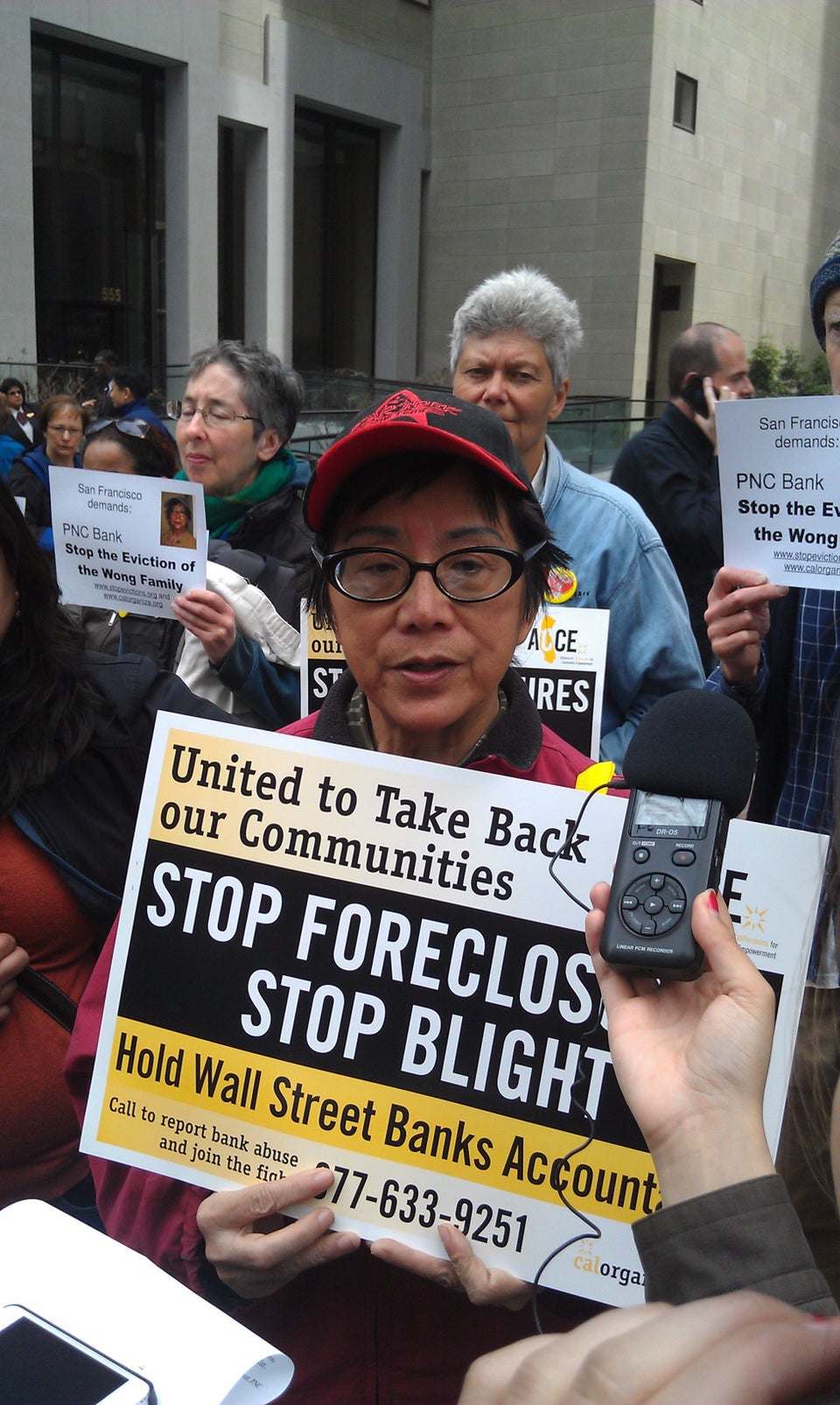 Yin Wong Protest
Related
Popular in the Community