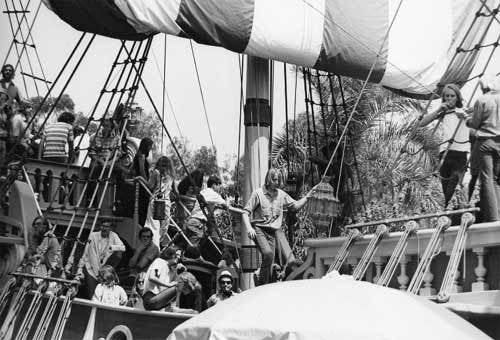 Picking up where we left off yesterday, given that you couldn't get into Disneyland without first buying a ticket, surprisingly few Yippies actually made it into this theme park on the morning of Aug. 6, 1970. Of the 27,400 guests who purchased admission that day, only 200 to 300 were thought to be members of the Youth International Party.
More importantly, veteran Disneyland managers were personally manning the turnstiles that morning. And as guests with long hair and/or particularly colorful garb came through, these individuals were pulled aside and discreetly told the rules of the day, which were basically, "If you're here to have a good time, you're more than welcome to visit Disneyland, but if you're here to cause trouble, you're eventually going to be asked to leave the park."
And that -- in the beginning, anyway -- is how Disneyland handled the International Yippie Pow-Wow: managers continually scurried around the park, going up to individual groups of long-haired kids and asking them to "please be cool," to be respectful of all the other guests who'd come out to the park that day with their families, to not ruin these other people's fun with their Yippie activities.
And for most of the day, this approach worked. The now-middle-aged Yippies who actually took part in 1970's Pow-Wow talk about how amusing (yet annoying) it was to continually be shadowed by these soft-spoken, very polite, tie-wearing executives as they moved through the theme park. Disneyland managers alternated between whispering into their walkie-talkies and periodically walking up to groups and asking, "Now you guys are going to behave, right? Please don't ruin things for all our other guests."
And despite the promises of the initial flyer for this event, no Black Panthers ever showed up for breakfast at Aunt Jemima's Pancake House, nor did any Women's Lib types attempt to liberate Minnie Mouse in Fantasyland. And speaking of no-shows, perhaps the biggest disappointment of the day was that Abbie Hoffman and Jerry Rubin failed to make the scene, which then left the Yippies who had actually bought admission to Disneyland that day without a de facto leader of their in-theme-park protest. As a result, no one knew where or when it was, exactly, that they were now supposed to stick it to the Man -- or, in this case, the Mouse.
Mind you, there were those in the group who did make a genuine effort to get something controversial going over the course of the day. Take, for example, the 30 or so Yippies who tried to commandeer Captain Hook's pirate ship by climbing up into its rigging. But given that this boat was actually a building (The Chicken of the Sea restaurant, to be precise), the fact that there were teenagers up on the second floor chanting about Ho Chi Mihn didn't actually stop any tourists from ordering tuna sandwiches down on the first floor.
Youth International Party members climb into the rigging of Disneyland's Chicken of the Sea restaurant. Copyright Disney Enterprises, Inc. All rights reserved.
And the fact that the other guests at Disneyland didn't really seem to be paying attention to the Yippies (they weren't even stopping to watch as these teenagers snake-danced on Main Street, U.S.A. and sang about how they were "marching to Cambodia") genuinely began to irk members of the Youth International Party. Sensing that the piece of political theater that they were trying to pull off wasn't nearly as appealing to the tourists and their cameras as The Haunted Mansion and Pirates of the Caribbean were, the Yippies then made a deliberate effort to put some more "Wow" into their International Yippie Pow-Wow.
So at 5 p.m., a handful of Yippie convention participants boarded a raft for Tom Sawyer's Island and then "invaded" Fort Wilderness. Their goal was to scandalize the guests who were already on the Island by pulling down the Stars and Stripes and replacing it with their Yippie flag. They also tried to get a reaction out of the tourists floating by on the Mark Twain riverboat and the Mike Fink keelboats by chanting slogans like "free Charles Manson" and "legalize marijuana," while openly smoking pot.
The only problem with this plan was... well, to be blunt, Tom Sawyer's Island is separated from the rest of Disneyland by a pretty wide body of water, the Rivers of America. Furthermore, Fort Wilderness is located in a fairly isolated corner of that Island. So rather than offending thousands of Disneyland guests with this seemingly bold piece of political theater (and, more importantly, generating millions of dollars' worth of free publicity for the Youth International Party), the Yippies had, at best, mildly annoyed a couple dozen tourists.
Realizing that their "takeover" of Fort Wilderness had proven to be something of a dud, the Yippies now decided to return to Main Street, U.S.A. They figured that if they protested in front of the in-park branch of the Bank of America (which, at that time, was located toward the very front of that theme park), that might finally get a rise out of some of the staid Southern California suburbanites who were visiting Disneyland that day.
But even this piece of political theater didn't go quite according to plan. As the Yippies began chanting "Give me an 'F,' give me a 'U,'" the 700 guests who were standing in Town Square around this same time spontaneously began singing "God Bless America."
Tension rose as one of the kids climbed a turn-of-the-century light pole and then tried to hang the Yippie flag from there. One of the tourists in Town Square immediately reached up and tore this banner down. This then escalated into a shoving match between that guest and the Yippie.
The draping of this Yippie flag over a turn-of-the-century light pole on Main Street, U.S.A. signaled the beginning of the end of the Yippie International Pow-Wow at Disneyland. Copyright Disney Enterprises, Inc. All rights reserved.
Sensing that this situation was about to spin out of control, Disneyland managers felt that they now had no choice but to shut the Yippies down. "That's it," Dick Nunis, the Vice President of Operations, said. "No more mass marching. No more demonstrating. No more singing. You're no longer welcome here. You need to leave the park."
And when members of the Youth International Party tried to call Nunis' bluff by turning and heading back up Main Street, U.S.A. toward Sleeping Beauty Castle, that's when the riot police came marching out from backstage.
Jim Hill is an award-winning entertainment writer who lives in New Boston, N.H. Over the past 30 years, he has interviewed hundreds of veterans of the animation and themed entertainment industry and written extensively about The Walt Disney Company. For his more immediate musings on movies, TV shows, books and theme parks, please check out his blog, jimhillmedia.com.
Popular in the Community