Just as a metaphysician seeks to clarify the fundamental notions by which humankind understands the world, the work of artist Yisreal Feldsott is a pursuit of an encounter with the nature of existence. His extraordinary new body of work -- heroic, powerful, poetic -- is on view in a show titled, "Cries, Chants, Shouts and Whispers: Songs of the Forgotten" at New York's Studio Vendome and Studio Vendome Projects from October 16th through Nov 23, 2013. Feldsott is a heroic artist in that his paintings, often large and fierce mélanges of precision, experimentation, beauty and brutality, are also warnings and ultimately redemptive visions.
Feldsott's story is like an archetypal heroic myth. A figure venturing forth from the everyday into a region of wonder and adventure, then returning with a rediscovered power. Hailing from Chicago, Feldsott began to paint seriously at fifteen. Early influences include the tactile figures of Leon Golub, the panoramas of shapes in vaporous space in Joan Miró's constellation series, and the renegade spirit engendered by a group of Chicago Imagists called The Harry Who who broke with New York's Pop Art trends. By the time Feldsott was eighteen, he left Chicago for the Bay Area where in the early 1980s, nearly seven years before Basquiat's paintings exploded on the New York art scene, Feldsott was the youngest artist to ever display his graffiti style paintings at the San Francisco Museum of Modern Art. These works were gritty in nature. Powerful and primitive, they evoke the scratching marks of artists like Cy Twombly mixed with the humor of Roy De Forest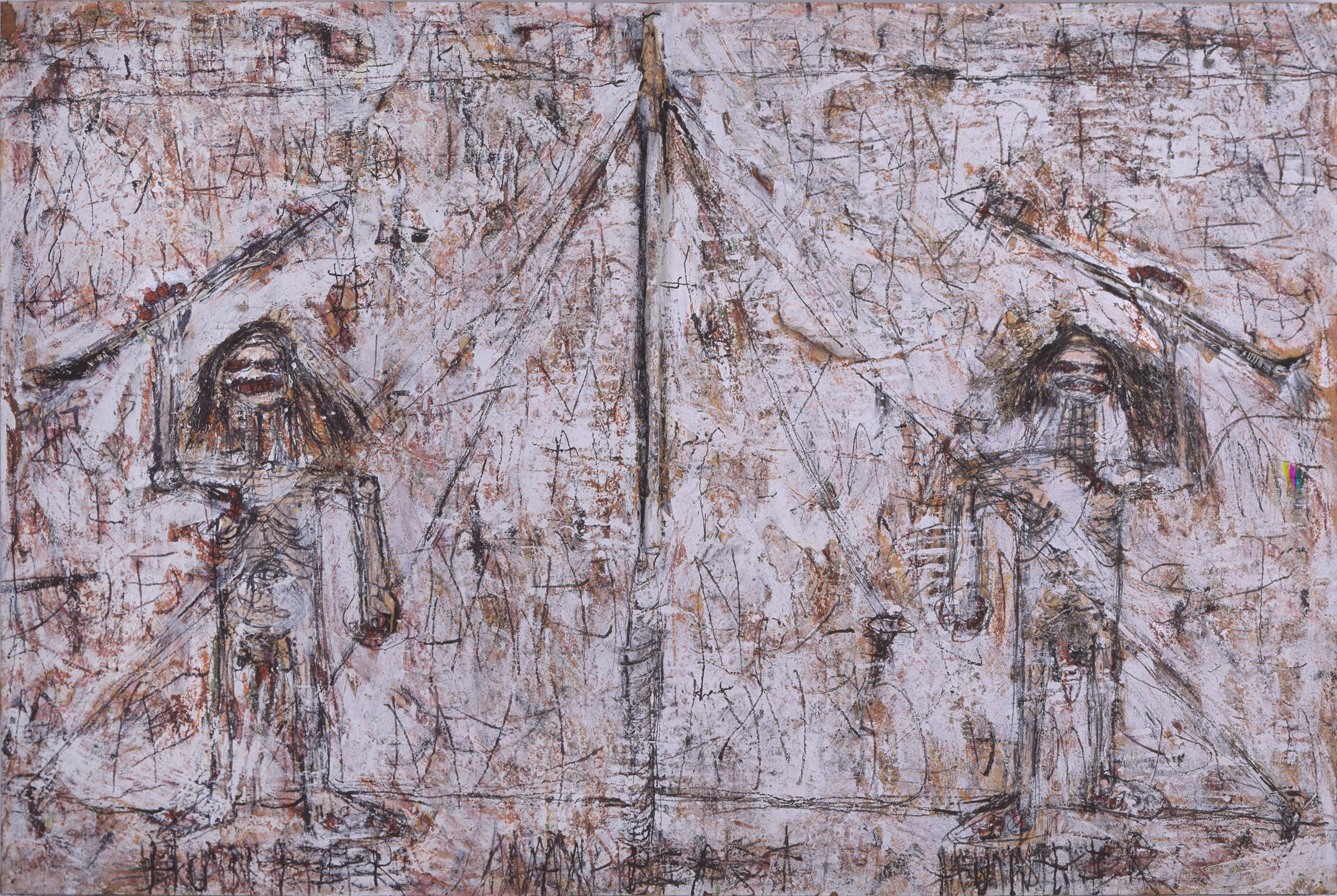 Untitled painting from Hunter Series #1, Mixed Media on board, 1976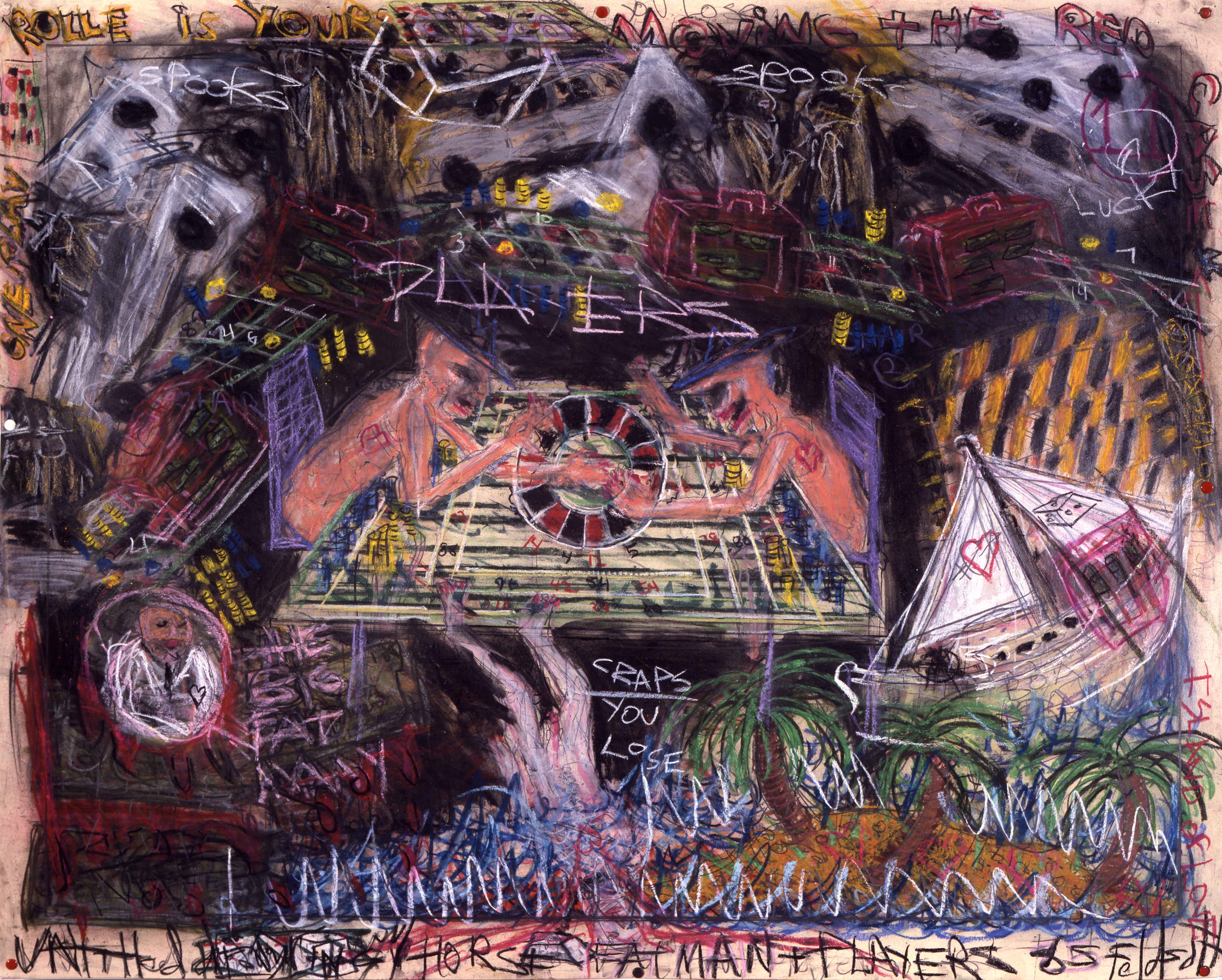 Untitled drawing w/Fatman & Palyer, Mixed Media on Strathmore 2-ply museum board, 1985

But both external and internal forces pulled Feldsott from what would have been early art world stardom. Disillusioned with the commercialism of the art scene and struggling with his own demons, Feldsott left the Bay Area, first for Mexico, then eventually for remote regions of the Amazon. Though he resisted showing, he never stopped painting. Additionally, he opened his life to other encounters: with indigenous people in the Amazon; with Shamanistic practices; and with ecological restoration. It was at this point that Feldsott's work began to confront not just the existence, but also the essence of being human.
River, painted in 2011 is a large, vivid yellow horizontal painting of death and yet, it is anything but tragic. Dark crows fly across the heavens towards the sun while the figure on a boat, accompanied by a white dove, sails in the opposite direction of the moon. Gazing at River, I felt as if I was looking into eternity. In places the pigment itself is dense and layered, a mix of minerals that look centuries old. In fact the whole image is reminiscent of a cave painting. In its presence, I half believed that it has been there, waiting to be discovered, for a millennium.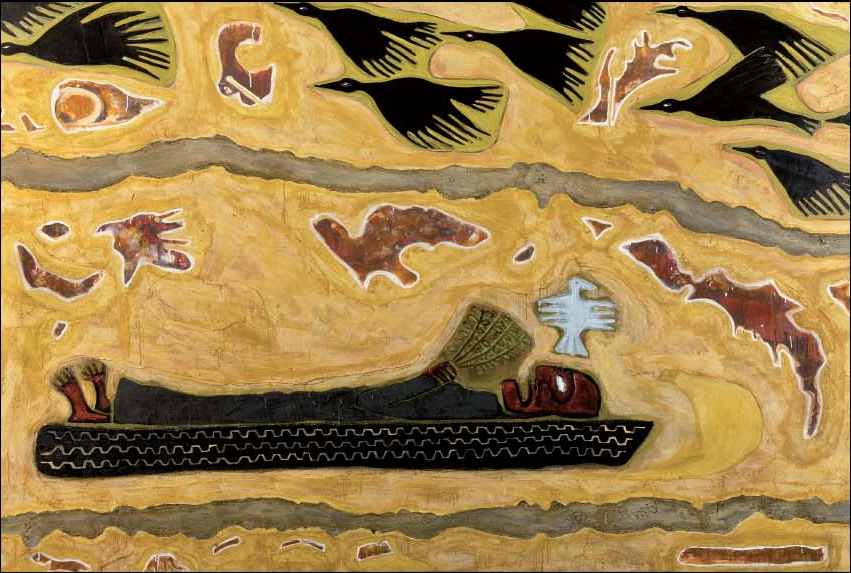 River, Mixed media on board, 2011
Archetypes abound in the rich tapestry of Feldsott's work: Birds, crosses, horses which represent the supreme spirit that carries one through other realms, and the river. The river for Feldsott is both a literal and metaphorical place. It is into the depths of the river of our commonality that he reaches for the source of his inspiration. Feldsott says his paintings come to him first as visions. But as in life, so in art, vision is only the starting point. There is a journey then to be undertaken to reach the final painting. This journey involves the layering and scraping away of many surfaces; it sometimes involves a confrontation with darkness, or death. Ultimately, Feldsott says, that's where the healing emanates from. And he does believe that his paintings are meant to heal, to restore, to redeem.
A painting such as Bearing Witness is both frightening and transcendent. A red river of floating skulls pours out of a burning house, choppers cut through the air overhead, a cloaked figure bears witness to a landscape riddled with atrocities. This ability to portray the gamut of human experience, not to turn away but to present the wound to the world -- to present it to the light -- is at the heart of all Feldsott's work.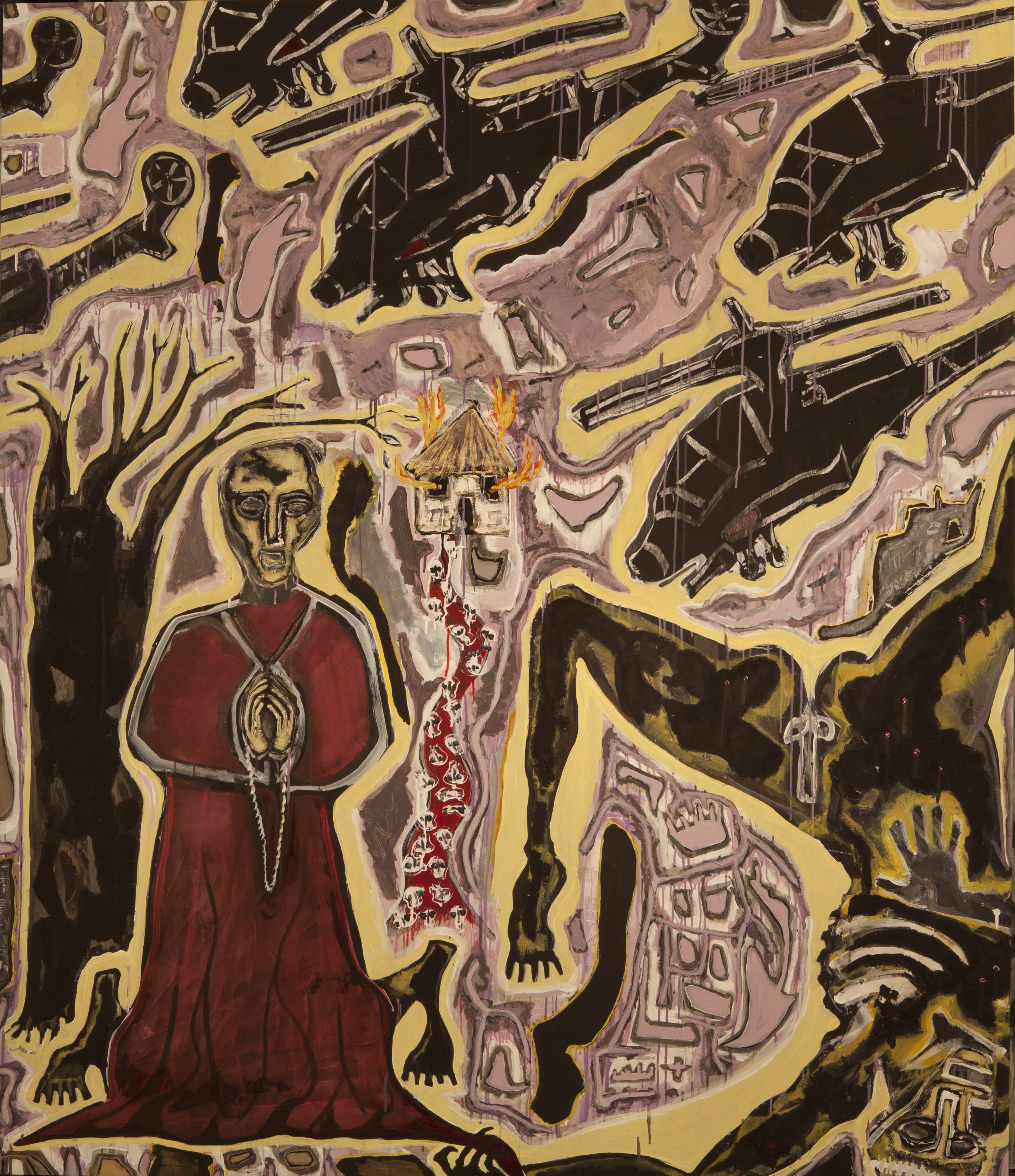 Bearing Witness, Mixed media on wood panel, 2013
He takes this redemptive role seriously, beyond painting. Feldsott is an eloquent, soft-spoken, exacting and persistent man. Dressed all in black with two earrings in his right ear, he was a composed figure amid the buzz and excitement of his opening. He'd just journeyed cross-country in collaboration with his wife, Dee Nola O'Neal, on project called My Enemy. A traveling art exhibit that stops at sites -- from Wounded Knee in South Dekota to the Tibet House in New York -- My Enemy incorporates text and standing relief figures created by Feldsott with the goal of using art as a dialogue to repair the division between friend and foe.
This is not the usual trend of an art world that often displays works of a hyper intellectual iconography. Hopefully it is a new trend. Primal, visceral, bursting with a pictorial intelligence, Feldsott's work seeks to add another voice to the discourse. Simply put, the voice of the spirit.
All images courtesy of Studio Vendome and the artist.
Basic Facts:
Studio Vendome: 330 Spring Street, NYC. Tuesday-Friday 10-6pm, Saturday 12-5pm
Studio Vendome Projects: 30 Grand Street, NYC. Wednesday-Friday 10-6pm, Saturday 12-5pm
email gallery@studiovendome.com
tel 646.650.2466
For further information on My Enemy including information on the itinerary and the documentary film being made of the trip and project visit: Myenemy.org
Calling all HuffPost superfans!
Sign up for membership to become a founding member and help shape HuffPost's next chapter