YLA 22: ¡Ahora! features eight Young Latinx Artists from across Texas confronting contemporary socio-political issues in the United States. The exhibit will open to the public with a reception, including live music by the Tiarra Girls on Friday, July 14th (2017) from 7:00 – 9:00 pm. Mexic-Arte Museum, 419 Congress Ave, Austin, Texas 78701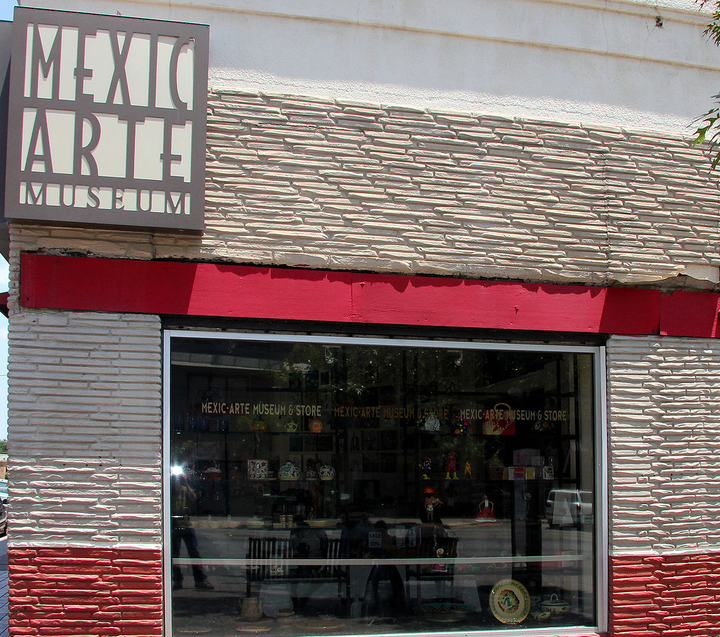 Daniela Cavazos Madrigal
Daniela Cavazos Madrigal was born in 1991 in Laredo, Texas. Her work reflects her interest in socio-cultural issues along the U.S./ Mexico border from the perspective of a woman and mother.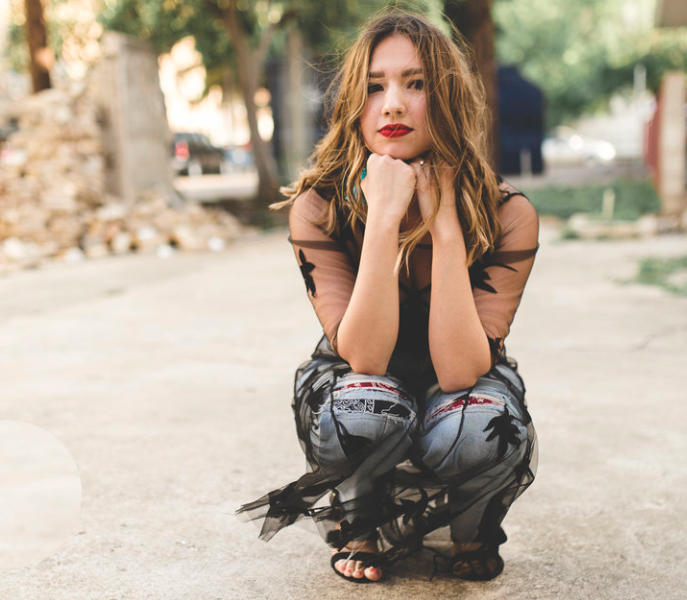 Her work employs processes such as embroidery, sewing, and weaving to honor the lineage of "Women's Work", as seen in art history, as well as blur the line between high and low art.

"Ahora" by Daniela Cavazos Madrigal, 2017, Discarded clothing on wire
As a bilingual, Cavazos Madrigal is interested in how language fails and explores the facets of translation. Cavazos Madrigal comes from a long line of makers and crafters, and through her work, she continues to reinterpret the relationship between discarded materials and language.
Nansi Guevara
Nansi Guevara is a Xicana artist and activist from Laredo, Texas. She's "passionate about creating art that acknowledges the history, strength, and resilience of Latinos and other people of color in the United States."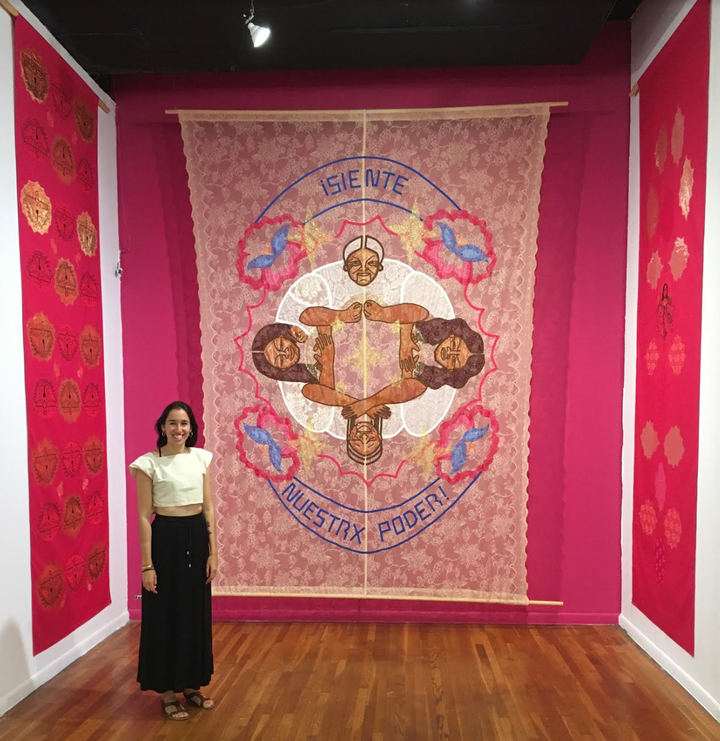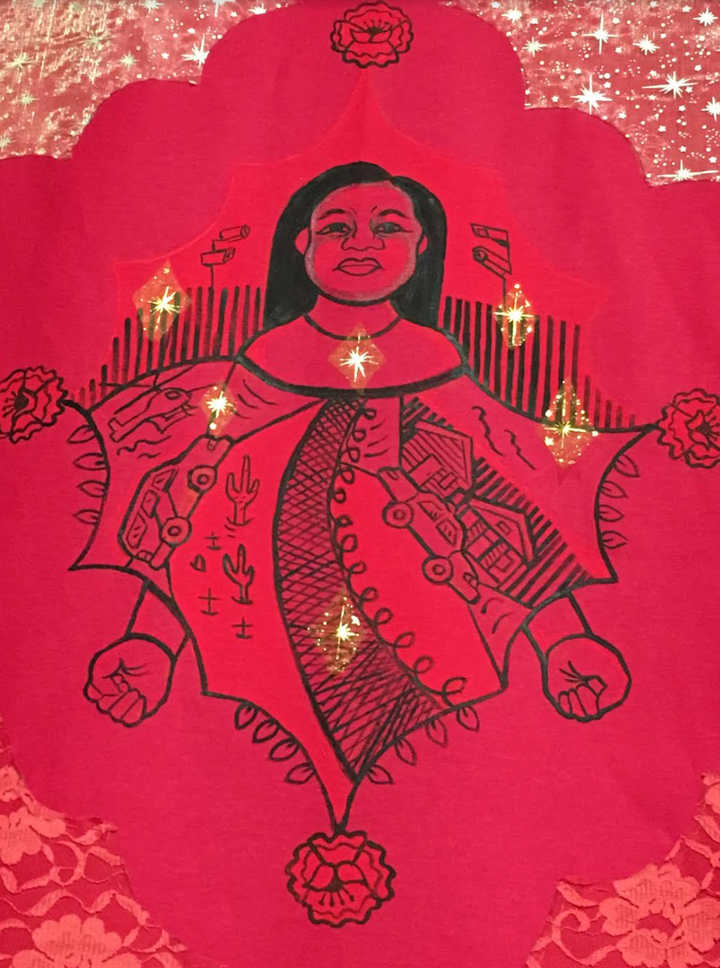 Nansi currently works in Brownsville, Texas and is inspired by the vibrant costurera (seamstress) talent and culture. She uses textiles to confront racist narratives and unjust power structures with a rasquache sensibility and a decolonial theoretical lens.
Mark Anthony Martinez
Mark Anthony Martinez (b.1987 | San Antonio, Texas) delves into representations of power through images and symbols exposing "whiteness" as interconnected with systems of domination and privilege.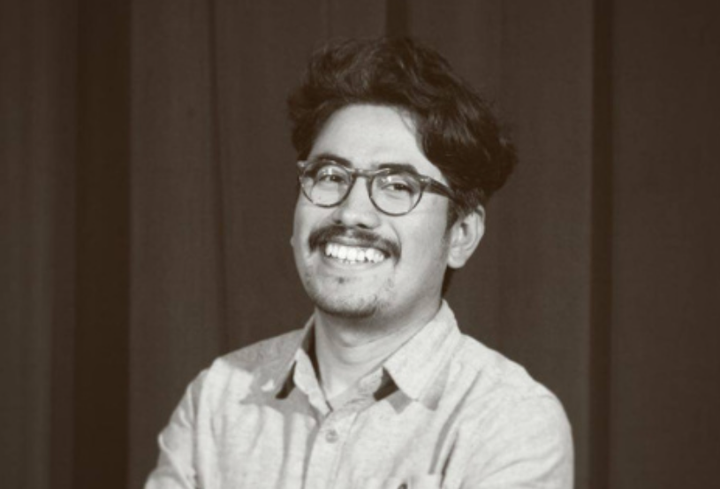 His tongue-in-cheek neon art (below) seeks to, in his words, "illustrate an anti-racist aesthetic dedicated toward elucidating whiteness as a hegemonic power structure, within the confines of the whitewall gallery."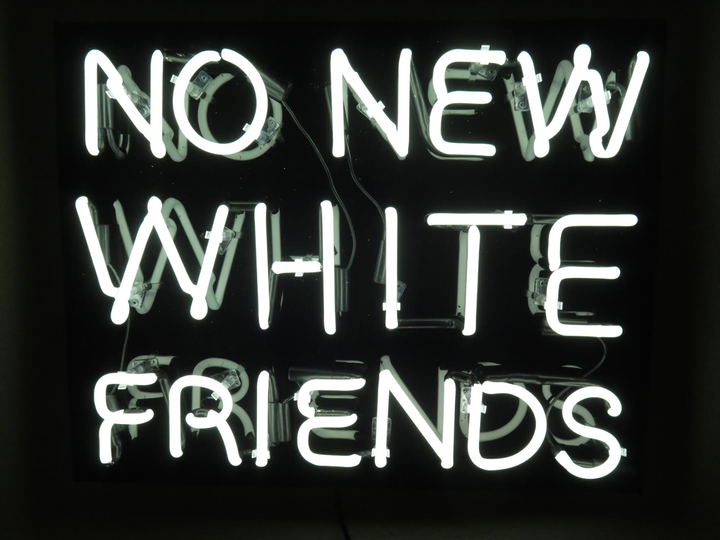 "No New White Friends" by Mark Anthony Martinez, 2017, Neon, Fabrication by The King of Neon
Paloma Mayorga
Paloma Mayorga - the "renegade dove" from Austin, Texas, examines the ways the human body relates to its natural and constructed environments. Speaking of environments, check this symbolic photo (note the artist peering into her own studio through the window):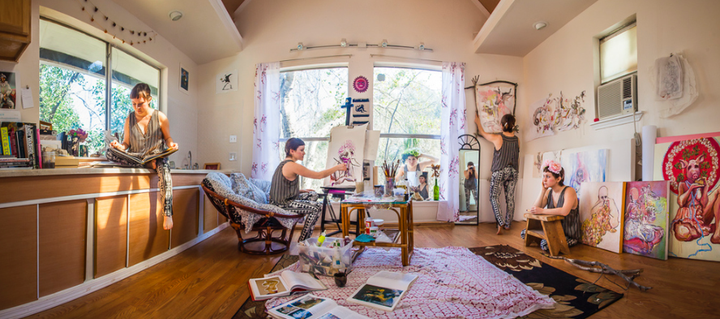 By dissecting the relationship between her body and the earth, she aims to deconstruct the rhetoric used to censor, consume and criticize the femme body, and in this process find healing.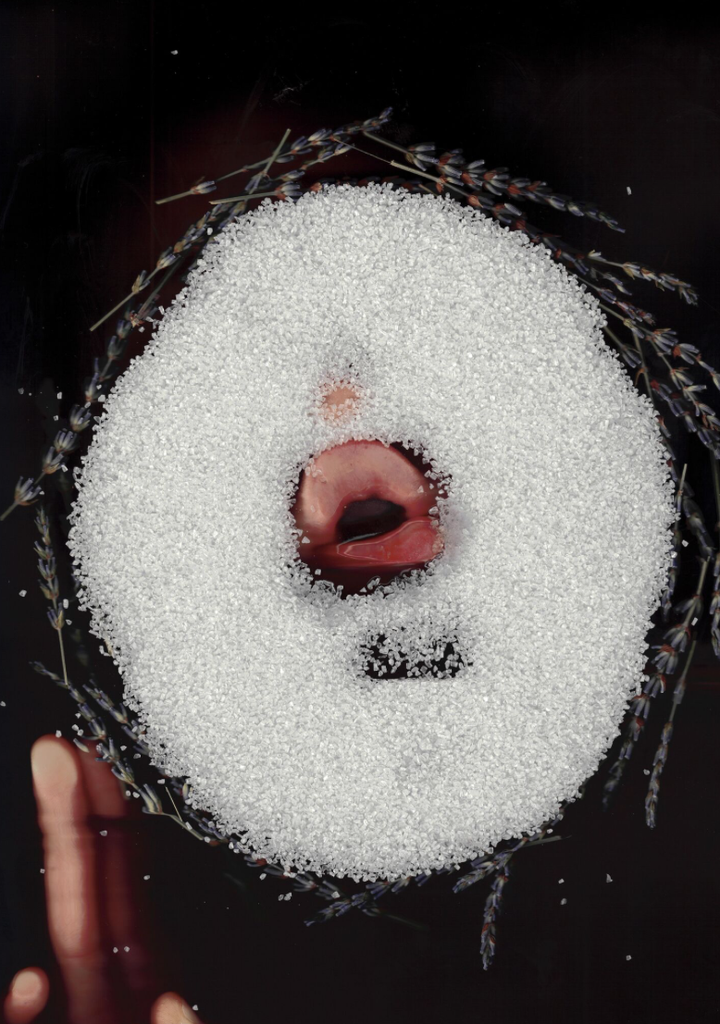 "Labios salados (Seasoned lips)" by Paloma Mayorga, Lavender and sea salt, Digital C-type print
Ashley Mireles
San Antonio's Ashley Mireles explores the feminine role through a religious context, juxtaposing classic Hollywood actresses with canonized Catholic saints in a unique presentation of cultural syncretism inspired by Spanish Colonial art.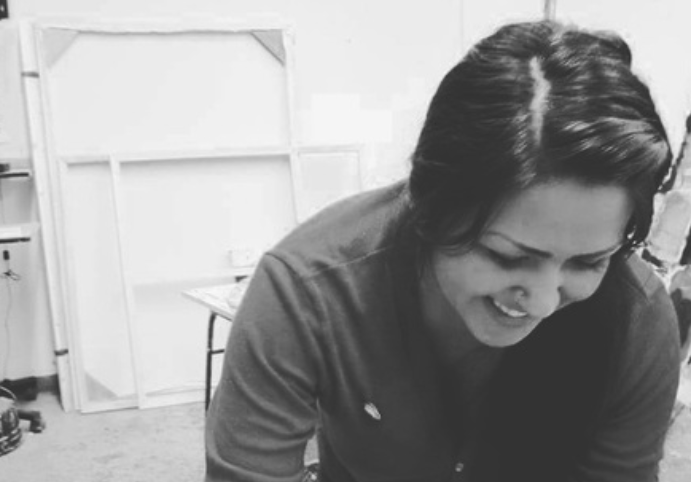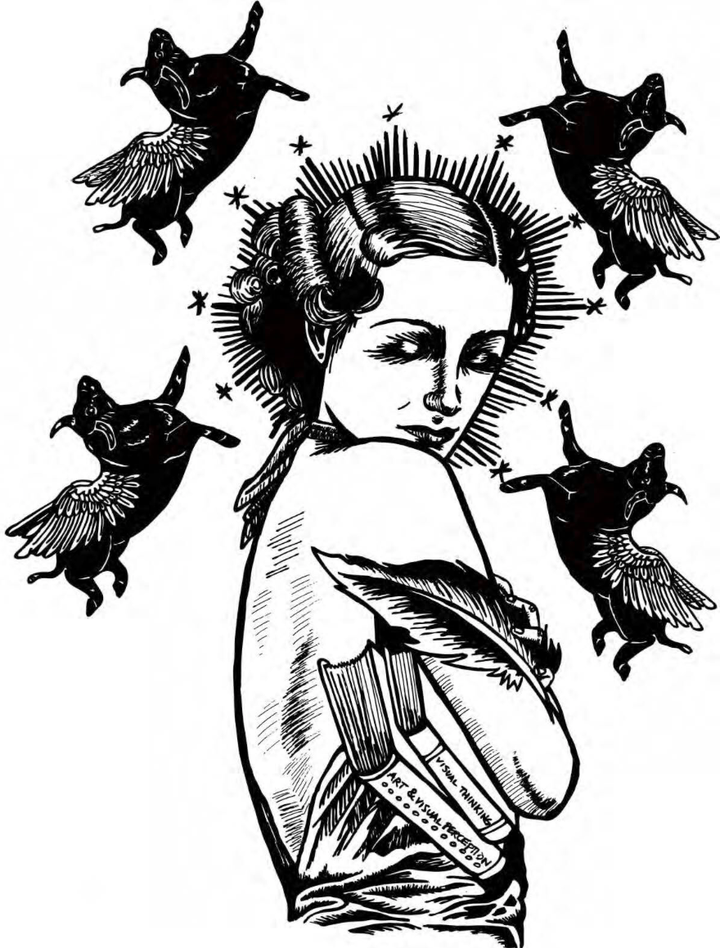 "Joan the Evangelist" by Ashley Mireles, 2017, Serigraph on panel
There's something about those flying bulls that makes me smile.
Michael Martinez
Michael Martinez is Mark Anthony Martinez's brother. He works in both textiles and new media, and articulates the pressures endured by LGBTQ members of Latin American diaspora.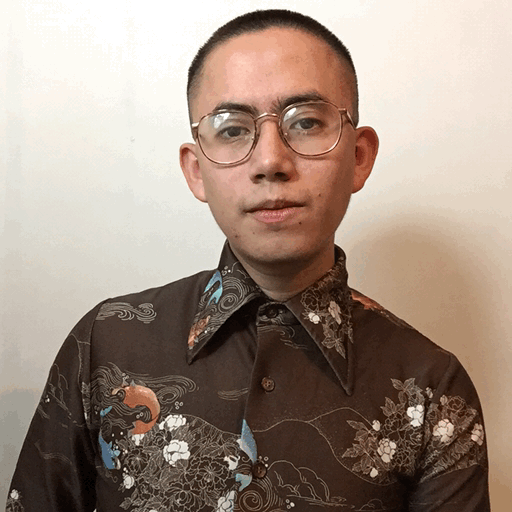 Growing up on San Antonio's South Side, the two brothers lived in the warm embrace of a rich Mexican-American culture. But when they left San Antonio to attend art school in Portland, Oregon, they encountered both racism and homophobia.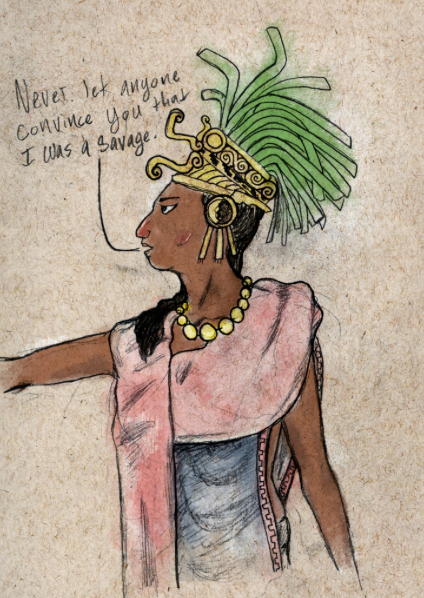 "Lady of Copán" by Michael Martinez, stone, mixed media, stone lithography, gouache
Andrei Rentería
Andrei Rentería (Chihuahua City, Mexico/ Presidio, Texas) employs drawing to unmask crimes against humanity. Using a figurative practice and expressive line work, Rentería exposes genocides of the past and today, while foretelling a dark future.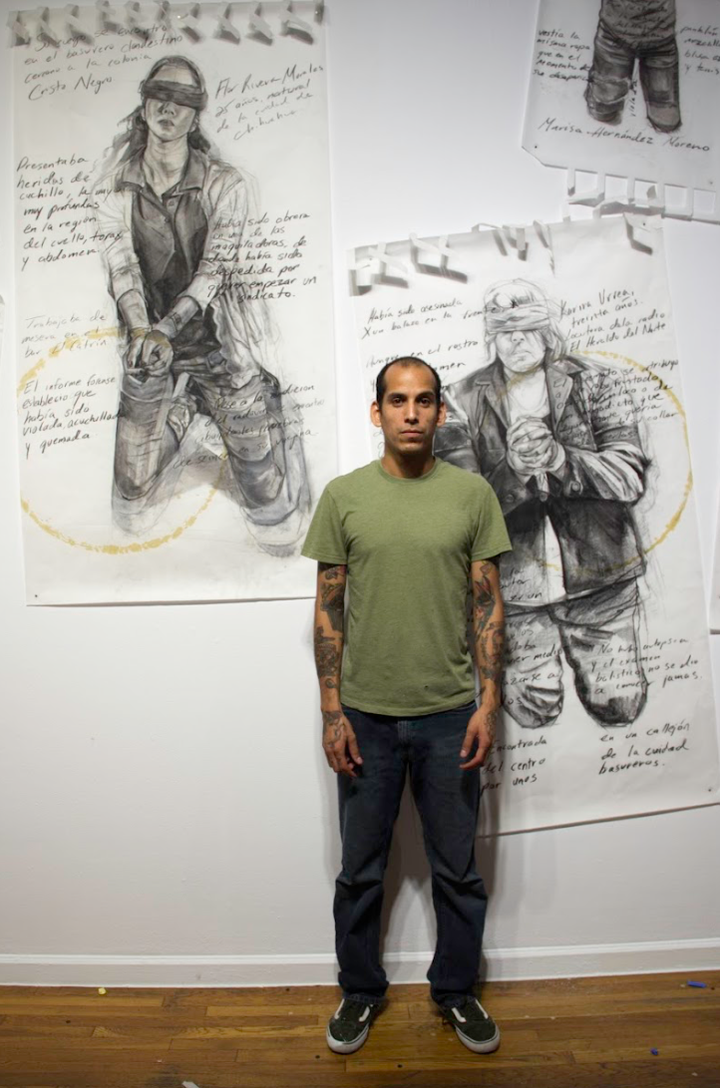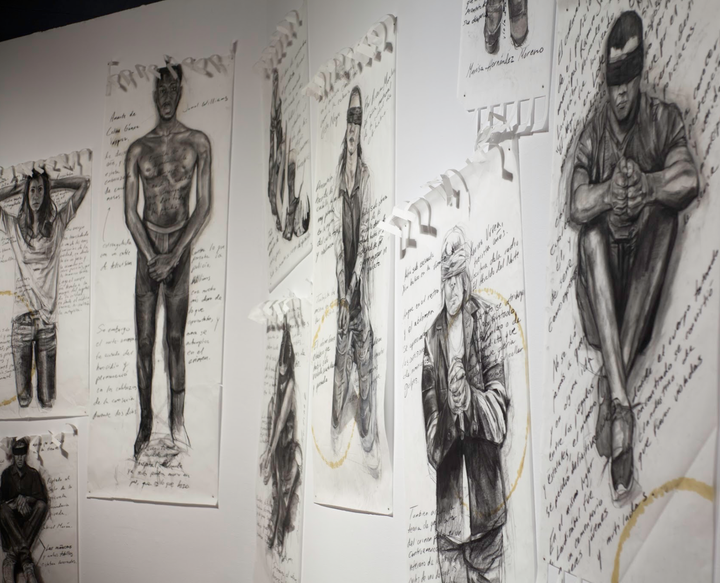 "Fringes" by Andrei Rentería, 2017, litho crayon and chalk on vellum [PHOTOS: Juan Vallejo]
José Villalobos
José Villalobos (b. 1988 | El Paso, Texas) highlights ideas of gender roles from conservative communities along the border. Villalobos flips glorified "masculine" objects and idols from traditional households and softens the virility contrasting macho-ness with a constructed delicateness.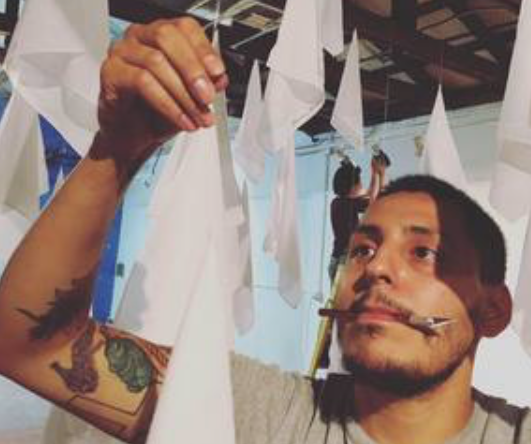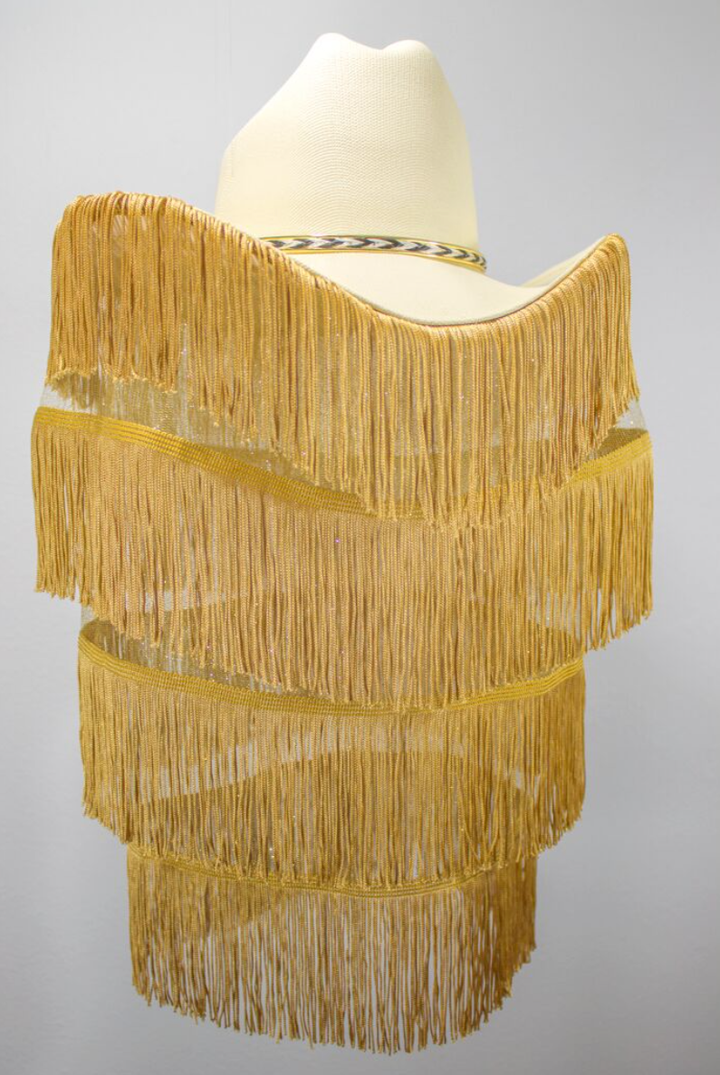 "Sin La 'S" by José Villalobos, 2017, Mixed media installation
The Curator: Alana Coates
YLA Curator Alana Coates - the Associate Director at Ruiz-Healy Art in San Antonio, Texas and New York City - had this to say about the show: "In its twenty-second installment of the emerging Latinx artist exhibition at Mexic-Arte Museum, YLA 22 arrives at a time of complex social-political milieu."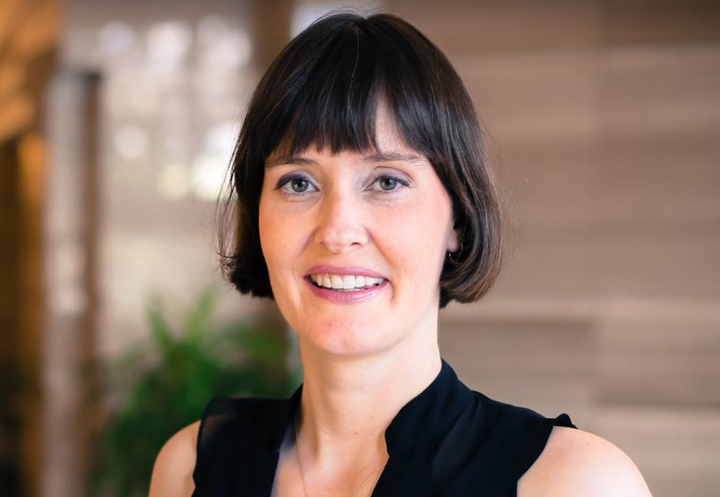 Alana Coates [PHOTO: Andrea Rampone]
"In the U.S., this includes an administration with a vehement focus on the Mexican border, widespread economic inequalities, increased racial tensions, and subsequent hate crimes on the rise," she explains. "Within this context, the eight featured artists delve into idiosyncratic negotiations with self, family, and society. We can marvel at how they use art to navigate matters of gender restrictions, immigration politics, cultural heritage, and privilege, confronting viewers with prominent issues of the contemporary zeitgeist."
The time, as we might say, is Ahora!
Related
Popular in the Community