The Book Doctors first met Ylonda Gault Caviness when she won our Pitchapalooza at Words Bookstore in Maplewood, NJ. We were immediately struck by her presence, authority, wit, style, and the way she could string words and ideas together in exciting ways. We're very excited her book Child, Please: How Mama's Old School Lessons Helped Me Check Myself Before I Wrecked Myself is out, and we thought we'd pick her brain about the process of getting successfully published.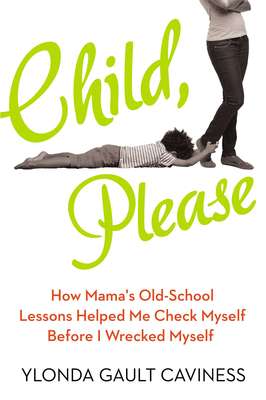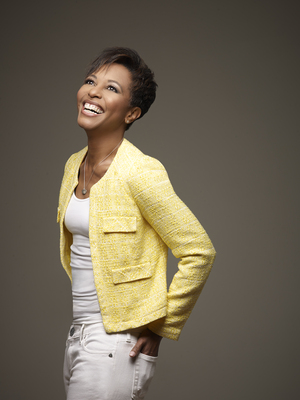 The Book Doctors: When did you start being a writer and how did it affect the way you see the world?
Ylonda Gault Caviness: I started being a writer at age 8 or so. I was in an all-white school at the time--which wasn't as traumatic as you might think. I was treated warmly by 98 percent of the kids there. But a not-so-silent minority did call me the N-word occasionally and I could tell that a couple of teachers either felt sorry for me or didn't quite know what to feel. So I always had this sense of "other-ness." Writing assignments were my absolute favorite part of the day. In hindsight that's not saying much because the other parts we were filled with things like either attending mass or reciting the rosary--honorable activities, of course, but at 8 or 9 not so much.
Still, writing made me an observer of life. It's made me someone who tends to focus on the details and minutia of life. I blame all my most annoying qualities on the fact that I have a writer's view of the world. I don't remember a time when I didn't see myself as a writer. It's the only thing I ever wanted to be. Well, there was a brief period when I endeavored to be Samantha Stephens. I was young and I thought Bewitched was a career option, like being a nurse or teacher. To my mama's credit, she never dissuaded my aspirations. Never let on that despite all my nose twitching--practice, in this case, would not make perfect. Nor was there the most remote likelihood that a little black girl would grow up to be a white woman. I guess Mama didn't want to be a dream killer. Either that, or she was paying me no mind. In hindsight, it was probably the latter.
TBD: When did you start being a mom and how did it affect the way you see the world?
YGC: Although the first of my three kids was born 16 years ago, I don't think I really started being a mom right away. I was physically caregiving. But I don't think I became fully present in mom-dom until much later. Until recently, Mother's Day seemed to me a holiday for veteran moms. Even when my third was born in May 2007--two days before Mother's Day--I was singularly focused on my mama, who was visiting us at the time. In my head, I hadn't yet earned bona fide, official motherhood status yet.
As my oldest kids grew into pre-adolescence I think I gained a much deeper understanding of who they were as people. And it became really clear to me that it was my job to let them grow into who they were meant to be--not some pre-determined notion of who they SHOULD be. When I started to take my hand off the wheel is when I started to see that they were already all that--and a bag of chips. For example, it became clear that the eldest one didn't need expert tips to make her strong. I thought she was a big ole sassy pants, but she actually has all the best qualities of an independent person who can resist peer pressure. My younger daughter didn't need to learn empathy; she came here with a sensitive heart. Same for my third, who is one of the most kind and generous people I know.
TBD: When did you start being black and how did it affect the way you see the world?
YGC: I'm really fortunate that I've been so black for so very long. And I was born during a time when, as far as I could see, anybody who was anybody was also black. In the early 70s, there was the Black Panther Party--badasses, Mavis Staples, Curtis Mayfield and--forget Beyoncé; I don't care what Jay Z says--the baddest chick in the game was and still is Pam Grier. I mean, to have anything at all in common with Pam Grier clearly made me a bad mamma jamma by association. So I think growing up black gave me confidence and strength and a fighter's mentality. I recall so clearly James Brown singing on the radio songs like "I'm Black and I'm Proud" and--my fave--"I Don't Want Nobody to Give Me Nothin'. Open up the Door I'll Get It Myself."
These days a lot of people, especially famous people, will say "don't label me as black; I'm a person." And I get that in a way. But I'm really into being black. I feel like it makes me wise; makes me strong; makes me creative; and makes me cool. Of course, one need not be black to have all these great qualities. But if you really own your blackness, you see it as an attribute not a burden. So I'm very happy to be called black.
TBD: What were some of your mother's mothering techniques?
YGC: Not sure it was a "technique" so much. But Mama rarely paid us any mind. The beauty of that approach was that we knew our place. We never thought we mattered all that much to the world unless we achieved something. Kids now seem to get major props just by virtue of the fact that they exist. Kids in the playground are surrounded by moms cheering their descent down the slide: "Yay, Sofie. You've mastered gravity!" My brother, sister and I knew that we had to earn praise. She was not cheering our descent down the slide. She wasn't giving us extra cookies for doing well in school. Or worrying over us, which forced us to figure life out. It seems harsh by today's standards, but it was--from what I gathered--pretty much the same in all of my friends' homes.
TBD: How did you develop your writing skills?
YGC: If I have a skill at all, I think it's that I know how to work relentlessly to place truth at the center of anything I write. Pretty prose is great. And I love a good turn of phrase as much as the next person. But in the end, if it's not really, really real, I know I have to dig deep and maybe even start all over from scratch. My life as a writer is very tortuous because of it. Mama--being the cut and dried person she is--used to say to my siblings and me: "If you'll lie, you'll steal." She always made you feel so worthless and despicable--even if you told a little bitty lie about eating the last fig newton or some such that I guess it stuck with me.
But when you think about it, if you can't tell the low-down and dirty truth about yourself, at least as much as you know of it, why bother? Who are you helping? I'm not saying I'm some kind of superhero, but I honestly believe my writing is supposed to help people. It's supposed to touch somebody in a dark corner of their heart and heal a wound. Anyone who knows me knows that I'm a sort of weird, confused and broken soul. I know I'm charged with sharing that.
TBD: Your book started out as a general parenting book, not necessarily about race. How did it become a memoir that has so much about race in it?
YGC: I didn't realize when I started writing the book how much of my motherhood was rooted in my blackness. Like anyone, my mother played a huge role in how I mothered and her experiences, growing up in the Jim Crow South and such, clearly shaped her parenting.
What I learned in the writing of my memoir, though, is that one of the things that makes our country great is the mix of cultures. They don't exactly melt into a pot, though. And that's not a bad thing. We bring cultural differences to our cooking. We bring cultural differences to celebrations and holidays. And, guess what? Although we don't talk about it much, we bring cultural differences to child rearing. My hope is that we can lift up those differences and begin a new conversation, instead of pretending the differences don't exist.
TBD: What was it like writing for The New York Times?
YGC: It was cool, because I didn't know I was going to be picked up by the New York Times. I wrote my essay with the idea that I would submit it to a bunch of outlets. Had I known I'd be writing for the New York Times going into the whole process, I might have been intimidated. And the end result might not have been so bold.
Ignorance truly can be bliss. Once the Times accepted the piece and I went through the editing process, I am not sure I understood the power of it all. And, it's funny. At every turn a part of me kept thinking someone high up on the Times masthead was going to come along and say, "We've changed our minds. This piece sucks."
TBD: How did you get your book deal?
YGC: I won a Pitchapalooza event--which is sort of like American Idol for authors, in Ridgewood, NJ. It was crazy: a room filled with, like 200, would-be authors. And each contestant got a number. Then one by one, you get up in front of the crowd and pitch your book idea to a panel of judges made up of publishing pros.
There is no Simon Cowell and none of the panel members call out "Yo, dog!" But you and your wife Arielle Eckstut definitely have a shtick. And I remember being so nervous! I practiced for hours. And I rolled up in there with my writer's group crew in tow. For me, I'd already won simply because I fought my doubting thoughts and got up to participate. That's why, at the end, when the winner was announced I sort of looked around--waiting for this Ylonda Gault person to stand up. Then I suddenly realized it was me! I was the Ylonda Gault person--the winner.
From there Arielle worked with me to whip my proposal into shape. And it's important to note that the book I pitched was not a memoir. I had absolutely no plans to tell my story. I was just going to write a parenting book and include a few personal anecdotes. It was Arielle who insisted that the personal stuff was the actual book. It took me about a year to come up with and write the Child, Please proposal. Then Arielle introduced me to Jim Levine, of Levine Greenberg Rostan--her mentor.
TBD: How did you go about developing your platform?
YGC: Hell if I know! Seriously, each time I took a job or an assignment I thought I was simply going from one job to another--not at all conscious of any sort of platform. I laugh my butt off when people say, "Wow! Your resume is great!" I think to myself: "Where were you in 2009 when I was laid off?"
I think the best thing anyone can do--and this sounds corny, I know--is do the work you believe in. And stick with it.
TBD: What do you do to make a hook that gets your book everywhere from National Public Radio to Essence magazine to the New York Times?
YGC: In no way did I get her alone, first of all. I have no formula. A lot of this stuff is just how the stars align in a certain moment in time. It's not something you can forecast really. It's like that Kanye West & Drake collabo, you know? Blessings on blessings on blessings. There are wonderful people all around me. I'm really fortunate that smart people, like Arielle Eckstut, helped me navigate the book proposal process. I have Jim Levine, the agent of agents, who has believed in me from the start. And Tarcher, the Penguin imprint, has the best editor in the game in Sara Carder. She has the support of publisher, Joel Fontinos. And the publicity team, Brianna Yamashita and Keely Platte, "got" Child, Please from the word "go." Everyone did, really.
TBD: What advice do you have for writers?
YGC: You've gotta go for what you know. It's the only way to be truly authentic. And if people don't get it, the hell with them. You have to keep on keeping on.
YGC: Oh my goodness, I just realized, it's the same drill! Following your instincts in everything. Mothering is a heart experience more than anything. So I follow my heart. I figure, even if I'm wrong (and I am, often) I have peace of mind. And I truly believe if I have honorable intentions that will be rewarded some how. I don't believe kids know how good you are at this. It's not like another mom took the stage before you and killed it--left the crowd screaming for more. But they can totally tell if your heart is not in it.
And in the end, I think we want them to see our truth. So they'll know how to honor their own.
Ylonda Gault (@TheRealYlonda) is an author, veteran journalist and education advocate. Over the course of her 20-year print and digital magazine career, she has been a senior producer at iVillage; lifestyle and parenting editor at Essence magazine. CHILD, PLEASE: How Mama's Old-School Lessons Helped Me Check Myself Before I Wrecked Myself is her first book.
Gault's feature writing and editing has appeared in a variety of publications including The New York Times, Redbook, Health and The Huffington Post. Best known for her coverage of family, parenting, women's and lifestyle topics, she has been a frequent guest on NPR, TODAY, Good Day New York ABC News and other broadcasts. She lives in Northern New Jersey with her three amazing children.

Calling all HuffPost superfans!
Sign up for membership to become a founding member and help shape HuffPost's next chapter