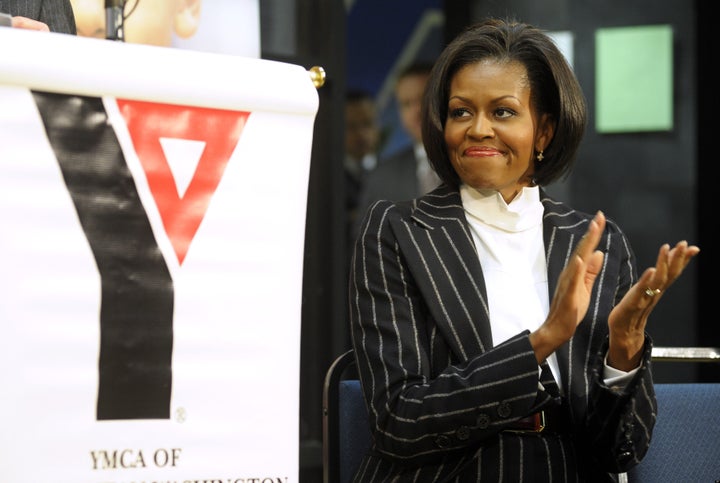 By Tim Townsend
Religion News Service
POTOSI, Mo. (RNS) About 50 teenagers and their parents gathered at the YMCA Trout Lodge near here recently, in the middle of the Mark Twain National Forest, to praise Jesus Christ.
"We pray that this weekend our hearts are touched, Lord," one of the group leaders, Mark Patterson said, "and that we grow closer to you."
But this was not one of the many church retreats that meet here, and Patterson is not a pastor.
He's the program director of the South City Y in St. Louis, and the group he prayed with was there for FaithFest, the most public evidence yet that the Young Men's Christian Association in St. Louis is returning to its Christian roots.
FaithFest -- a weekend full of Christian rock performances, prayer circles and a worship service -- was the latest piece of the nonprofit group's effort to "light up the 'C' in YMCA," as staffers have begun to put it.
"It's a physical, tangible example of us showing our commitment to faith," said Julie Catron, vice president of marketing and membership for the YMCA of Greater St. Louis.
FaithFest is just the beginning of the Y's move toward a more visible Christianity. For 157 years, the St. Louis YMCA's mission has been "to put Christian principles into practice through programs that build healthy spirit, mind and body for all." But for almost as long, the Y has moved steadily away from overt displays of Christian principles.
"We are nondenominational, but we think young people should have exposure to a faith experience," said Gary Schlansker, president and chief executive officer of the YMCA of Greater St. Louis. "So we're adding (faith) to our values, and FaithFest was one way to bring that forward."
The St. Louis Y isn't the first, or the only, YMCA trying to reclaim its Christian heritage. The Y in Portland, Ore., for example, recently hired a chaplain and collects prayer requests from patrons. The YMCA of Greater Cincinnati has also moved to reemphasize its Christian character.
Despite its evangelical roots, the YMCA has always been nonsectarian, and in recent decades, members would be hard-pressed to find any evidence of the organization's Christian roots among the treadmills, basketball courts and spinning classes that have come to define the modern-day Y.
Local Y leaders acknowledge that changing the Y's image back from secular to Christian may be a sensitive issue that could take some time.
"We're going to infuse things slowly," said Catron. "We're going to be inclusive and caring and respectful of everyone's unique interests."
Much of the effort will be subtle, apparent only to YMCA members who are looking for it. It might be a slightly different logo featuring "faith" as a new "core value," along with caring, honesty, respect and responsibility, said David Drexler, the St. Louis Y's vice president for information technology, who heads the group's Christian Emphasis Committee.
Patterson said the Y's effort would be subtle but clear.
"You're not going to come into the Y and get bashed over the head with religion," he said. "But we are going to tell people, 'Jesus Christ is the answer in our lives."'
Each of the country's 2,687 Ys is independent, so local operational decisions are made by an association's volunteer board of directors and professional staff. The YMCA of the USA calls itself "one of the largest not-for-profit community service organizations in the United States" with revenue of $6 billion and about 21 million members, 45 percent of whom are 17 and younger.
Drexler -- who came to St. Louis from the YMCA in Cincinnati -- said there was a difference between how the St. Louis Y would be embracing Christianity and the role of the church itself.
"We are not the church, and we don't claim to be the church," he said. "We are an extension -- an arm and a leg to the church, to assist the church."
Drexler said some chapters would allow their facilities to be used as temporary worship spaces, but said it was likely that only Christian members would hold worship services, prayer circles or Bible studies at the Y's St. Louis chapters.
Jewish members may also hold faith-related meetings at some chapters, he said, "because Judaism embraces the Old Testament."
What about Muslim or Hindu members?
"Our mission is to put Christian principles into practice," Drexler said. "Are those Christian principles?"
Ghazala Hayat, chair of the public relations committee of the Islamic Foundation of Greater St. Louis, who was on the board of directors of the YWCA Metro St. Louis for two years, said that was "moving backwards in terms of how to be inclusive."
"What they stand for are universal values," Hayat said. "But this is coming across as telling people that the YMCA has the whole truth. They're willing to take my membership fee, but am I a second-class member because I can't hold a religious service there?"
(Tim Townsend writes for The St. Louis Post-Dispatch in St. Louis, Mo.)
Calling all HuffPost superfans!
Sign up for membership to become a founding member and help shape HuffPost's next chapter