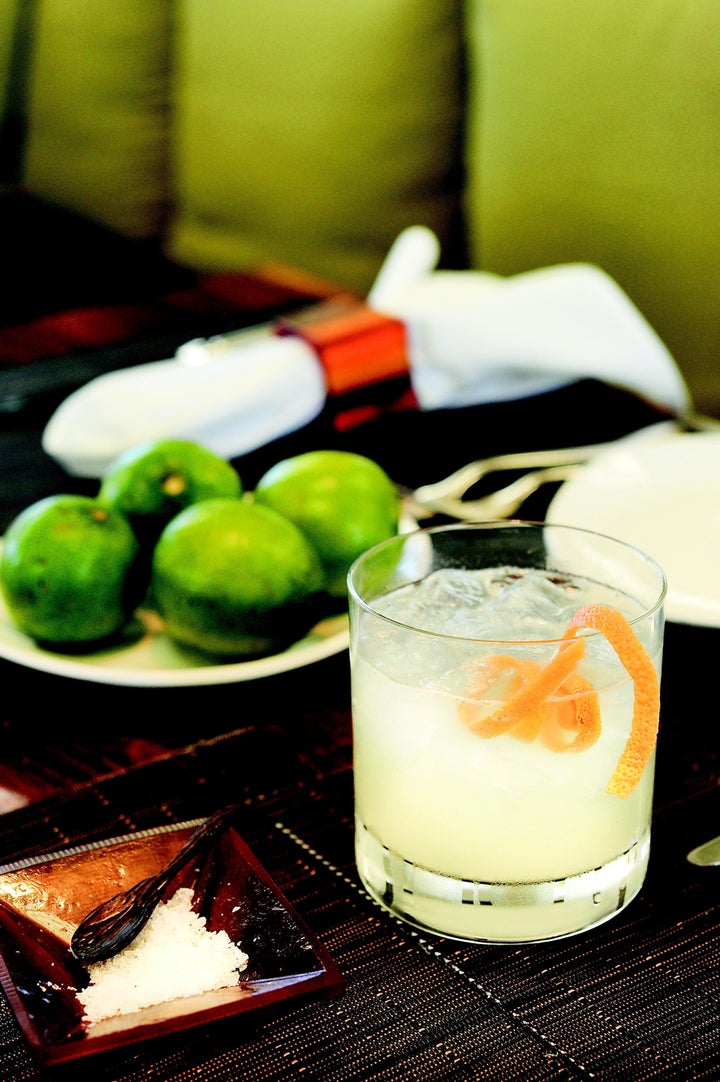 Mary Hemingway and Jay Weston with Fidel Castro in Havana, discussing the filming of Ernest Hemingway's life story there. Jay is smoking a Cohiba cigar from Castro's personal desk humidor.
Some years ago some film people (Sydney Pollack and Waldo Salt) and myself went to Cuba with Mary Hemingway, wife of the famed author, to meet with Fidel Castro to obtain permission to film a biofilm on the life of the writer there. El Jefe said, "Of course you can, I learned all of my guerilla tactics from reading his For Whom the Bell Tolls. After the meeting, Mary and I went to the La Floridita bar in old Havana, where Ernest had done a lot of his drinking of rum mojitos, still made exactly the same way with premium Bacardi rum, freshly-squeezed lime juice, a splash of club soda, simple syrup and a sprig of mint. The bartender told us the origin of the drink, in the 16th century, when Sr. Francis Drake's privateer sailors drank it to prevent scurvy: the rum and limes eased the ailment while the mint (and a touch of sugar) was for digestion.

Balcony view of the hidden Cuban bar on Western Avenue
I was reminded of this last night when I went to a private party thrown by the Bacardi Rum people to introduce their Bacardi Reserva Limitada to the United States. This premium rum, the personal drink of the Bacardi family, is made from rums 10 to 16 years old which have been stored in lightly-charred American white oak barrels, and a bottle (of which only a thousand cases will be available) will sell here for $110.
I sipped a snifter of it (my friend Brian Wald was driving) and found it to be a remarkable, deeply golden-hued rum with dark reddish undertones with an exquisite aroma of vanilla, oak and some dried fruit... a rich smooth drink akin to fine brandy in its appeal.

Andrea Iturbe holding a bottle of the premium Bacardi rum.
The venue of the party was part of the reason I attended: La Descarga, at 1159 N. Western Avenue, is a Cuban speakeasy/bar with enormous appeal for its colorful look and equally colorful drinkers. You must have a reservation confirmed by Willie at the entrance to a drab door with no sign. The only way we had even spotted it was because friends had told me it was next to a grimy-looking but bustling taco stand serving delectable tidbits, and since the bar itself doesn't serve food, this is where you dine before drinking. I yearned for a tongue taco but was told the party had snacks by Hope Bailey of the acclaimed Pinksalt caterer, so I passed... until the next visit. Down a long corridor until you reach... a clothes closet, where the woman directs you through... to the balcony entrance to a room which is an exact replica of that Havana bar which Mary Hemingway and I had visited so many years ago. They have 75 different brands of rum, but tonight it was all Bacardi. In the back patio is another bar and cigar room, with a display case of stogies for sale ($15). My cigar-of-preference these days is a Padron, made in Nicaragua of Cuban leaf, but tonight it was all Cuban. On Wednesday through Saturday nights starting at 10 pm, they have a 'burlesque' show of dancing girls, an uproarious experience.

Taco stand next door to bar, the best way to find the unmarked entrance to it.
My passion for good rum, the elixer of my dreams, goes back even longer than my Cuban adventure with Hemingway, for in the late fifties I was hired as the p.r. rep for the Haitian Tourist Board, and for two or three years I traveled back and forth from that country to the U.S., spending many weeks in Port au Prince drinking their native rum, a delicious and powerful argument to visit the lovely country. (We improved the tourist business six-fold, but I knew that my client was an ex-client when the president of Haiti, Paul Magloire, called me from the Bronx to say he had been overthrown by Papa Doc Duvalier.)

Scene at the hot bar, which features a live burlesque show on many nights.
Run is actually a brandy which is fermented and distilled from sugar cane rather than grapes. Rum is to the Caribbean what whiskey is to the highlands of Scotland or wine to France. Bacardi has been distilling a light-bodied smooth rum since its founding in 1862 in Santiago de Cuba. Today it is produced in Puerto Rico, following the period in 1960 when Castro confiscated their plants without compensation. I'm told they use a five-step distillation process, aging it in oak barrels and filtering it five times for smoothness. I told my Bacardi friends what I had learned years ago in Haiti, that when the rum is resting in its barrels, it loses a portion due to evaporation... which is known as angel's share. It is said that the angels bless what is left with improved flavor.

Andrea pours snifter of rum for the author...me.
I then blithely displayed my arcane knowledge about the popular late 1940's hit song, Rum and Coca-Cola, which was introduced here by comedian Morey Amsterdam, who claimed to have written it after a trip to the islands... only a Trinidad calypso composer named Lord Invader sued him and proved he had created it; the courts awarded him $150,000 in royalties. I still remember The Andrew Sisters singing it on the Hit Parade. The Cuba Libre is the drink of rum, cola and a dash of Angostura bitters which is also a native product of the Caribbean islands. In its 400+ years of production, rum (a contraction of the word "rumbullion" -- meaning strong liquor) has been the single most mixed liquor in the bartending world, second only to vodka in sales. When I eventually get a bottle of that Barcardi Reserva Limitada (no, they didn't send me home with a sample), I will drink it as I would a fine wine or brandy, taking the time to sip it from a fine crystal snifter, exploring the many complexities of flavor, aroma and color. Think daiquiris, Planter's Punch, mai tais, pina coladas... rum drinks all. You will be rewarded with a truly heavenly experience.
To subscribe to Jay Weston's Restaurant Newsletter, email him at jayweston@sbcglobal.net.
Calling all HuffPost superfans!
Sign up for membership to become a founding member and help shape HuffPost's next chapter