Warning: Blatant plug ahead.
If you're among the majority of baseball fans who think that everything has always gone right for the New York Yankees, from the Babe Ruth trade to Reggie Jackson's home run trifecta, I've got a modest antidote.
It's a new book, and ebook, called Bronx Bummers (Riverdale Ave Books).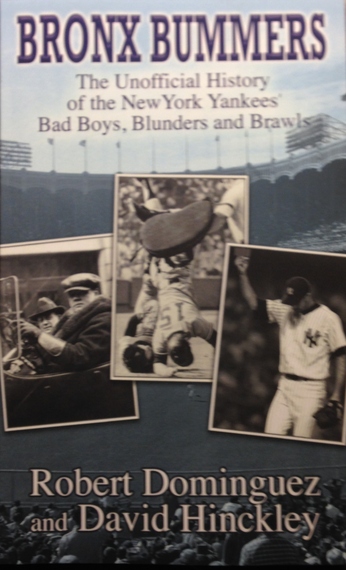 It's a compilation of 50 lowlights from Yankees history: the brawls, the mistakes, the bad losses. Remember when the 1926 World Series ended with Ruth getting thrown out trying to steal second base with two out in the ninth inning?
Robert Dominguez, a colleague from my years at the New York Daily News, thought up the idea and the title. I joined him in writing it.
It's not designed to be Shakespeare, just good-natured baseball fun. You can check it out at Amazon or www.riverdaleavebooks.com, and in that spirit of fun, here's a sample entry.
Jack Chesbro's wild pitch
The first 454 1/3 innings of Jack Chesbro's 1904 season went better than the last 1/3.
Still, looking back 112 years, it hardly seems fair that when a fellow throws 454 2/3 innings and wins 41 games in a single season, with 48 complete games and a 1.82 ERA, he has to spend the rest of his life being asked about one bad pitch he threw while chasing that last out.
Welcome to Jack Chesbro's world.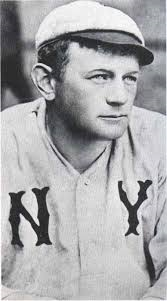 With two games remaining in the 1904 season, the future Yankees -- then known as the Greater New Yorks or the Highlanders -- trailed Boston by a game and a half for the American League pennant.
But the faithful had hope, because New York was playing Boston in both those games -- a doubleheader at Highlanders Park.
Some 30,000 fans jammed the field, lining both baselines and surrounding the outfield.
"Probably no such interest ever was taken in a baseball event in this city as was manifested in the doubleheader of yesterday," The Times reported the following day.
And that wasn't even the best omen.
The first game starter would be Chesbro, whose 41 wins would stand for the rest of the century as the most by a pitcher in a single season.
As Chesbro's innings total would suggest, Highlanders manager Clark Griffith wasn't a strict pitch count kind of guy.
Griffith also wasn't an "every five days" kind of guy. The October 10 start would be Chesbro's eighth in 15 days, and frankly, there were some signs his arm might be wearing down.
In his previous outing, two days earlier, Boston had knocked him out en route to a 13-2 victory.
Still, you want your best pitcher in your biggest game and on October 10, that was still "Happy Jack."
Relaying on his favorite spitball, then a legal pitch, Chesbro shut out the Bostons for six innings. New York, meanwhile, scored two in the fifth and held a 2-0 lead.
In the seventh, however, Boston got a runner on first and New York second baseman Jimmy Williams fumbled a potential double-play grounder, leaving runners at first and second.
A sacrifice bunt moved them up a base and when another grounder was hit to Williams, his low throw to the plate skipped past catcher Red Kleinow and allowed both runners to score, tying the game.
Come the top of the ninth, score still 2-2, Boston catcher Lou Kriger reached third with two out and Freddy Parent at bat.
With the count at 2-2, Chesbro tried to blow Parent away with a spitter. Unfortunately, the pitch was what blew away. It rifled past Kleinow, allowing Kriger to score what would stand as the winning run. Boston 3, New York 2.
It was ruled a wild pitch, and no one argued. New York shortstop Kid Elberfeld, asked about the pitch years later, said it sailed so high Kleinow would have needed stilts to catch it. Contemporary accounts also had it soaring over the rookie catcher's head.
In any case, it was game, set and pennant to Boston.
While Chesbro never had another year like 1904, he didn't let that sour ending ruin him. He won 19 and 24 games the next two years and finished his career with 198 wins plus presumably a sore arm.
Then he spent pretty much the rest of his life, inside and outside baseball, being asked about that one pitch.
He died in 1931 and his widow Mabel spent eight years trying to convince Major League Baseball to go back into the official box score and change the ruling from a wild pitch to a passed ball.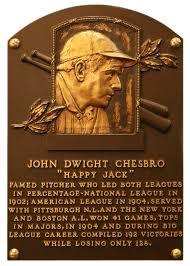 She didn't succeed. But in 1946 Chesbro did get elected to the Hall of Fame.
Calling all HuffPost superfans!
Sign up for membership to become a founding member and help shape HuffPost's next chapter