Tonight in Chapel Hill, N.C., Yo Yo Ma and the Silk Road Ensemble will give the world premiere of Dmitry Janov-Janovsky's hour-long Stravinsky fantasy called Sacred Signs at the University of North Carolina. Based on the writings of the great Russian painter and yoga pioneer Nicholas Roerich, it's the opening concert of Carolina Performing Arts' 100th anniversary celebration in the form of a year-long Rite of Spring @100 Festival, and it's tapping into a game-changing Russian vein of spirituality.
Coming two days before the first presidential debate, in a closely-watched state, the festival launch also affirms that classical music together with academia can play a unique role in finding spiritual expression and perhaps guidance at an uncertain world.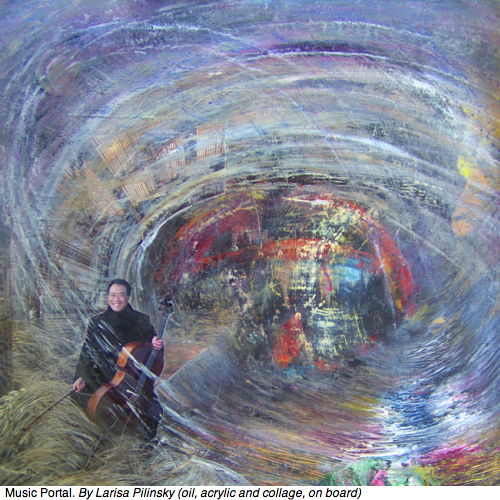 During an exclusive phone interview, Yo Yo Ma told me that Janov-Janovsky draws on many of the same traditions Stravinsky drew on in the Rite of Spring, but written for an ensemble of 13 instruments (including shakuhachi, sheng, pipa and three percussion instruments) instead of a whole orchestra, reflecting today's faster global, internet world.
"Dmitri's music is strange, personal, evocative; it makes you sit up. When I look at the score it appears to be a musical macro view of our lives, like Hawking's Brief History of Time, the music has that kind of interpolating timeline quality."
Ma's central musical quest remains devoted to a concept of music as "an expression, a form of thinking and feeling which, at the same time, can get to the measurable and immeasurable sides of people." He says, "When we have a good balance between thinking and feeling ... our actions and lives are always the richer for it."
Referring to the diversity of musical influences on the opening concert and throughout the festival, Ma explained that listening to and playing different musics "allows you to get into so many different worlds that you can be very focused on one thing and yet extremely aware of your environment." He talked about this sensitivity as if it were a skill we need more than ever in today's world:
"Collaboration, flexibility, imagination and innovation. As you begin to realize that every different type of music, everybody's individual music, has its own rhythm, life, language and heritage, you realize how life changes, and you learn how to be more open and adaptive to what is around us."
This playlist is designed to provide a brief respite during the day. It touches on some of the many kinds of music Yo Yo Ma likes to play.
Related
Popular in the Community