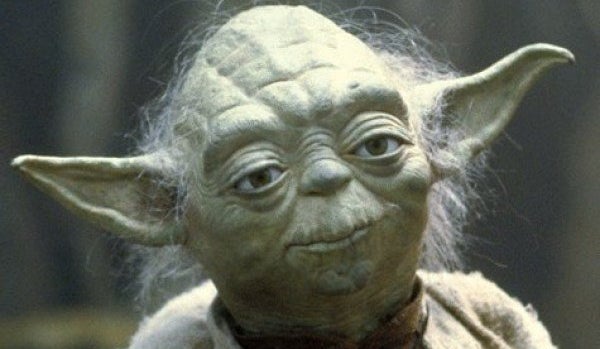 It's not easy bein' green, but perhaps it's even harder growing up as an ecologically improbable hybrid between a frog and a pig. Being a prog is friggin' hard. But such has been the long life of Yoda.
This is not a fan theory. This is not a joke. As outlandish as this may seem, proving this with actual evidence is so simple it's just like shootin' womp rats. As Yoda says in his memorably jumbled command of English -- perhaps due to his similarly jumbled DNA? -- "Do or do not, there is no try." With no official backstory in the movies, an origin story for the Jedi Master has always eluded fans.
That's because handle the truth, you cannot.
The best entry point into this Death Star of a claim comes from George Lucas himself in a short documentary called "From Puppets to Pixels" that was included in the "Star Wars: Episode II" DVD. While working with animator Rob Coleman on a digital Yoda's movements, Lucas begins a canon-busting tangent by saying, "I would think of him more like a frog."
Lucas then continues, pointing to Yoda and saying, "Big thighs," and, following that, "Huge thighs. Kermit thighs." He continues: "We're going to blend Kermit the Frog with Miss Piggy. This is actually the illegitimate child of Kermit the Frog and Miss Piggy." The team starts laughing. "We've never discussed this before, and don't let it get out," Lucas adds. Coleman can only muster an, "Oh man," and buries his head in laughter.
Watch the scene that starts around 33 minutes and 15 seconds into the documentary:
Lucas actually considered Yoda to be a sort of frog right from the initial drafts for the character's debut in "The Empire Strikes Back," but a much more distinct connection to Kermit and Miss Piggy apparently developed once the movie went into production.
And while Lucas was joking in the film, the connections between Yoda and the Muppets run deeper than a passing remark. Although designer Stuart Freeborn led the development of the Yoda puppet, Jim Henson himself consulted on this Frigenstein. Frank Oz, who voiced Yoda, also voiced Miss Piggy and multiple other Muppets throughout his career. Since Henson voiced Kermit, Yoda is at least, in some way, the child of the people behind Kermit and Miss Piggy.
But stopping there would be a stormtrooper out to the original premise that Yoda is literally the child of these Muppet characters. Well, has this family ever interacted?
In August 1979, Henson and Oz brought Kermit and Miss Piggy to the set for "The Empire Strikes Back" for what was apparently some familial bonding time.
Yoda seems to have genetically inherited the Muppets' immortal qualities only in part, being able to live an abnormally long life, but still aging in the process.
And while it's known that Freeborn designed Yoda to look somewhat like himself, Yoda clearly got his eyes from his mother, his face (and thighs) from his father and his ears from God cursing the unholy genetic mutation.
It's not often that you get to see Yoda smiling in the movies, but when he's with his family, the photos show at least a bit of a smirk.
Luke Skywalker himself was also clearly thrilled that he could be a part of this reunion.
After Mark Hamill -- the actor who played Luke Skywalker -- tweeted earlier this year about the encounter from a long time ago in a galaxy far, far away, Kermit responded wondering about what his relation was up to.
Apparently the father-and-son duo still haven't kept up all too well, even in recent years.
The Huffington Post reached out to LucasFilm, Rob Coleman, the Muppets and a company that has created a computer algorithm to simulate Miss Piggy as an online chat-bot, but apparently nobody thought this literally galaxy-, time-, life- and space-spanning mystery was worthy of comment at time of publication.
But now that both "Star Wars" and the Muppets are a part of the Disney family, perhaps we'll finally get to learn more about this set of starry-eyed kinfolk.
Family is the most important thing in the galaxy.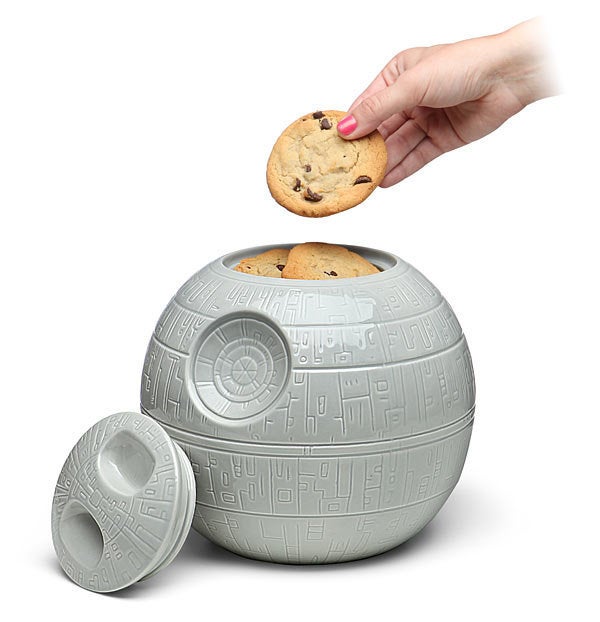 "Star Wars" Inspired Items
For a constant stream of entertainment news and discussion, follow HuffPost Entertainment on Viber.
Popular in the Community