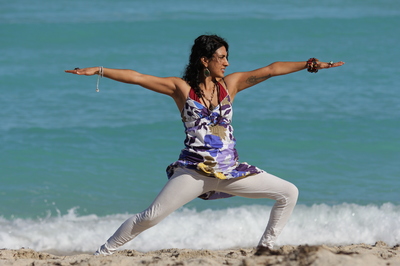 This is an interview with 'Shanti' Sheena Sood, who is part of a growing movement to incorporate themes of social justice into yoga classes, workshops and programs. For example, Sheena helped organize "Free Mumia" donation-based yoga classes to bring attention to political prisoners such as Mumia Abu-Jamal and Jordan Davis. Sheena is a doctoral candidate at Temple University. One day, she plans to establish a healing justice community center -- a studio that will include yoga classes, a vegetarian restaurant, healing studio, and serve as a workshop space for communities to gather and organize.
Rob: Why do you practice yoga?
During my childhood, my Biji (grandmother) used to teach me Sanskrit chants and bhajans (devotional hymns). When I was 19, I began meditating and doing yoga more consistently, starting with The Art of Living Foundation. Through these initial encounters, I experienced a spiritual connection to my ancestors and to yoga's healing power.
I noticed, however, that when I practiced in mainstream western studios, the spiritual aspects of yoga were missing -- the healing elements apparent only on the surface. Though classical yoga emphasizes bhakti, karma and jnana yoga as complements to raja (physical) to fully liberate and heal, I feel the west places a stronger pedagogical emphasis on the latter through capitalizing on the yoga "gear," and encouraging competition or "getting" the pose -- often at the cost of breathing through and experiencing yoga's healing touch in each asana. We stop once the practice challenges us to spiritually transform and heal. The issue is our society sorely needs the spiritual and intellectual aspects of yoga more than we need the physical.
I practice yoga because it is a liberating journey of self-love that challenges me to honor my true self. I offer yoga and Sunshine Shanti Healing services because I feel called to share a practice geared toward self-awareness and collective liberation with community.
What originally motivated you to do this work, and what continues to motivate you? How, if at all, has that motivation changed over time?
I'm motivated by a duty to offer an authentic representation of a sacred practice to people. In the practice of mainstream yoga culture across the globe, people who trace their ancestry to yoga's place(s) of origin, including Kemet (Ancient Egypt) and Bharadavarsha (Ancient India), seldom hear about the connection between their ancestors and yoga. Sadly, people of color no longer see themselves in this practice's lineage.
Also, many yoga studios do not provide a safe space for people from oppressed communities. They mostly cater to privileged communities as they tend to idolize petite, flexible white women as true yoginis. People who do not fit the "ideal yogini look" often feel this discomfort in their skins and bodies. Ironically, identification with the body and mind is exactly what yoga seeks to liberate us from. People of color, poor people, queer and trans folks, and full-figured individuals cannot access this liberating practice equally.
Oftentimes, I resonate with this discomfort. Upon completing my initial yoga teacher training with my Guruji, Yogi Sivadas at Kailash Tribal School in McLeodganj, India, a few years ago, I wrestled with these challenges. I cultivated a home practice and stayed away from studios. When I journeyed back home to India to practice again with Sivadasji, my ancestors called on me, saying, in order for the west to honor the spiritual roots and holistic aspects of yoga, you must be willing to serve as a vessel to your community. Since then, I have been motivated by my dharma to manifest affordable offerings that connect yoga to liberation and social justice.
How have you engaged yourself in organizing service-related offerings to the community?
In spring 2013, I received a Leeway Foundation Art and Social Change Grant to offer "Yogini Sistahs for Liberation: A Youth-Based Journey into Afro-Asian Mythology and Chakra Wellness." Nine young women between the ages of 12-26 participated in the intensive two-day yoga healing journey!
I helped develop Yeye Devi, a conscious collective of yoga activist instructors, who promote justice and liberation in our social environment. We began offering a "Free Your Mind, Free Mumia, Free Them All" donation-based yoga series in 2013. In addition to cultivating spaces for oppressed communities to breathe and heal ourselves, we see it as our duty to fight for the freedom of Mumia Abu-Jamal, a political prisoner serving a sentence of life without parole after being unjustly convicted of murdering a Philadelphia police officer in 1981. We see our own spiritual liberation as connected to all political prisoners' liberation.
In a recent offering to honor Jordan Davis -- the young brother who was murdered in 2013 in Florida -- I co-facilitated an intergenerational session of yogis who shared social justice-oriented children's stories, embodied animal spirit asanas, lit candles and burned sage to honor all Black lives.
What, in your mind, is the relationship between a practice of mindfulness and greater social change?
Each time I practice the dynamic Virabadhrasana (Warrior pose) I call on my warrior spirit to rise with steady, concentrated breaths for duty, obedience and freedom. Practicing Virabadhrasana encourages me to confront energies that interrupt my ability to achieve moksha -- true liberation. When the dominant culture devalues oppressed communities, particularly people of African descent, through the persistence of racial injustice, I feel pain, anger and sadness -- hindrances to my freedom and my community's liberation.
An ancient Sanskrit proverb, "Vasudhaiva Kutumbakam," suggests we belong to one-world family. The proverb informs us that we all share the same ancestral origins and connection to Source. Yoga presents an opportunity for my mind to break down the socially constructed boundaries that divide humanity from our connectedness. My dharma encourages me to engage myself in this freedom struggle by resisting oppression and demanding justice for my global family. I arrive at my mat to honor my ancestral legacies and my love and commitment to all of humanity. I integrate yoga and social justice because I'm committed to a holistic state of collective liberation for my global family.
How do we capture the yoga and social justice movement that is growing?
Honestly, I'm waiting to hear the growing "yoga and social justice" movement's political values before capturing it. In this moment, I'm happy working with the grassroots yogi activist movement I'm involved with in Philly! I suggest fellow yoginis work locally and listen to what communities' needs are before joining a broad movement with an overarching national agenda.
What are some of your ideas about, or hopes for, the future of "service yoga" in Philly and the U.S. in the next decade?
This next decade presents a prime moment for shifting toward a radical social justice agenda, one that draws connections between yoga and the liberation of all oppressed peoples, perhaps through: 1) yoga and social justice forums, 2) widespread accessibility for all individuals to participate in and lead teacher training programs and 3) a growth in offerings for Mumia and all political prisoners.
I've been thinking about opening an eco-friendly community justice and healing center -- offering yoga classes, vegan meals, holistic healing and a community space. Jardana Peacock and I have also talked about offering affordable social justice yoga teacher training programs that integrate anti-oppression principles, community organizing, and yogic philosophy in one joint curriculum.
Editor: Alice Trembour
Image: Courtesy of Dr. Vinay Bhatia
Stay connected with Give Back Yoga Foundation as we share the gift of yoga with the world, one person at a time, by following us on Facebook, Twitter and Google+ and by subscribing to our newsletter.

Are you a yoga instructor giving back to underserved populations? E-mail Executive Director Rob Schware if you're interested in being interviewed for this series. Thanks for all that you do in the name of service!
Support HuffPost
The Stakes Have Never Been Higher
Related
Popular in the Community