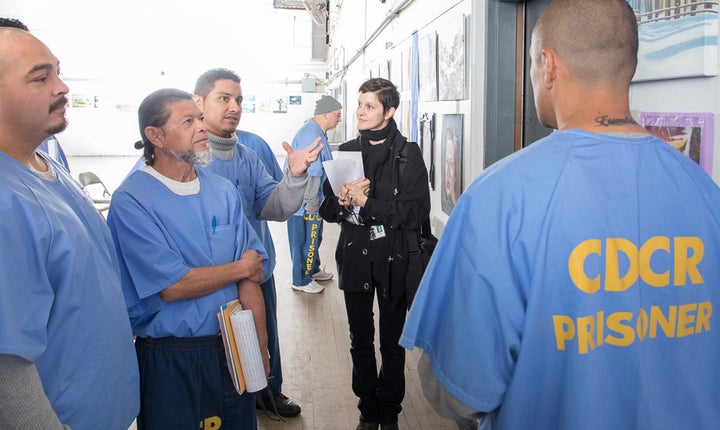 This is an interview with Annie Buckley, an artist, writer, and award-winning educator who focuses on art and social justice. She has taught yoga fused with visual art and creative writing to children, teens, and adults in settings including schools, shelters, and prisons and has been a mentor teacher since 2000, specializing in supporting others to conduct learner-centered creative classes for diverse participants. Her work has been dedicated to expanding access to the transformative practices of art and yoga for the past 25 years.
Annie is the author of numerous essays and articles on contemporary art and dozens of books, including the popular Kids Yoga Deck (Chronicle Books, 2003). Recently, she wrote about mindfulness and her experience as a cancer patient for The Huffington Post.
Annie is currently an Associate Professor at California State University, San Bernardino (CSUSB), where she oversees the Visual Studies major and founded and directs Community-based Art and the Prison Arts Collective, for which she was recently awarded an NEA grant.
Rob: What originally motivated you to do this work, and what continues to motivate you?
What motivates me most is a love of art, and a passion for social justice. Since I began teaching in the early '90s, I've chosen to teach in public schools in predominantly underserved areas. This has taken me down many paths, including teaching art at Hoover Street School and yoga at Dolores Mission Alternative School. Most recently, I'm serving as a professor at CSUSB, where 80% of our students are the first in their families to go to college, and I'm bringing an arts program to four prisons in Southern CA.
I try to balance what I'm interested in— art, yoga, meditation, writing— with what is needed, and I have been fortunate to find avenues to grow these practices in areas that would not otherwise have access to them.
What is the most rewarding aspect of your teaching experience?
What I love about teaching is the opportunity to do interesting things— discuss art theory, create a mandala, practice a group meditation— with a diverse group of people. Like most teachers, I learn as well as teach; I'm fortunate to have been able to teach people of all ages and from many different backgrounds, and to create hybrid classes in art, yoga, and writing. I love seeing people's eyes light up when they realize their creative capacity.
Seeing my former students follow their dreams and flourish is most rewarding to me. For example, a single mother in my teen yoga class became my assistant in a teacher training; a student from my Yoga for Kids Teacher Training opened a yoga studio in Oregon; my former research assistants are currently in graduate school at USC and ASU; and several former students at CSUSB now teach with me in the Prison Arts Collective.
What are some of the things your students have taught you?
My students daily teach by example: they have patience, perseverance, kindness, humility, curiosity, and hope for the future. For those who are incarcerated, I am humbled by their positivity, collaboration, and willingness to be open and vulnerable in the creative process despite their difficult circumstances; their care for one another, courage to change their lives, and desire to 'give back' to their communities are profound.
My students on campus inspire me with their strength, diligence, and willingness to create change in their lives and communities. After our recent presidential election, one of our students, also a Teaching Artist in the Prison Arts Collective, Rebecca Crisler, wrote a post that pulled me out of the doldrums and gave me hope for change. It ended with the words, "This is a scary time, but we cannot be afraid, we are powerful because we are many and we have love, compassion and intelligence. WE have the power, let's use it!"
In what ways do you think yoga addresses some of the societal factors at play in working with incarcerated men and women?
As the issue of mass incarceration becomes widely known, people are more willing to consider that those in prison have multifaceted lives and stories; also, I know a lot of people, inside the system and out, that are working for improved rehabilitative programs. But as a society, we have a long way to go before we are able to untangle and mitigate all the factors that go into the racial and economic disparities inherent in our criminal justice system.
To me, it's an honor and a privilege to share a positive and transformative creative space with those who are incarcerated. The Prison Arts Collective grows each day because our teaching artists and participants are all empowered by this experience. We grow organically, based on the needs and interests of our members. We started out teaching visual art but have added creative writing, music, and yoga as participants requested them. But all of our class involve historical knowledge, creative practice, and reflection.
The practice of asana is newer to our program but mindfulness and the philosophy of lovingkindness permeate everything we do. We aim to value everyone's contribution and co-create creative space together. In a more practical example, I developed an exercise for our program called 3X5; in this practice, you take five conscious breaths, make five thumbnail sketches, and write five words. Each time I lead this practice in a prison, I can feel a palpable shift in the group from breath one to breath five, as if tensions were gently eased from the space.
Often we hear claims of yoga as a means to positively changing the world. What in your mind is the relationship between the practice of yoga and greater social change?
I believe that yoga— asana, meditation, and a philosophy of integration and ahimsa (non-violence)— is a means to personal and universal transformation. I have experienced this, and it informs my creative process and life choices. That said, I don't think that yoga, or anything, really, is the one and only path to change; I think—I hope—that there are multiple diverse paths to generate positive social transformation, and that all of them together have the potential to result in a more equitable distribution of resources and more expansive and pervasive peace. It takes all of this to achieve real change.
What are some of your ideas about or hopes for, the future of service yoga in America in the next 10 years?
I'm inspired by the movement of service yoga and only hope it continues to grow! If every person who was fortunate to be able to practice yoga shared it with an individual or group who wouldn't otherwise have access to it, we'd go a long way to making yoga and mindfulness accessible to all.
Are you a yoga instructor giving back to underserved populations? E-mail Executive Director Rob Schware if you're interested in being interviewed for this series. And thanks for all that you do in the name of service!
Mental Health, Yoga, Yoga Service Council, Natural Health, Emotional Intelligence, Give Back Yoga Foundation, Mental Health Issues, Mental Illness, Service Yoga, Trauma, Yoga And Mental Health, Healthy Living News
Support HuffPost
The Stakes Have Never Been Higher
Related
Popular in the Community