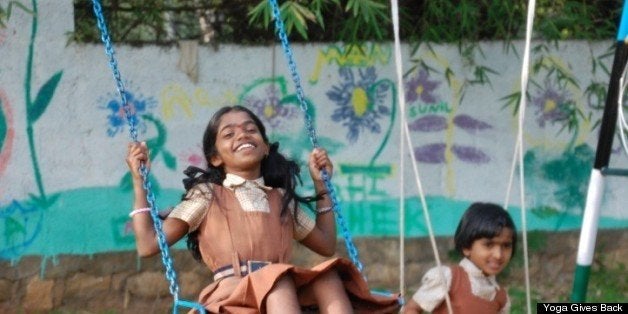 In Los Angeles, many people work in the media industry and do yoga, but few connect their two passions in a way that brings positive social change to the world. Kayoko Mitsumatsu, founder of Yoga Gives Back, married her two interests in film and yoga with a powerful vision to empower the women of India through micro-loan and education financing. Traveling back and forth to India nearly every year Mitsumatsu chronicles the stories of empowerment and change that her charity Yoga Gives Back effects through documentary style films that she creates and posts on YouTube.
As soon as she started practicing yoga the immediacy of the poverty that afflicts the majority of women in India struck a chord in her heart. Mitsumatsu had the empathic realization that these women were just like her, struggling to make their dreams come true. Through Yoga Gives Back she has created a path for the some of the women in India to work towards making their dreams reality. People practicing yoga think about their breath and body each time they bend and twist into the yoga postures. Few yoga students think about their relationship to the source of yoga in India. For Yoga Gives Back founder Kayoko Mitsumatsu that kind of blissful ignorance was just not an option.
For the cost of one yoga class we can change a life is the mantra of Yoga Gives Back, a charity founded by Mitsumatsu in 2007. She says, "While benefitting so much from regular Yoga practice and teachings, it hit me hard that 75 percent of India's population still live under $2.00 a day. It came clear to me, if everyone who enjoys Yoga in the world, puts one class fee to the pot to provide micro loans for the poor in India, we can effect change." With this mission in mind Mitsumatsu launched a global fundraising initiative that has grown to include yoga teachers who believe in the mission, organize and host donation classes to raise awareness and funds for the charity through over 100 events in more than 17 countries each year. Last year Yoga Gives Back raised close to $47,000 in its annual "Thank You Mother India" campaign. This year Arianna Huffington invited Yoga Gives Back to be a part of the "Rise For Women Challenge" between April 24 and June 5.
Jayashree is a poor, uneducated woman who lives in the outskirts of Bangalore. In 2007 she received a micro-loan of one hundred and fifty U.S. dollars from the local Grameen Koota Institute. Since she only had an elementary level education her dream was to give her childrena access to higher education through the micro-loan program. Each year she repaid her loans in full and thereby qualified for additional loans. In 2009 her son, Guruprasad, became the first of his family to graduate from high school and also got accepted into a prestigious Dental College. Yoga Gives Back was able to fund Jayashree's son's entire education. Mitsumatsu visited Guruprasad at his Dental College eight hours from Bangalore last year. She said, "In a few years, he hopes to become a dentist, return to his home town to start his own clinic for the poor. I am very excited to share this update story in a new YGB film series this summer. This is Jayashree's dream in the making with your support!"
Mitsumatsu's film shows how Jayashree's micro loans have helped her to come out of extreme poverty and to dream of her children's higher education. Filmed in 2008 and 2010, her elder son Guruprasad explained how his mother's income from the business she started with the micro-loans provided them with their own home and will help his education. Her next film will show how he is studying hard, hundreds of miles far from his family and is determined to return to his hometown as a dentist to serve for the poor community.
In West Bengal Yoga Give Back provides aid to 109 mothers. Sipra Biswas received a micro-loan of approximately forty U.S. dollars last year. With that money she started her own business to create mud ornaments. It was so successful that she hired women from her village to work with her and she hopes to get another loan this year to continue to grow her business. Forty dollars is an astoundingly small amount of venture capital for a start-up business. This amount is so small in fact that the average person in the U.S. would not be able to imagine that the equivalent to a few t-shirts from the Gap could make a difference in someone else's life. But with those forty dollars Sipra planted the seed of change in her life. Now Yoga Gives Back funds her twelve year old daughter Swarnali. When Swanali was born everyone in Sipra's family and village urged her to sell or give her daughter away, but Sipra's dream is to give both of her daughters higher education. With the help of Yoga Gives Back that dream is on the way to becoming reality.
Mitsumatsu's second film is the first about the Deenabandhu Trust Home, where about 100 orphaned children live. In 2013, Yoga Gives Back is funding 17 children including one college student. She says, "This home accepts children who have absolutely no place or relatives to care, so most children's parents are dead, homeless, HIV positive." This new film shows how even children born under such horrendous hardship can live a full life. One girl to be featured is eight years old and was found on the street crying next to her dead mother's body in Bangalore. Today, her smiles lighten up everyone at this home.
The average American yoga student has no idea what life is like for the poor in India or what it takes to help. I had no idea until I went to Mysore, India for the first time more than 14 years ago. Since I've seen first hand the hardship of the poor in India when I heard about the positive, measurable change effected by Yoga Gives Back I was immediately inspired to get involved. I started out raising money for the charity, moved on to become an ambassador and am now part of the advisory board.
What makes Yoga Gives Back stand out is the real stories of positive change that have happened as a direct result of the charity's programs in India. Based on the same micro-loan principles as the Nobel Peace Prize Recipient Dr. Muhammad Yunus' revolutionary success with the poor people in Bangladesh through the Grameen Bank foundation, Yoga Gives Back seeks to empower the poorest of poor in India. Mitsumatsu expanded the charity's reach to include educational funding as well as micro-loans and now Yoga Gives Back funds more than 230 mothers and children with micro-loans and educational funding. Expanding on the principle of directly effecting change, Yoga Gives Back created a new program called "Sister Aid" that works with mothers and children who need financial support in West Bengal and Karnataka in India. Yoga Gives Back partners with two NGO's in India, Nishtha in West Bengal and Deenagandhu Trust Home in Karnataka, to work with and fund each person in the program for a minimum five years in order to ensure a real positive transformation.
Sister Aid micro loans do not charge any interest, but require all the mothers to save 50 Rupees every month for their daughter's higher education. Mina Das, NISHTHA Director says, "This is a very innovative micro loan project, as it ultimately aims to ensure girls' education." Mitsumatsu wants to replicate this type of miro-loan program so that more girls in India can go to school. Currently only 13 percent of India women have primary education. 47 percent of girls are married before they are eighteen and eighteen percent are married before they are fifteen. Through the efforts of Yoga Gives Back more girls can go to school and begin the long, arduous task of personal and social change.
You can help Yoga Gives Back to win The Rise For Women Challenge by donating any amount before June 4, hosted by The Huffington Post, Skoll Foundation and Half the Sky Movement. This Challenge aims to support a non profit working for women's empowerment to grow and reach out more!!