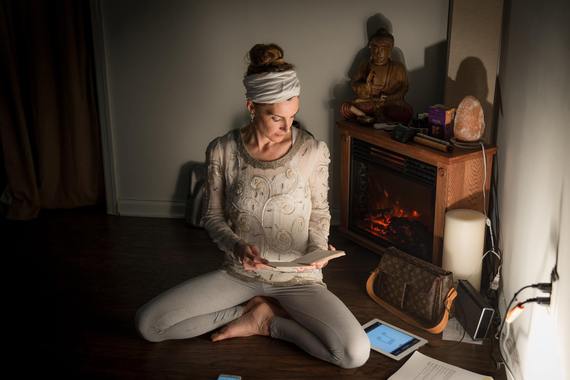 Is it okay if a yoga instructor carries a Louis Vuitton bag? Can a person be yogic, giving, loving, kind, generous, fun and authentic as an earth being in the real world? Or, should a yogi be super humble? If one practices yoga, should they also practice extreme selfless service to the world? Or, is giving love and more love to others enough?
My yoga teacher, Yogi Bhajan, taught us that if we are to practice the secret technologies that uplifted the vibrations of the Sages in India years ago, then we should also live a prosperous life and enjoy the good things in life. He taught us that practicing Kundalini Yoga would lift our auras so much that we would attract prosperity, and all the things we loved would just come to us.
I do not believe in deprivation. I believe in the goodness of the universe, and I believe that being authentic is the calling of this time.
I am a yoga teacher. I spend hours a week giving to others. Sometimes without being paid in money, but being compensated by the love of the Divine. Countless moments have showed me the importance of giving. My father used to give his tie to a stranger just because they liked it.
My entire family gives. We give to strangers. We give our love and our time, and we donate. We give and give more. Sometimes maybe even too much.
I love Louis Vuitton, too. I love France. I love Paris and I love Italy. I love designer bags and shoes. They make me feel happy.
Is it okay to be a yogi and enjoy shopping on Fifth Avenue?
What the world needs now more than ever is Love. Love for the self brings love to the world.
YOU deserve to be happy, fulfilled and prosperous.
When we practice the yogic technology, we open ourselves to the abundance of the universe. When we live in a high frequency that recognizes our worth as loving beings, we invite the universe to share even more to be grateful for.
Then we SHARE. We keep sharing... and we can share while carrying a Louis Vuitton bag and wearing Jimmy Choo shoes.
It is time. And, the world needs you. Louis Vuitton bag and all.
Oh, and there is no need to change your pocketbook when you are going to a yoga class. If people in your class judge you, they are just being called to practice a little bit more.
Yoga is a practice without judgement.
I believe in YOU. Be YOU. And, bless the world as you, because that is the way God made you to be. YOU. The authentic YOU is enough.
Please let go of shame. You are beautiful exactly the way you are. You can wear Lululemon and you can carry a designer bag. If you serve from the heart, does anything else really matter?
Always through my Heart with Love and more Love... Karena