Yoga has been a constant in my life since I was 17 years old. When I made the choice to become a high school teacher in 2007 through the New York City Teaching Fellows program, my instinct told me to become a yoga teacher, as well. Because as a teen, yoga truly helped me learn to love myself.
I can clearly recall my first time teaching yoga at Bayard Rustin Educational Complex in 2007. The gym was on the top floor of an art deco building that looked like a castle. The hallways were decorated with murals from the 1930's Work Projects Administration's Federal Arts Project. Light shone in through the stone windows, and a group young women who failed gym sat in front of me, unsure what to expect. So I told them my story.
When I was 17 years old, I worked at Double Rainbow, an ice cream shop in San Rafael, California, that had too many delicious flavors. Thank goodness for the gym across the street, where I learned yoga. My original intention for practicing yoga was to get in shape for prom. But what I found was so much more: One hour of yoga cleared my mind, and for the first time, the nagging voice in my head that stopped me from loving myself quieted down.
This is what I could offer this group of diverse teens, many who were reluctant to be at an after school gym credit make-up class: The practice that helped me learn to love myself. After a few weeks of doing yoga as a teen, when looking at myself in a mirror, I saw someone different: Beautiful, confident, ambitious. It wasn't the physical practice of yoga, or asana, that made this change in me. Rather, it was the ability to connect my mind with my body, and see all that I was capable of.
Yes, my body went into poses that may have seemed impossible before. But it was the process of being in my body--not letting my mind drift off in a negative monologue--that helped me get to the point of self love. This was my mission teaching teens at Bayard Rustin yoga, and on the last day of our class, I was blessed with hugs and thank-yous. A few young women confided in me that the yoga class was more than a gym credit make-up for them, and that it had really impacted their sense of self.
This all happened in my past life as a special education and yoga teacher at a high school. Since then, I've gone through many changes. I started an office yoga company. I recently went through a life threatening health crisis. And I'm currently going through a life transition where, for the first time in my adult life, I am single. Yoga is a constant that I've had throughout all of this, and it has helped me through it all.
A wise yoga teacher in Sri Lanka once told me that the only guarantee you have in life is that everything will change. We were sitting in a wooden pagoda in the lush jungle, surrounded by the songs of birds. The only guarantee in life is that everything will change. The only permanent thing you have in your life is the relationship between your mind, breath, and body. No matter what happens around you, as long as you are alive, this relationship is permanent. This is the most important and permanent relationship you have, so nurture it.
For me, yoga was the path to finding mind-breath-body connection. Many things can be considered "yoga" if we look at the translation of the word from Sanskrit as connection, or union. For other people, their path may be running, cycling, dancing. Your relationship with your body is the best tool you have to power through the guaranteed changes we will face in our volatile lives.
When you are powering through a change or transition in your life, any physical practice that brings you more connected to your mind and body will help you come out of it healthy and whole. Try this one minute sequence to start your path on to new beginnings.
And remember that you are whole, and cannot be defined by external sources like possessions, friends, even partners. Take a moment to listen to yourself breathe, and find yourself.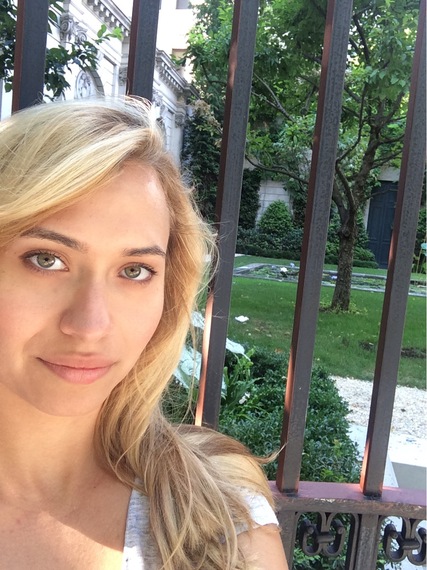 Lauren Coles is the Founder and Lead Teacher of Daisy Office Yoga in New York City, where she brings yoga to people at work. She has co-written the first Office Yoga curriculum backed by research and medical science, and believes in the power of yoga to improve people's relationship with their minds and bodies. Her YouTube series, Ms. Yoga CEO, aims to inspire people to be the best versions of themselves through simple yoga and meditation.