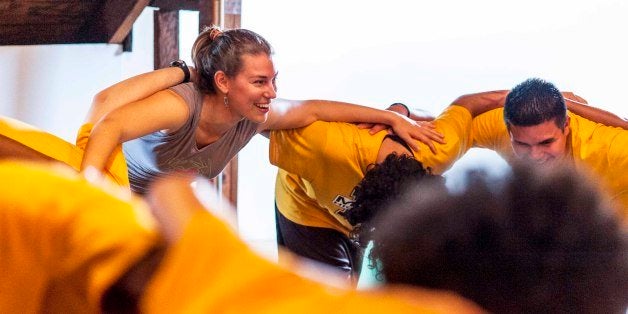 Erin Lila Wilson discovered the transformative powers of yoga and meditation when she was 13. But she had no idea that she would end up dedicating her life to sharing those lessons with other teens in need of a little guidance.
Growing up in North Carolina, Wilson spent her younger years training in classical ballet. When her teacher insisted that she practice yoga to improve strength and flexibility -- two key components for dancing -- she agreed to give it a try. Since there was no yoga studio in her area at the time, she purchased a beginner's yoga video and got to work in her living room.
"I'll never forget how I felt after doing my first yoga practice, especially coming out of the deep relaxation," Wilson told The Huffington Post. "I felt this sense of peace and calm inside of my mind and body that I didn't even know was possible."
Wilson continued to practice yoga throughout high school as a hobby. Meditation joined her routine after a counselor taught her relaxation techniques to soothe her severe stage fright.
"It helped me realized that I'm not my thoughts, and I'm not the stress I experience in my life," Wilson said. "There's a part of myself that's always calm in spite of stressful circumstances, and I could use these tools to access it."
Wilson took these practices to St. Olaf College in Northfield, Minn., where she studied music with hopes of becoming a professional pianist. But in 2005, during her senior year, a wrist injury put piano playing on hold. In its place, she began lending more time to yoga. She decided to take an Integral Yoga teacher training course to deepen her practice.
Wilson initially had no intention of teaching. But the certification program helped her realize that sharing yoga with others was her life's calling. She told her parents about her change of heart, completed her music degree and moved to New York to pursue her new passion. She taught in a variety of studios and gyms, working with toddlers, seniors and even cancer patients. But she didn't teach teens.
Her conscious avoidance of that age group came to an end in 2007, when an instructor from her teacher-training group told her about a program that brought yoga to at-risk teens at the James Baldwin School, an alternative high school in the city. It offered yoga as a physical education credit, and included workshops on how yoga could be a life practice as well as a physical one. While reluctant and intimidated at first, Wilson joined the program. She's never looked back.
"From the moment I started, I just totally fell in love with teaching teens," she said. "I realized that it's such a gift to bring these practices to young people, because young people are so open and so receptive, and they can take these practices and these tools with them for the rest of their lives."
She spent the following five years developing a yoga-in-schools curriculum and working with students who faced more challenges on a daily basis than many people experience in a lifetime. From gang involvement to drugs to familial abuse, these teens used lessons from Wilson's yoga class to deal with tough life situations, reigniting a sense of hope for their futures and boosting their self-esteem.
"For most students, it takes anywhere from a month to three months to start seeing noticeable changes," said Wilson. "I think that often this work is about planting seeds. Some students just shoot right up and blossom before your eyes, and others take some time to germinate."
In January 2012, Wilson made a bold move and relocated to the West Coast to launch a yoga-in-schools program of her own. RISE Yoga for Youth began with a pilot run at Mission High School in San Francisco and has since expanded to seven other high schools for at-risk students in the bay area.
"It's the population that I'm most drawn to teaching because we are reaching teens that otherwise would never have access to yoga," said Wilson. "Yoga is expensive, so that's one of my biggest priorities -- making this practice accessible to all teens regardless of their ethnicity or economic background. Everyone deserves to have access to their own peace and their own power."
In addition to sharing the physical experience of yoga, Wilson designed RISE to help build a sense of community, since so many students are more connected to personal technology than to the human beings around them. Using group and trust-building activities and partner and group-style yoga poses, RISE gives kids the sense of human connection they crave, but forgot how to express. The program also helps cultivate a sense of service in the students with cleaning and gardening projects at local yoga studios that donate time and space to the classes. Surprisingly, the kids enjoy the opportunity to spend time with one another as they give back.
"So many students say they feel more confident in themselves, more comfortable in their own skin," said Wilson. "They feel empowered through the yoga practices."
As RISE continues to expand this year, Wilson, now 31, wears several hats. She teaches six yoga classes each week, overseas her team of six teachers and their programs, meets with school administrators to make sure the program is adapting well to their needs, and works with her ever-growing community of support. She hopes to reach two more schools by the end of the year and to branch out to other parts of the region that could benefit from a program like RISE.
"I feel like we are at the brink of a huge shift in our overall cultural consciousness," said Wilson. "We have a responsibility to nurture our children's inner lives as well as to give them a more formal education. And recognizing our inherent worth is one of the most beautiful aspects of bringing yoga to young people."