Yoga is for everyone. Unfortunately, yoga is not priced for everyone. But Hawaii is the land of affordable yoga. Thanks to the number of people who practice in the Aloha State, there are an abundance of studios, instructors, co-ops and rogue lessons being taught out of houses, backyard, public parks and community centers. Many of these classes are priced at half of what they would cost on the mainland, and an equal number are donation classes, based on whatever you can afford.
A vacation to Oahu is an especially great time to either first discover yoga, take your practice to the next level or just say namaste in front of an incredible sunset with the sound of waves crashing as you exhale with a long "Alooohaaaaaaaaa."
Yoga Classes On Oahu That Won't Break The Bank
1. Turtle Bay Resort, Kahuku
Turtle Bay Resort on Oahu's North Shore is set between two gorgeous beaches with fun surf, unobstructed sunset views and abundant sea life. The resort's Nalu Kinetic Spa was recently renovated and offers daily yoga classes taught by excellent instructors. Classes are open to guests and non-guests alike for only $10, and punch cards are for sale that bring the class prices down to about $6. The schedule changes monthly but can always be found on the spa website.
2. Power Yoga Hawaii, Honolulu
If you're looking for a vigorous workout taught by a top-notch instructor, Power Yoga Hawaii is your studio. All classes are now donation-based (suggested donation is $15). The studio has a robust schedule so it's easy to find a class time that works for you. Really looking to detox on your vacation? Power Yoga Hawaii's founder, Dorian, teaches a "2 Hours of Power" class on Sundays that is sure to leave you dripping sweat and ready to recover on the beach.
3. North Shore Yoga Co-op, Waialua
Set in a community center in the quiet town of Waialua, the North Shore Yoga co-op is a collaboration among an impressive and diverse roster of teachers. The classes are donation-based. They cover a broad range of yoga types, including Yoga for Surfers, which emphasizes "range of motion of the shoulders, back and hips – the body regions most commonly overused and injured by surfers, paddlers and swimmers." Non-surfers will appreciate this class as well for this promise: "Minimal to zero chaturangas [yoga push-ups] are practiced to ease the over use of the shoulders."
4. Yoga Loft Hawaii, Waipahu
Our favorite thing about this studio might be its Instagram account, which never fails to deliver incredible photos of yoga poses set against the most beautiful spots on Oahu. But Yoga Loft is also a great studio in its own right, set inside a warehouse-like space beautified with reclaimed wood and paper lantern lights. Set in Central Oahu, it's an easy stop on your way from one side of the island to another. First-timers are treated to a class for only $6.
5. Sunset Beach Recreation Center, North Shore
This rec center is the kind of place that makes you grateful for public spaces. It's open air, clean, set against the mountains and across the street from a gorgeous beach on the North Shore. Community members gather for zumba classes, martial arts, and of course, yoga. Taught under the name Paumalu Yoga, the classes at Sunset Rec are donation-based. In true aloha spirit, no yogi will be turned away for lack of funds -- exchange of services is a payment option for those who truly need it. One can trade marketing assistance, local organic produce, house cleaning, carpentry or any other valuable service in exchange for yoga instruction.
7. Noelani Studios, Haleiwa
Ok we know you were waiting for it. Where's the FREE class? Well, it's at Noelani Studios, which offers a complimentary class your first time, but once you visit, you'll want to come back again and again. Right in the middle of Haleiwa Town, Noelani Studios is more than just a yoga studio. They offer dance classes and sell locally-made artwork, soaps and jewelry. Weekend workshops teach you how to create dreamboards, paint beach scenes and use essential oils. The studio just opened this summer and the pretty pink lotus flower painted on its wall still has that new studio glow.
8. Waimea Valley Yoga, Waimea Valley
Set in the most picturesque locale of all, a class with Waimea Valley Yoga is a great way to make sure you explore Waimea Valley and Waimea Bay. The valley is a tropical, quiet oasis held sacred by Hawaiians for hundreds of years. You'll be practicing Hatha-style yoga among over 5,000 types of plants and 78 archaeological sites, and nearby a waterfall where you can take a dip after class. Go across the street to Waimea Bay, a serene swimmers' paradise in the summer and the occasional setting for 20-30 foot waves in the winter. Classes are taught every Monday, Wednesday and Friday at 7:30am by a long-time North Shore lifeguard and are donation based. Check the Facebook page to confirm the week's schedule.
Visiting a neighbor island? These hotels offer complimentary yoga for their guests:
Related
Before You Go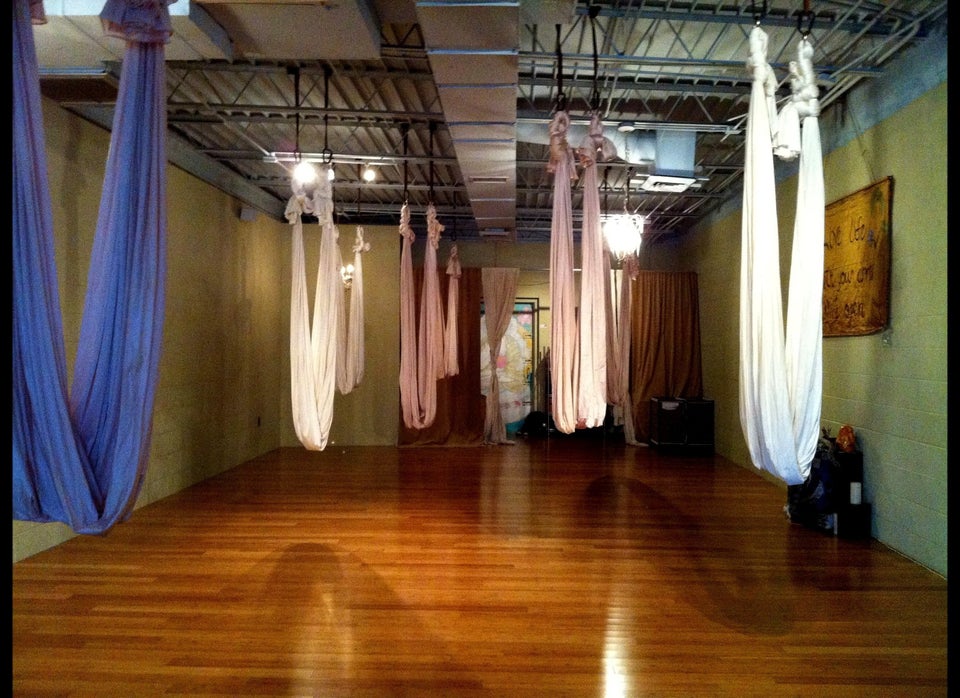 Unconventional Types Of Yoga