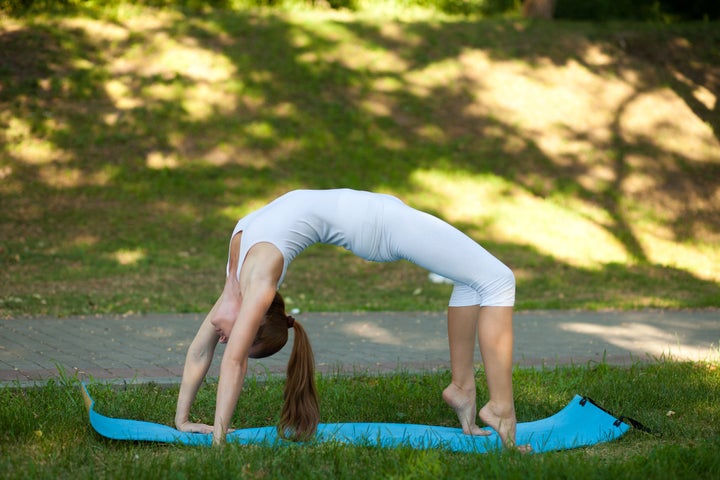 One of the chapters in my life included a 10-year bout with deep depression. This depression became compounded when I was confronted with loss and grief. I took antidepressants of varying kinds for many years and attempted talk therapy. For me, none of these approaches worked. This is not to say antidepressant medications and psychotherapy aren't appropriate for some people. They just weren't appropriate or helpful for me.
It was only when I began practicing yoga that I started to see and feel concrete, sustained shifts in my mental patterns, emotions, and internal state of being.
Anxiety disorders, including depression, are the most common mental illness in the United States. Many people suffer in silence, not realizing anything is wrong. Thoughts such as, "This is just how I am," that feeling depressed is normal, or that nothing can make things better can keep people from seeking help.
While it's normal for everyone to get the blues or feel disheartened or depressed from the loss of a loved one, when these feelings last for more than two weeks and start to interfere with daily functioning and activities, this can be termed a "major depressive episode," according to the ADAA (Anxiety and Depression Association of America).
There are differing opinions on the cause of depression, but research supports the idea that depression may stem from the mind.
Yoga's unique mind-body approach is being used more and more to reduce stress in cases of PTSD, treat depression, and to enhance overall well-being. The following three studies provide some insight into the benefits of yoga for depression and anxiety:
One study reported that GABA levels increased after a session of yoga in experienced practitioners. GABA acts as a neurotransmitter, which inhibits nerve transmission to the brain, resulting in calming and quieting the mind.
In another study of women suffering from mental distress, the women showed "significant improvements on measures of stress and psychological outcomes" after participating in a three-month Iyengar yoga class.
Thirteen psychiatric inpatients were studied to determine the effects of yoga on mood. Participants reported significant improvements in tension-anxiety, depression-dejection, anger-hostility, fatigue-inertia, and confusion-bewilderment.
Yoga asana can be a powerful practice for depression or anxiety, and a key component of this is the breath. The breathing used in yoga, such as Ujjayi, can help calm our stress response system and contribute to a state of calm. The result is a mind-body connection that can have far-reaching effects.
There are many yoga poses that individually can be helpful, but an integrated, regular yoga practice, including meditation, can reconnect you with your true essence and your inherent wholeness. In that space of "being," there is a release of attachment to our worries, problems, fears, or circumstances.
Here are five poses that can specifically help with depression:
Forward fold (Uttanasana). In Light on Yoga, B.K.S. Iyengar says about Uttanasana, "Any depression felt in the mind is removed if one holds the pose for two minutes or more."
Head-to-Knee Forward Bend (Janu Sirsasana). This seated forward fold is calming for the mind, stretches the hamstrings and groin, and stimulates the liver and kidneys [1].
Cobra (Bhujangasana). This back bend can be done in stages. It expands the chest and gives elasticity to the lungs [1].
Bridge (Setu Bandha Sarvangasana) . Bridge pose is a back bend that strengthens the legs, opens the chest, and stimulates the abdominal organs, lungs, and thyroid. Supported bridge, done with a block under your sacrum, is a nourishing restorative version.
Supported Headstand (Salamba Sirsasana). Sirsasana is called the "king of all asanas." [1] Inversions turn your world upside down and give your brain cells a fresh supply of blood. Attention and presence are essential in this pose and thus a great way to pause your thoughts and renew your perspective. Restorative versions of sirsasansa, done with props, are an option as well.
These are just a few of my favorites. I'm also sharing a hip and hamstring practice by Kia Miller on Gaiam TV here. Opening the hips and hamstrings is a powerful practice that can release energetic blocks and allow our bodies and minds to function from a more balanced, open place.
Have you found yoga helpful for depression? Please share your comments below.
Monique Minahan is a writer, yogi, and lover of life. She's inspired by nature's simplicity and the healing power of love. She finds true liberation in living life fully from the inside out. Her intention is to offer her heart to the world through words that motivate, inspire, and encourage. Connect with her at mindfulmo.com.
Read more by Intent here.

For more by Intent on The Huffington Post, click here.
Related