When she was my editor at Intent.com, a "spiritual Twitter" (as I fondly call it) and blogging platform founded by Deepak Chopra's extraordinary daughter Mallika, I had no idea that Chelsea Roff was only 20 years old. She inspired me with her depth, wisdom, and compassion in writing her own posts, as well as suggesting topics to me and the other bloggers and choosing articles to feature.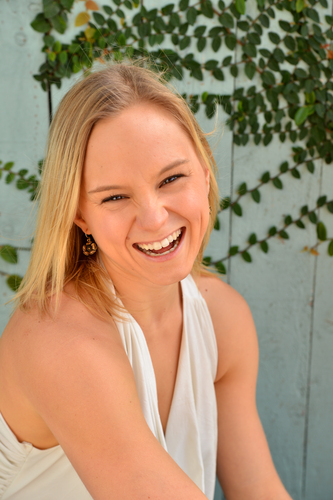 One day, Chelsea shared her own story. I learned that she had suffered from anorexia in her teen years -- a case so extreme that she almost died at age 15 from a stroke. She weighed only 58 pounds at the time. Yoga had helped her to heal, teaching her to love her body again. At the same time, Chelsea was courageous in disapproving of the body-consciousness that modern Western yoga fosters, in its advertising of sleek, lithe, muscular forms, and the peer pressure felt in many studios to have "the perfect yoga body."
I was delighted to hear this past spring that, after having been featured in Carol Horton's seminal book 21st Century Yoga: Culture, Politics, and Practice and showcased on Sanjay Gupta's CNN show, Chelsea was following her passion for health, yoga, and helping others overcome eating disorders. She left her editorial position at Intent.com, and is currently raising money to conduct an evidence-based study on yoga for eating disorders. As Chelsea says, with yoga, "I went from surviving to thriving; from living half a life to experiencing joy and freedom I never imagined possible." The funds she collects from this campaign will fund her in offering the Yoga for Eating Disorders program at treatment centers across the country -- at no charge.
Speaking with Chelsea about her decision this past week, she shared that she is blessed to get a tremendous sense of gratification from working with people and families who struggle with eating disorders. At first, she hesitated about leaving the security of a full-time job and consistent paycheck. But she felt the call to "live out loud." She said, "I have a friend who used to tell me tell me, 'Leap and the net will appear. And if it doesn't, you'll build your wings on the way down.' So I took the leap."
Chelsea admitted her doubts going into this project: that she wouldn't raise enough money, that the research would fail, or that she herself would run out of cash. But she realized that was only fear speaking. "There's a quote from John Lennon that I love: 'All hope for a better world rests in the fearlessness and open-hearted vision of people who embrace life,'" Chelsea offered. "While I think caution and skepticism are wise guides for decision-making, fear is paralyzing. It never gets you where you want to go. It's just a game of choosing trust over fear."
When I asked Chelsea what words of wisdom she would share with her 15-year-old self -- that sick, lost, little girl who'd given up on life -- she said, "Take refuge in impermanence. Don't be afraid of change; embrace it. I know how badly you want consistency, certainty, solid ground beneath your feet... But there is no security in stasis. Changelessness is a prison. Take comfort in knowing that the pain, sorrow, and grief you feel now will pass, just as later joy and ecstasy will fade away."
When Chelsea thinks back now on those difficult years, she feels the most regret not for damage she did to herself, but for how she hurt others -- most of all, her parents and her younger sister, who had to go into foster care when Chelsea was hospitalized for 18 months. In healing from her eating disorder, Chelsea had to forgive the child she had once been, realizing that she had been doing the best she could at the time. "This is part of being human: We stumble, we fall down, and then we pick ourselves up, and hopefully gain a few tools and skills to propel us forward," Chelsea said.
And on the other side of her eating disorder struggles, it is those very mistakes she made that have given Chelsea her greatest gift: empathy. Her suffering helps her understand why people can act in seemingly incomprehensible ways. It's given her the capacity to connect deeply with people in the midst of their own suffering -- especially those with similar struggles. She said, "I think failures, if we're able to move past them, provide the greatest opportunities to develop strength, insight, and wisdom."
As for people struggling with eating disorders, Chelsea offers this advice: "Ask for support. You can't fight this battle alone." Chelsea says that most people with eating disorders suffer from "fiercely independent (wo)man syndrome." They don't want to ask for help, because if they do, they fear rejection or overwhelming others. So they dig in and decide to just take care of themselves.
But Chelsea cautions that this attitude is extremely dangerous. She urges anyone suffering from a mental illness to reach out. "Healing doesn't happen in a vacuum. Allow yourself to be vulnerable, to be mirrored in the eyes of someone else. You will be loved. You will be supported. Life will get better, and you'll have more to offer to those you love because of it."
Photo credit: Sarit Z Rogers, Sarit Photography
If you're struggling with an eating disorder, call the National Eating Disorder Association hotline at 1-800-931-2237.
For more by MeiMei Fox, click here.
Related