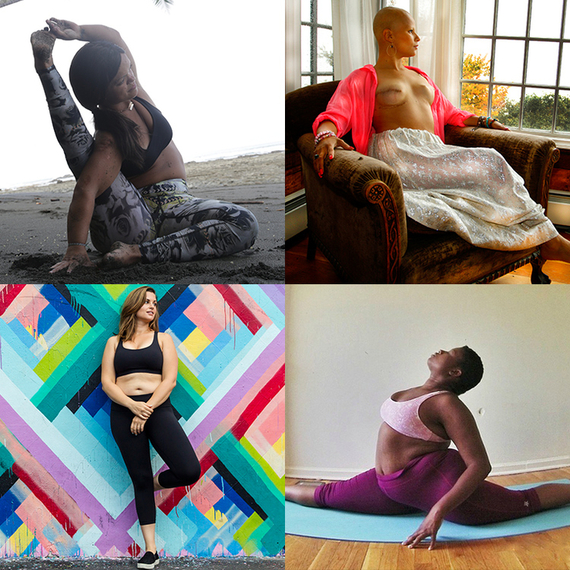 Yoga is touted as being for everyone, but in my humble opinion as a teacher, we still have some major work to do on our image. Funny enough, the active yoga that we know today was originally created for young Indian men (no women allowed) as a form of calisthenics and way to burn off mischievous/pubescent energy. Fast forward to the present day, and things have dramatically changed: Women rule the yoga roost, but according to the mainstream depiction of the practice, they're all slim and shiny-haired—and the epitome of perfect health.
While yoga is one of the best things you can do for your health, I wanted to write something that shows the faces of yoga that aren't often covered by media. Something that shows yogis come in all sizes, shapes, colors, and experiences. I had the honor of speaking with four amazing women who shatter the stereotype of what it means to be a yogi. I am so thrilled to share their stories in hopes that they will inspire you as much as they do me.
Her story: "I have achondroplasia, the most common form of dwarfism. At 30 years old, I stand at 4'11". As a little person who chose to undergo the controversial procedures of numerous limb-lengthening surgeries, I have scars that run the length of my legs and upper arms that I find beautiful. My arms and legs are slightly disproportionate to the rest of my body. Oftentimes, my physical imperfections cause people to label me, stare, point, and laugh. It's offensive and hurtful."
Her message: "No one else in this world has walked in my shoes, nor do they have a yoga practice that looks remotely similar to mine. When you think about the enormous complexity of such a phenomenon, that everyone has their own inimitable story, that alone is beautiful."
How yoga helped: "Yoga has taught me how to love myself and that it is necessary to make it about me; it's taught me to surrender to what feels good and to what lights me up. My practice and my progress have erased the boundaries of separation that I once created for myself and that others continue to create for me based on my different-ability."
Her advice: "In changing the way I view myself, the rest of the world will follow suit. Stop judging, and start loving.
Her story: "I've had 26 surgeries in the last 11 years. The majority of these surgeries related to a colon-rectal tumor. The other surgeries were as a result of breast cancer. I've been knocked down 26 times, but I have chosen to get up 27 times. In the beginning, before I started my yoga journey, I had a terribly difficult time rebounding from each surgery. My stomach was constantly being cut open. Many of my early surgeries failed, requiring additional surgery. With each failure came crushing depression. I turned to drugs, alcohol, and a myriad of other bad things to try and find relief."
Her message: "I am a wife, a mother of six, a survivor, a warrior, a yogi, and a yoga teacher. My life is defined by service to others: service to my own family, service to my yoga family, and service to the world in general help me think less about myself and more about the needs of others."
How yoga's helped her: "Once I started to practice yoga, I had my answer. Here, practicing every day, I healed myself mentally. My physical body still wasn't cooperating, but mentally I felt incredible relief. Drugs and alcohol lost their luster, and breath replaced them."
Her advice: "Obstacles are opportunities that don't feel like opportunities when they arise, but that's just exactly what they represent. I choose to use these opportunities to find something positive. I choose to breath. I choose to help others. What you choose is up to you."
Follow Yulady on Instagram @yulady.
Her story: "I've modeled at a size 0 and a size 16—I know that happiness doesn't come from a size, it comes from within. I've lived with 10 years of eating disorders and obsessed over fad diets for as long as I could read the cover of a magazine. I've struggled with plastic surgery, body dysmorphic disorder, and a combination of issues, including energy deficiency, menstrual disturbances, and bone loss. I thought no one could love me just the way that I was. I've since created my site, My Kind of Life, and am the chief empowerment officer of the self-confidence-promoting nonprofit TOPLESS."
Her message: "What I learned is that changing my body didn't help my self-confidence; it crushed it. With radical honesty, I surrendered and began sharing my tumultuous story, journeying through body-image setbacks and successes. I've decided I'd rather be happy at any size than morbidly unhappy while trying to look like a Photoshopped image of a supermodel."
How yoga's helped her: "I started going to yoga when I was 18 in outpatient therapy for my eating disorder. Practicing in the studio was the first time I had ever experienced the feeling of universal acceptance for who I was, outside of my home, in my 18 years of life. My yoga studio offered me a community to feel supported and loved in, no matter my age, body type, or the fact that my pushup looked like the worm stuck in molasses."
Her advice: "I've been sixteen different sizes and felt unworthy at every one of them—until I allowed myself to feel great. There's no difference in being petite or plus-size; the difference I felt was when I allowed myself to feel loved just the way that I am. If you're deeply struggling with your body image, please seek counseling or reach out to me on My Kind of Life.
Her story: "Like any overweight young person in America, I was teased mercilessly. This discrimination and prejudice led to body shame and depression for the vast majority of my childhood and young adulthood. However, discrimination from other people is merely child's play to the evils of self-hate and self-prejudice, and the most challenging aspect of my practice has been letting go of preconceived ideas I've hatched about my body's abilities."
Her message: "The entire Western health industry is dominated by glossy images of slender people, and it's hard for healthy and curvy active people to find themselves in a sea of images specifically engineered to harvest body unhappiness. However, hurdles are often a catalyst for positive change—society's definition of health and wellbeing is expanding every day, and it's only because of increased visibility of healthy curvy people."
How yoga's helped her: "I think everyone has a mental roster of movements they assume are out of their body's range—whether it's due to height, weight class, or lingering childhood trauma. However, breaking down these highly personal boundaries is the most critical part of anyone's practice, and it challenges me on a daily basis. It's a constant motivator to seek satisfaction by exceeding my own expectations."
Her advice: "If you're struggling with body-image issues, stop listening to other people—immediately. If you hear something about your body that makes you unhappy, ignore it and the person who said it. Anyone who says something negative about your body is simply projecting personal dissatisfaction from their own life. And if the person who says the meanest things about you can actually be found in your own reflection, ignore that person, too. You are beautiful, worthy, and unbelievably strong. The only person who can take that away is you."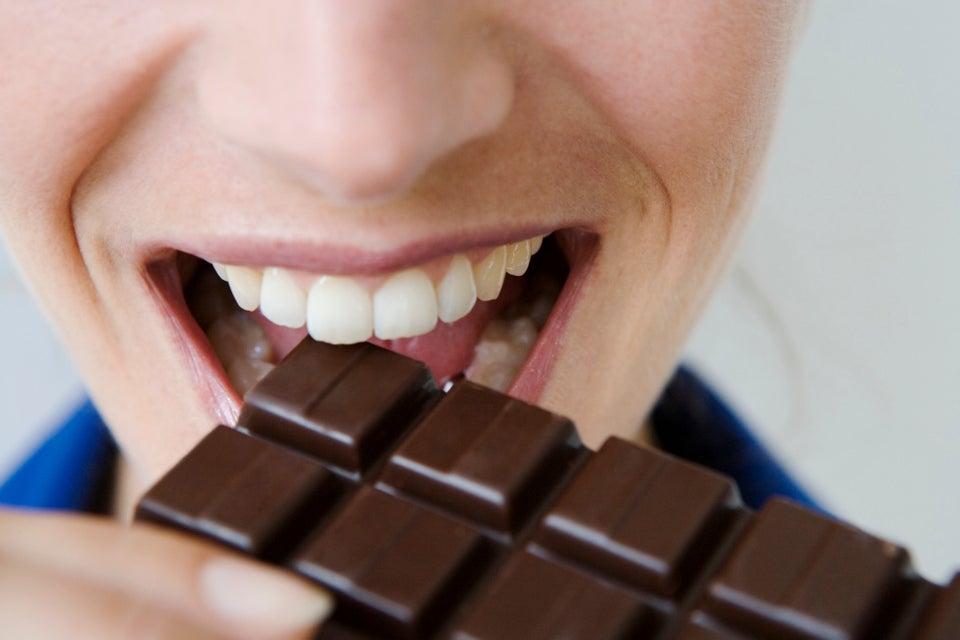 100 Ways To De-Stress
Popular in the Community