A painful surgery with a long recovery time and often disappointing results costing in excess of $12,000 is the standard treatment for rotator cuff tear, an upper extremity injury so common it showed up in almost 61 percent of shoulders in one study. Many patients with rotator cuff tear have come to me for help after playing golf or tennis, going to the gym, taking a suitcase from an overhead airplane bin, lifting and pulling activities or experiencing an accident. As a specialist in physical medicine and rehabilitation, and as someone who had gone through the surgery himself, I wished I could do more to help many of them avoid surgery.
I never thought I would come upon a non-surgical solution. Then, 10 years ago I tore my other rotator cuff while trying to avoid an automobile accident. This time the surgeons said the tear was so severe they couldn't fix it. The pain and inability to raise my arm even to shake hands were a nightmare, but I tried to go on with my daily life, including my yoga practice.
One morning, despite some apprehension, I got down on all fours, placed my arms on the floor and raised my legs until I was standing on my head. Amazingly, when I came down from that headstand, my shoulder didn't hurt any more. My arm moved as well as it did before my accident.
The longitudinal before-and-after paper follows a group of 50 patients from the original large cohort. I kept track of them for more than two years to make sure their shoulders stayed pain free and they retained their range of motion.
Immediately after completing the exercise, the average improvement for 46 patients was 150 percent. In other words, these patients more than doubled their range of motion and could lift their arms normally. Much of their pain disappeared. Patients reported their pain reduction on a questionnaire.
The average was 82 percent. Many said that they were pain-free. Only three patients reported no improvement. (One patient dropped out of the trial.) Nevertheless, 46 patients were satisfied with their outcomes, and they sustained the initial results for 30 months or longer. Most patients also received just enough physical therapy to solidify their gains -- an average of five sessions over a period of one week to 10 days.
Outcomes for TFS Exceed Those for Surgery
Those who improved in my clinical trial of the new, conservative treatment had results equal to or exceeding outcomes for participants in published international surgical, arthroscopic and conservative treatment studies. One study of comparable tears in the Journal of Shoulder and Elbow
Surgery, for example, found a 22 percent gain in range of motion for arthroscopic procedures and did not specify pain reduction. A paper in Joint Bone Spine reported 55 percent pain reduction and 25 percent increase in range of motion. A 2007 trial in the Journal of Bone and Joint Surgery that measured results of conservative therapy showed only a 19 percent improvement in range of motion after six months.
The following slideshow demonstrates the triangular forearm support (TFS) exercise. Amy and Pete both hurt their rotator cuffs doing yard work, golfing and playing with their their 4-year-old. They decided to try to figure out what they could do for themselves, and they're interested in yoga. We were a perfect fit.
Speak to your doctor before deciding on the safest treatment for you.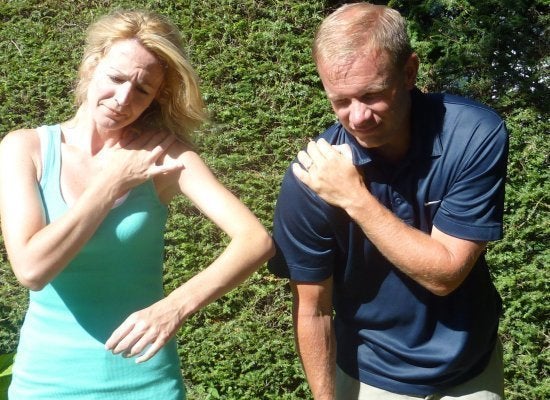 Related