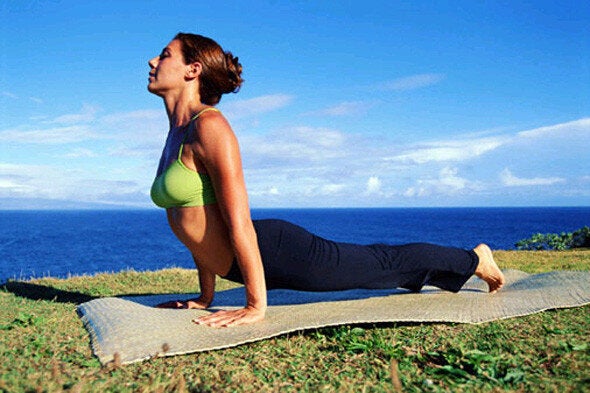 Yoga Body: The Origins of Modern Posture Practice, by Mark Singleton. Oxford: Oxford University Press, 2010.
This handsome book, written by St. John's College history professor Mark Singleton, is based on the author's painstakingly researched PhD dissertation, but you don't have to be a trained scholar to appreciate it. It's a compelling work of cultural history, and its subject, the origins of the contemporary yoga "boom," couldn't be more timely. Many long-time yoga practitioners are disturbed by how "commercialized" yoga -- now a $6 billion industry -- has become. Once confined to exotic ashrams or to dingy basement apartments in the urban demimonde, it's even crashed the outer suburbs, where luxurious, high-rent yoga "studios" are as ubiquitous as the corner Starbucks. Celebrities -- everyone from Madonna to Sarah Palin- - extol its virtues, but less as a source of spiritual "enlightenment" -- yoga's traditional goal -- than as a hip, fast, and oh-so-fashionable fitness regimen.
Singleton argues that yoga's "new" fitness-orientation isn't so new, in fact. That's because the ancient meditative rituals described in the Yoga Sutras, written by the Indian sage Patanjali 2000 years ago, and considered by Hindu theologians to be the official repository of "wisdom" about the practice, are very different from the "postural" yoga that's so common today. But postural yoga, though only about 150 years old, also has strong Indian roots, he argues. The difference? Under pressure from the West's sprawling fitness culture, Indian yogis felt compelled to overhaul and thoroughly modernize their ancient practices, creating, in effect, a syncretic "hybrid," which has continued to evolve over time. In Singleton's view, that doesn't make today's yoga any less "authentic" -- or even less spiritually-minded -- but it does make it more authentically Western, even if it retains - largely for marketing purposes -- a distinctly "Hindu" gloss.
Most of Singleton's book, which draws heavily on long-buried archival records in India, and on primary interviews with surviving yogis, documents the complex cultural interactions between India and the West that led gurus such as Vivekananda and Krishnamacharya, to pioneer this historically unique and supremely modern blend of yoga, then "export" it back to Europe and the Americas through disciples such as B.S. Iyengar and Choudury Bikram, who went on to found two of the most influential -- and eponymously named -- schools of yoga. Readers unfamiliar with this story may be surprised to learn that the YMCA was an important spiritual inspiration to Indian yogis, one of the reasons, perhaps, that YMCAs still offer so many free yoga classes to their members. And even some leading Western bodybuilders, such as Eugene Bandow, one of the Arnold Schwarzeneggers of his day, were instrumental in bringing a new emphasis on "physical culture" to India that helped forge the birth of the new yoga, Singleton shows.
Singleton even uncovers evidence that a number of the West's own spiritually-inspired exercise movements - such as "harmonial gymnastics," which was especially popular in Scandanavia, England, and the United States in the 1920s - might be direct antecedents of today's yoga. He skillfully compares photographs from the two eras to reveal that most of harmonialism's exercise poses are identical to the "asanas" associated with postural yoga, but harmonialism's roots are strictly Western, and Christian, not Hindu. Yet these same movements, like the pre-World War II Women's League for Health and Beauty led by Mary Bagot Stack, didn't just promise their female practitioners a buff body but also an inner balance and awakening to uplift and empower their spirits. In this sense, harmonial gymnastics might have "prefigured" today's decidedly female-centric yoga, Singleton suggests, quite independently of any cultural influence from India.
The book isn't without its flaws. Some of the key yogis Singleton cites insist that their yoga derives from ancient Hindu texts, but Singleton largely dismisses their claims based solely on their embrace of postural yoga. And yet, as Singleton shows, there's a long tradition of postural yoga in India that may not be found in the Yoga Sutras but predates its encounters with Western fitness. For generations, the poor wandering Hindu religious fakir -- a kind of gypsy, shaman, and traveling salesman all rolled into one -- practiced yoga contortionism to amuse and amaze local townsfolk, and to earn a living. Fakirs were despised by Hindu religious elites, and ridiculed by foreigners, but one could certainly argue, based on Singleton's own evidence, that they inspired India's postural yoga tradition as much, if not more, than any Westerner did.
In fact, Singleton's use of the term "postural" yoga seems far too broad to encompass the wide range of "yogas" being practiced in the West. The leading yoga schools he mentions are highly fitness-oriented, but others harken back to yoga's ancient Hindu roots and emphasize meditation and controlled breathing, much as the Yoga Sutras do. And in the 1960s, as another recent book by Stefanie Syman, The Subtle Body, has documented, Western yoga wasn't as focused on postures, which tends to belie his historical case. In the end, Hindu yoga's brand of exotic spiritual mysticism - focused on unseen forces like "chakras" and "prana" - seems fairly far removed from even the most spiritually inclined of the Western exercise regimes.
For all of these reasons, Singleton's provocative and illuminating book probably won't end the current debate. But his careful research strongly suggests that yoga, in one form or other, has been evolving over many centuries, adapting itself to the peculiarities of local cultures, East and West, secular and religious, sometimes in explicit "dialogue" with Hinduism, sometimes not. Yoga has survived, one might say, because it's managed to twist itself into as many postures as its students have. And judging by its phenomenal growth, it's probably here to stay.
Related
Popular in the Community