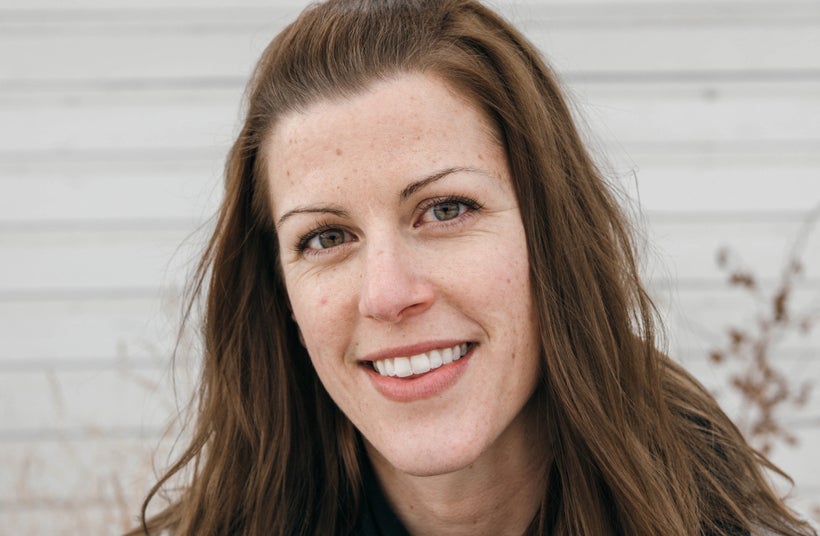 I recently met Cat Lauer at the Hanuman Yoga Festival in Boulder, CO. She volunteer teaches free yoga classes to support recovery from addiction, trauma, and mental illness, and she is paid to teach studio classes at Old Town Yoga Studio in the historic downtown of Fort Collins, CO. Her "Yoga For Recovery" classes are designed to complement on-going therapy with physicians and mental-health therapists. Visit: catleaslauer.com/yoga-for-recovery
Rob: What originally motivated you to do this work?
During the summer of 2002, I was a seva student at Kripalu Center for Yoga and Health in Lenox, Massachusetts. There I was exposed to yogic practices and meditation. Years later I sought help for an eating disorder; I pledged that whatever modality best served my recovery, I would work to provide the same opportunity to others. That turned out to be yoga. I began to expand on my home practice with individual sessions with a yoga therapist, then studio classes and workshops, and on to a teacher training program.
Yoga for Recovery is offered to those in recovery from addiction, trauma, and mental illness. While my recovery was from an eating disorder, the class teaches skills that address issues relevant to many recovery paths. I've witnessed commonalities among people in recovery, clients I met while working as an advocate for survivors of sexual assault, and in my current work at a mental health and substance abuse facility.
What are some of the things your students have taught you?
The most rewarding aspect of this work is to see the change in body language during practice. So far, the lesson I learn week after week in class is that all the gifts I've experienced while practicing yoga in recovery are also received by others. Yoga may not be the core of everybody's recovery, but they still benefit from a simple yoga practice. Then they in turn go on to create safer, healthier communities for people who may not otherwise be able to afford a trauma-informed, inclusive studio class.
When I entered my initial yoga teacher training, I was unsure as to whether the program was to deepen my practice and further my recovery, or the first step towards teaching others in recovery. At my first practicum, I felt so very sure that I would continue on to teach others in recovery - but I had a plan consisting of years of training and fundraising to make it happen. Over time my students have taught me that grand plans might not be as important or effective as these: a clear idea of the population I wanted to serve (those in recovery seeking a yoga and/or meditation practice, who may not be able to afford a regular studio class), and how helpful free access to yoga practice is. In essence we are all practicing breathing, and movement, and moments of peace on our mats that will lead to greater compassion towards ourselves and others. In short - recovery!
In what ways do you think yoga addresses some of the societal factors at play in working with people recovering from mental illness/trauma/addiction?
There are a number of brave souls in the world advocating for the end of the social stigmas associated with mental illness, trauma, and addiction. By holding a safe place for any and all to sign in and say, yes - me, I am in recovery, I hope to support acceptance and counteract the isolation and shame surrounding these issues. Recovery is time-consuming and emotionally draining, yet few of us in recovery chat freely about such things, so we bear this burden alone .
Each class I teach is designed to be trauma-informed, includes breath-work and meditation to confront the anxiety, depression, and overwhelm that may be a part of recovery, as well as responses to society's judgments of people in recovery. These techniques encourage us to listen to our own wise mind, practice acceptance, and move through discomfort and change to forgiveness.
Finally, there is the great healing force of connection; in class together we can celebrate practicing in community.
What are some of your ideas about, or hopes for, the future of service yoga in America in the next 10 years?
My hope is that more yoga teachers will discover that they have gifts to give to others who need free access to the healing power of yoga, so I hope yoga practitioners see their own potential to give back in small ways. All it takes is noticing a need and finding one small part of one's self that fits that need. And acting on it before one starts to question one's ability! We all have an ability to serve, and incorporating service into our practice and our work is … exciting! Hopeful! Empowering! Fun! … And important for our communities.
As I've said, recovery is time-intensive and expensive. I am so grateful for donations from individuals, the Give Back Yoga Foundation, and Gaiam. My hope is that in the future more organizations—non-profit and for-profit—will continue to donate beautiful mats and props, music, and a clean, safe space easily accessed by bike, foot, public transportation or car.
Are you a yoga instructor giving back to underserved populations? E-mail Executive Director Rob Schware if you're interested in being interviewed for this series. And thanks for all that you do in the name of service!
REAL LIFE. REAL NEWS. REAL VOICES.
Help us tell more of the stories that matter from voices that too often remain unheard.
This post was published on the now-closed HuffPost Contributor platform. Contributors control their own work and posted freely to our site. If you need to flag this entry as abusive,
send us an email
.