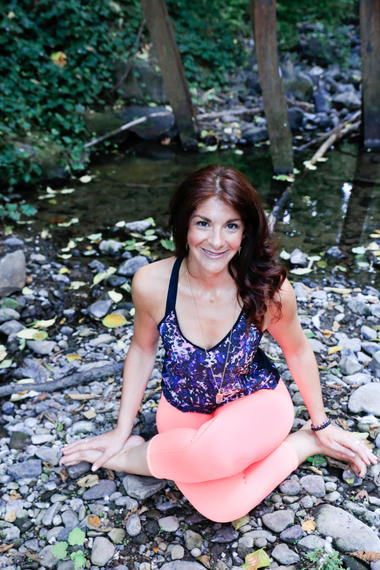 This is an interview with Samara Andrade, who recently returned to the U.S. from Afghanistan, where she was working for the United Nations and teaching yoga classes in the compound where she lived for UN staff, military reservists/military contractors, private sector aid contractors, and European Union civilian and police staff. She found yoga was a useful tool to support and help the community cope with crises. Samara has been working in international development, crisis and post-conflict contexts for nearly 10 years. She has worked in Zambia, the Sudan, Libya, Nepal, and Afghanistan, among other countries. She told me "yoga speaks across cultures and continents, and it never fails that there is a yoga community in every country where I have worked."
Rob: What originally motivated you to do this work, and what continues to motivate you? How, if at all, has that motivation changed over time?
I started teaching in Sudan, where I was working with communities recovering from conflict, doing so mainly because I wanted to give back to my yoga community, filling in for my teacher who was away on leave. Our class was held on a rooftop enclosed by a bamboo fence and felt like an oasis in the desert. As we lay in Shivasana (corpse pose) at dusk, the birds started chirping as the call to prayer faintly started, often creating an rare and inspiring moment of contentment and connection.
My commitment to teaching yoga while working in conflict and post-conflict zones has only grown since Sudan. I recognize the amazing gift yoga has given me, a way to ground and center myself in the midst of extreme circumstances. Sometimes these conditions are incredibly rewarding and other times they are disenchanting and heartbreaking. Yoga gives me a way to reconnect with myself on the mat, be part of a mindful community, work through what I feel in constructive ways, and challenge myself to grow.
Another reason is that for many years I struggled with the duality of two lives: of working in extreme situations which change you as a human being, and being the person everyone at home expects to see when you got off the plane. Sometimes that was easy and sometimes it was challenging, particularly figuring out how best to communicate my experience to those at home. Remembering who you are in the middle of this can be hard, particularly when you move from one duty station to another. I found yoga was a bridge that helped me deal with that, bring all the pieces of myself back together, and re-center. Experiencing the benefits that yoga has brought to me in learning how to cope and manage these changes in a better way has motivated me to support a yoga community wherever I live. Yoga is a container for others to learn, explore and grow, and above all to connect with themselves.
What are two distinct ways that your teaching style differs from the way you might teach in a studio, and what are the reasons for these differences?
I started teaching yoga abroad in post-conflict, conflict, and crisis countries, so I developed as a teacher in that environment. However, I focus on the same things I would in a US studio setting: finding that inner calm, practicing yoga with integrity, honoring where you are that day, cultivating mindfulness, mind-body-breath connection. They're universal because they are life skills that can help you navigate the inevitable peaks and valleys in life anywhere.
A lot of people are working far away from family and friends, so I make a specific effort to cultivate that feeling of community in the way we start and end class. This feeling is then there to tap into when and if someone wants to.

What has been the greatest challenge in your teaching experience, and what tools have you developed for addressing that challenge?

One of the biggest challenges for me is finding the balance between being available to support students and the yoga community, and also holding healthy boundaries and remembering to take time for myself. I balance working full-time in a demanding job with teaching yoga, and sometimes I forget that I need down time to re-charge so that I can show up to class and be the best teacher possible.
What advice would you give to anyone who is going to teach in the population you work with?

I think it's important to approach working with people who have been exposed to conflict with an understanding that everything is not black and white; they may have mixed feelings regarding what they experienced, and about what they were able to achieve (or not) in their job. Try not to make assumptions about people based on your own perceptions of what they may have experienced. It's also important to keep in mind that people have different experiences dealing with the transition to life at home; for some it's easier and for others it's more challenging.
If you are teaching in conflict or crisis zones, be mindful of your own exposure to trauma and how you deal with it. Knowing when to take time and work through your own feelings and emotions before stepping into a class to teach is as important as your commitment to supporting service yoga.
What are some of your ideas about or hopes for the future of "service yoga" in America in the next decade?

I believe that yoga is a beneficial and effective, yet extremely under-used tool for healing. There are some exciting programs out there using yoga as a complementary therapy, both in the US and in countries affected by conflict and disaster. I hope that yoga becomes an integral part of recovery programs for communities in conflict, as well as for active duty staff in the military and in aid organizations. I would like to see more systematic investment in providing access to yoga and mindfulness programs for those who work in such contexts.
How has this work changed your definition of service? Your definition of yoga? Your practice?
As a yoga teacher, I've become more committed to supporting service-oriented yoga, in addition to regular classes for the public. After returning to the US, I took a training course in Mindful Yoga Therapy with Suzanne Manafort and Give Back Yoga Foundation, and now teach a female veterans' class through Connected Warriors in New York, where I now live, as well as continue supporting access to mindful yoga classes for UN staff, as well as the general public.
I have gained new appreciation for the military community and for the importance of supporting veterans, as well as other humanitarian and aid workers. The latter often have no centralized support like the VA.
This country has one of the largest veteran populations in history, and we all have a responsibility, as a nation and as a community, to support veterans' and their families' transition back to life at home. Equally we have a responsibility to the international aid community to support those who work abroad and don't have access to the same type of support when they come home. #BeWellServeWell
Editor: Alice Trembour
Image: Courtesy of Erin Elizabeth Photography