So if you're getting your butt to yoga class every week, good for you! But if you're texting between sun salutations, your instructor might say you're robbing yourself of yoga's many perks. We at The Huffington Post asked some master yoga instructors to share their pet peeves with us. Here are a few things to keep in mind during your next yoga class: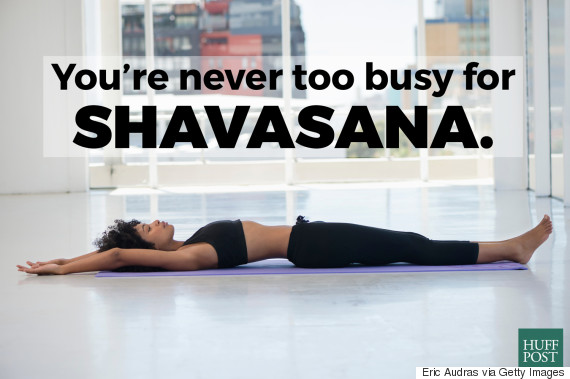 Don't skip Shavasana.
Think you're too busy to spend an extra two minutes relaxing, unwinding and meditating? Take a moment to reevaluate that.
It's not all about the pretty picture.
Yoga is a practice. And most of the time, it's far from perfect. So if you're only doing yoga for the purpose of sharing your poses with your Instagram followers, you're missing the point. "You can still practice yoga without taking a picture of yourself," said longtime yoga instructor Jason Crandell.
Pay attention
Warrior 2 (Damon Dahlen/Huffington Post)
No matter how long you've been practicing yoga, there's always more to learn. So when your instructor is demonstrating a pose or flow sequence, pay attention.
"I'm a visual learner and know how much can be conveyed through the body," New York-based yoga instructor Bryn Chrisman said. "So my biggest pet peeve is when students do not pay close attention to the demonstration of an asana and/or the prop set-up. "I am amazed at how many students won't move their bodies to closely watch the teacher's demonstration, and how often I must ask people to come to where they can see me!"
"A student in downward dog with their iPhone on ... that's special," Flynn joked.
Remember why you came
.
Downward Dog(Damon Dahlen/Huffington Post)
Practicing yoga in a way that makes you happy is certainly important. But while in class,
prefers people to follow along.
"I think my number one pet peeve would be when a student shows up to class and just wants to do their own thing," she said. "Making modifications for injuries is of course always a priority, but other than that I think when you choose to take a class you should be open and receptive to what the teacher is teaching and follow the instruction."