Instead of going to Disney World after winning gold in the women's snowboarding slopestyle event, Jamie Anderson said she'll be headed to Wanderlust -- a yoga retreat on the North Shore of Oahu -- to celebrate.
Anderson credits yoga practice with helping her stay physically and mentally strong, and she's not the only one who feels that way in Sochi. In fact, we discovered so many Olympians-cum-yogis that if the United States Yoga Federation ever succeeds in making yoga asana, or posture yoga, an official Olympic sport, we'll most likely see some cross-sport competitors.
As the below images illustrate, women athletes tend to share their practice more on social media, but they aren't the only ones benefiting from yoga. America's coed luge team, for instance, is partnering with Indian rival Shiva Keshavan in order to gain stretching tips.
"Yoga is something we have had with the team for a few years now," U.S. coach Mark Grimmette has said, "but Shiva and his wife know yoga well so they have been facilitating those sessions."
The below Olympians take yoga practice to the next -- and, very often, gorgeous -- level, proving that there is so much more to Olympic gold than the judges' score or the time on a clock.
The Handstand Guru: Jamie Anderson
The 23-year-old snowboarder told the Today show that she always practices yoga. "My favorite poses are variations on the handstand and the scorpion," she said. "You have to use your whole body, it's physically and mentally challenging. You have to find your balance in this uncomfortable position, so when you do it, you feel like you're really overcoming an obstacle."
The Future Instructor: Heather McPhie
The freestyle mogul skier says she most values the mental benefits of yoga. "Not only is it helpful in keeping my body feeling good," she's said, "it is also a really good way for me to connect, slow down and get back to being present." If she wasn't an athlete, she told Lululemon, she'd want to give back as a yoga instructor.
(With fellow Olympians Heidi Kloser and Hannah Kearney)
The Blissologist Go-Getter: Chandra Crawford
The Canadian cross-country skier admires Eoin Finn of Blissology Yoga, where practitioners deepen their awareness of inner joy in order to achieve personal goals. On winning gold for the first time, Crawford said, "I was overwhelmed. But that presence of mind to get to that point came from my yoga-like focus on every moment, every stride, making it my best. I was totally immersed in the process. It really speaks to taking your practice into every aspect of life."
The Pink-Haired Prenatal Goddess: Shannon Deanne Bahrke
The freestyle skier looked to yoga both during her competition days and after as a mom and entrepreneur. She was drawn to yoga, she says, because of its differences from skiing. "In a judged sport, you're always comparing yourself to others," she has said. "Yoga has really taught me to be OK with what I have and to work within myself."
The Teenage Meditator: Gracie Gold
Perhaps one of the biggest challenges for the 18-year-old figure skater is making almost-impossible maneuvers look effortless, despite extreme pressure. "I use some standard stretches each day," Gold has said of how yoga helps her prepare. "I practice deep abdominal breathing and meditation before competition."
Before You Go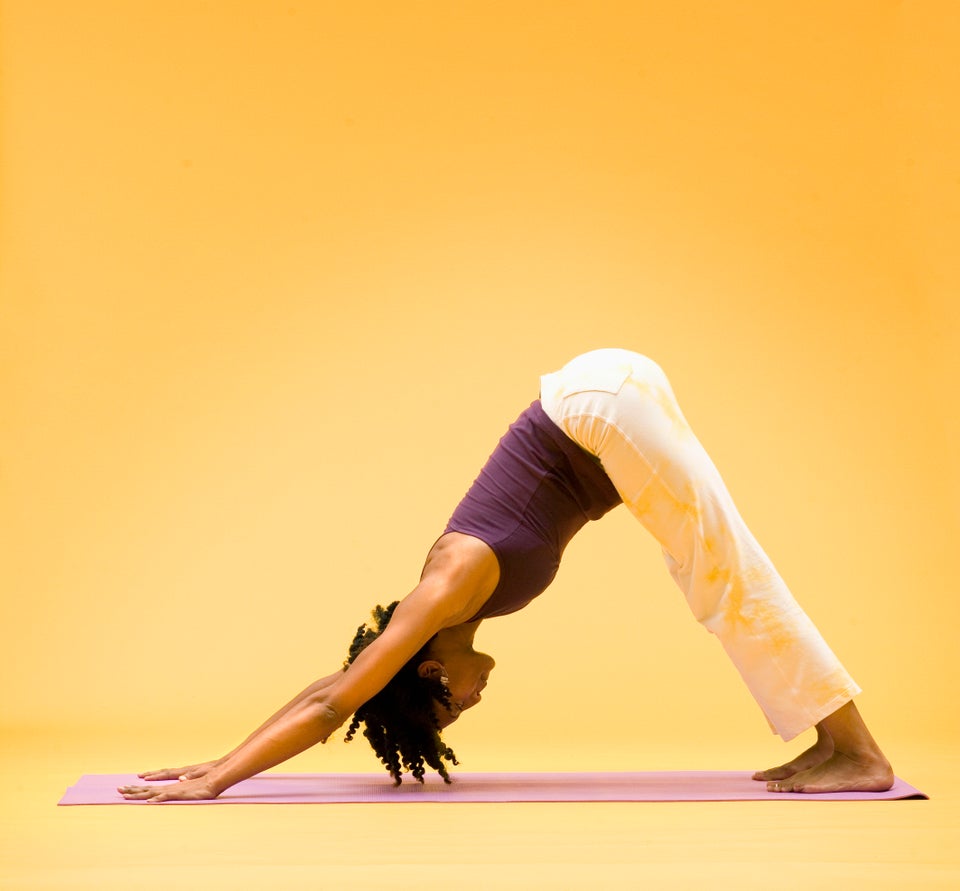 12 Yoga Poses To Undo The Damage Of Your Desk Job