One night several years ago, as I sat at my job as a successful executive at one of New York City's top fashion houses, I felt myself starting to lose my mind. It was 1 a.m. I still didn't feel like I was working hard enough. The voices in my head berated me. The pressure and stress were mounting, both externally and internally. There were floods of unanswered emails and impossible deadlines to meet. Somehow, I kept it together. I refused to let it beat me. Years in advertising and fashion bred me to be tough. No way was I going to lose my mind. But that was just the problem.
I didn't realize back then that the only way to gain my sanity was to "lose" my mind.
Years later, when I learned to observe my thought patterns through yoga, I came to understand it was my overthinking mind that was getting in the way of my ability to cope - not external deadlines or too long to-do lists. Once I understood what yogis meant by "let go" I was able to release the thoughts that plagued me -- worry and anxiety over big meetings, endless assignments, not being good enough. It was there I found real freedom.
I decided to leave my corporate job and co-founded Yoga Means Business, a company on a mission to share these discoveries from the Eastern world with the Western mainstream. We want to help people who feel stressed, maxed-out and are ready for positive change.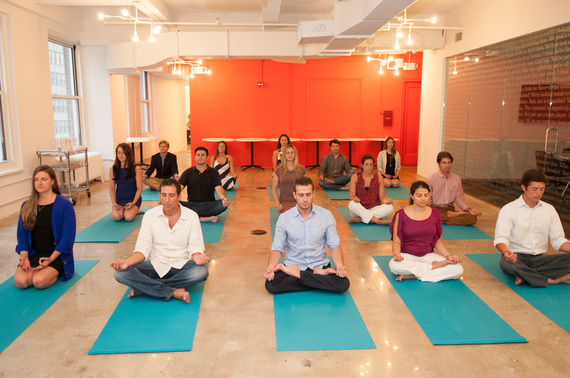 But can yoga help save the business world? This is a provocative question for people on both sides of the fence. On the far business side, the answer may be a scornful, "No. What does yoga have to do with business?" On the far yoga side, the answer may be a dismissive, "No. Please do not diminish yoga to make it corporate-ized." While both of these responses have some validity, there is a middle ground where I sit cross-legged on the floor (in lotus, in front of my laptop) and proclaim, "Yes, this can happen!"
Today, hours are longer than ever and demands have increased across the board. People feel over-worked, over-stressed and over-connected to technology. Burnout and high stress levels are the most frequent work complaints.
How can yoga help people in the business world? By helping them clear their minds. The mind is our most powerful tool. However, more often than not, our attention is fragmented and pulled in a dozen different directions at once. Yoga gracefully combats this in several powerful ways.
Yoga releases tension in the physical body by opening tight, clenched muscles and improves blood flow to the brain.
Yoga creates a clear mind and elevated thinking, helping people to get their work done more effectively and efficiently.
Yoga allows people to unplug and disconnect from the endless tornado of thoughts.
When the dust settles, priorities become clear, anxiety is reduced and the mind is calmer, more focused and compassionate.
As my yoga practice deepened over the years at Jivamukti Yoga School, I started bringing some physical and mental elements of yoga to my workplace. The effects were powerful. I became a stronger, more poised leader. My priorities were clearer and I felt more focused. As I started to think more strategically, my speaking skills improved. Creativity flowed more freely. I formed deeper connections with coworkers and I started doing my job more effectively. All of these changes made me realize the positive effects of yoga can go well beyond the mat and far into the workplace.
Has yoga helped you in the workplace? Please comment below!
Tune in to my regular bi-weekly updates on Huff Post to hear how I believe yoga can help save the business world. You can receive notice of my blogs by checking Become a Fan at the top.