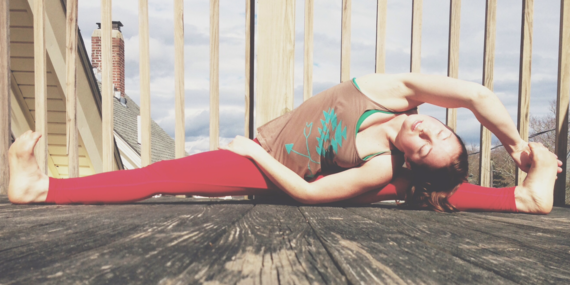 Starting your own home practice can seem daunting, confusing and awkward. But instead of using that as an excuse, let's embrace it.
Here are seven steps that will make starting your own yoga practice today far easier than you thought:
1. Just start.
A home yoga practice isn't just for those who are teachers or those who have "been doing yoga forever."
There's no specific time when you are ready to start your own home practice, but if you've thought about it, I'd say the time is now. Getting lead by a teacher in a class is awesome, but there comes a time, when to dig even deeper, you have to cultivate your own practice.
Practicing your own yoga sequence tailored to how your body feels, the mood you're in and what's going on in your life is something magical that only you can create.
2. Keep it short.
The goal of a home practice is not to reach 60 or 90 minutes of graceful, perfect flow. The goal is to move, feel good, and de-stress. Start with even just a couple minutes and see where it takes you.
3. Be okay with it feeling awkward.
Even if you have been taking group classes for years it will feel strange not being led by someone. Embrace the awkward and drop the judgments. Give yourself time to get used to it. you will eventually. It doesn't need to look pretty.
4. Your mind will wander, your roommate will interrupt, your dog will lick your face. And that's fine. If you have a space where you can be uninterrupted that's a plus, but most of us don't. Eventually you will learn to not feel so weird in front of whoever might be getting ready for work around you. Heck, maybe they'll join you.
Slowly but surely, the space in which you roll out your mat, wherever that may be, will feel like your yoga space regardless of what is happening around you or what the space looks like.
5. Put your phone and computer out of sight and earshot.
This is an obvious one. Unplug and make these distractions a no-brainer by keeping them away. They will be there when you're done.
6. Pick poses (or even just one) that feel good.
See what comes natural to you. Is there a pose in a yoga class that you just love when it comes up because it feels so awesome? Try that one. Are you feeling achy in certain places from exercising the day before? Anything in life that's keeping you hung up? Hone in on that.
Yoga is linking breath with movement. It's that simple. So if all you're in the mood for are some simple relaxing stretches, that's yoga.
7. Stick with it (and have fun!)
Just like anything else, a routine takes repetition. Give yourself time to get into a rhythm without judgment or striving for perfection. Go on and get silly when you want to, move in easy ways that feel good, and most importantly: do what will put a smile on your face.