New Year's Eve began on Monkey Rock, the mountain slab overlooking the northern Sri Lankan countryside, with lush jungle trees, lakes and rice paddies as far as the eye can see. Nigel, our British yoga teacher, led us through his beautifully crafted eclectic combo of tai chi and Hatha yoga, having us swing our arms to the left, towards the drifting clouds over the lake, and then to the right, towards the mountain tops. "Feel the breeze on your arms," he instructed in his low melodic voice. "Put your hands on your chest, lift your eyes, and connect with the vast blue above."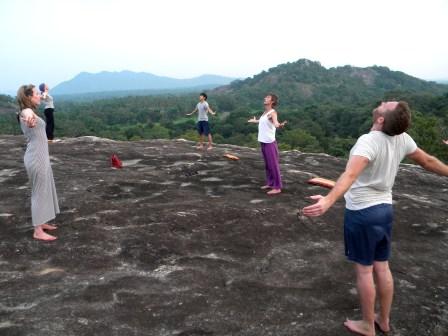 The breeze he mentioned was pleasant on the skin, in this idyllic warm December climate. My fellow yoga members -- a dozen international travelers from all parts of the world, from London to Abu Dhabi to Tokyo -- stretched back their spines unanimously before this green landscape, while the sun began to set. As Nigel instructed, we imagined the granite beneath us as liquid, and -- in a typical tai chi move -- drew its energy upward.
And then -- as it was New Year's Eve -- we all met in the center of the rock and touched hands in a circle, with a collective 2013 resolution.
Nigel's yoga is just one of the features of this exclusive yoga retreat located along a lake in lush northern Sri Lanka, an hour from the ancient city of Anuradhapura. The brain child of South African Giles Scott and Sri Lankan Viren Perera, who bought the property 15 years ago as "a nice piece of land" and a chance to "hang out and live in village culture" (they planted thousands of trees, from kumbuk to ebony, and landscaped its rushing brooks and weirs), today Ulpotha offers trips to temples, copious organic vegetarian meals, herbal teas served from boiling pots over a fire, a tree-house on the lake to sleep in if one wishes and a full platter of ayuredic treatments, including an oil drip on the forehead.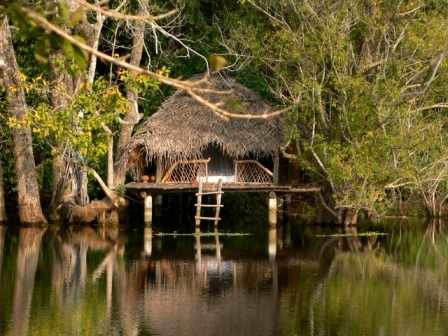 And tonight: a New Year's Eve celebration, which actually began last night with local dancers and acrobats giving us a traditional show in costume. New Year's Eve is Ulpotha's busiest season -- its 11 open-air huts are full.
Everyone seems very happy.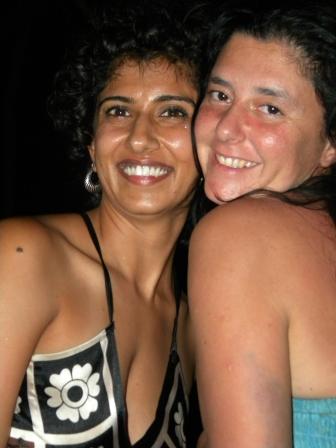 What I most like about this retreat: the absolute cut-off from my urban lifestyle. To begin with, no electricity, but kerosene lanterns that line the maze of swept red-earth paths through the forest. To charge my computer, the staff brings it daily to the nearby village to plug it in, and returns it to me at night.
All I hear are frogs, birds and the rushing sound of the brook that runs at the edge of my hut. It is like sleeping next to a waterfall, but in the most comfortable bed in the world (the mattresses are hand-made by Sri Lankans), removed from Internet, cell phones, contact lenses and all customary habits. One morning, my hut-mate Eva surprised me -- so kind of her! -- with a gift of a copper pot of boiling water, for a hot shower among the rocks.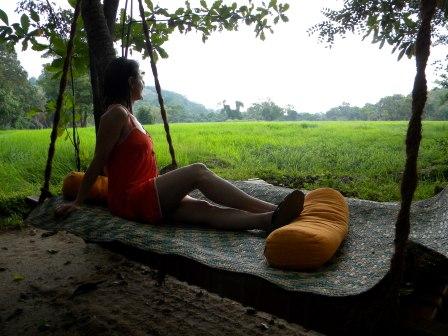 It is amazing how full each day seems, with the yoga, the communal meals, the massage, the walks and the swims in the warm lake -- until nighttime, under the stars.
"What is especially nice is the friendliness!" chirped one of my fellow yogis, a publisher living in Manchester. "Everyone here is open to talk. You look at them and they smile."
She was right. One of my fears with retreats -- and I have been on dozens -- is you never know whether the atmosphere will be one of stiff, "I am on my retreat; you be on yours," or this convivial conversation at every meal, around the platters in the ambalama, the main house on the compound. We dip ladles into fresh fruit juice, mix lentils with coconut sambol, munch on crisp papadums, and sit back on cushions on the veranda.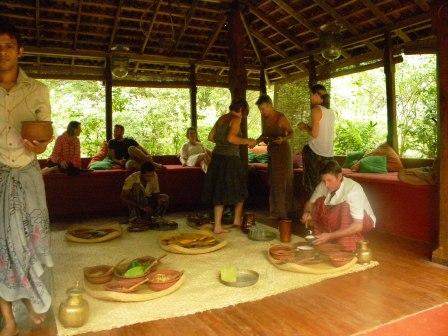 I speak to an 11-year-old French girl, with beaming blue eyes, about her English studies in Paris (this is her fourth time here), to a British banker about algorithm trading (and maybe changing careers), to three friends from Canada, Malta and the Arab Emirates who met 30 years ago in Australia, to a Japanese Toyota executive about the China-Japan crisis (this while pounding his back as he hung in a yoga move on Monkey Rock), to an American "renewable energy" financier newly arrived from Indonesia (she, age 55, does Iron Marathons as well as yoga), to two smiling young women from Karachi, and to Giles' wife Anthe, who teaches clinical psychology at two universities in Colombo.
The cutest guest: 11-month-old Laslo, the first to welcome me when I arrived, staring at me with a quizzical smile as he clung to the arms of his nanny. Laslo lives right across the street from me in Paris, but we first meet here in the jungle.
I also enjoy my conversations with the international staff, the crème de la crème of healing: Thierry, the Belge masseur who jaunts around the world, on yachts on the Greek islands and retreats in Chang Mai giving Thai massages that seem a mix of yoga and orthopedic stretches. And Nigel, who has continually searched for new methods to teach over the last 24 years, hence his intense eclecticism.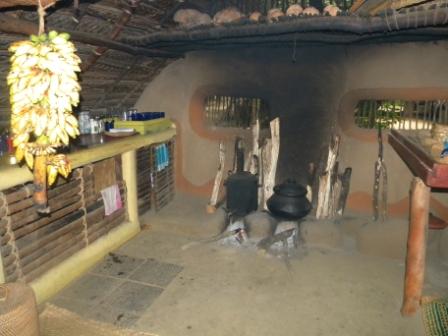 There is -- happily -- a strong local contingent as well. The Sri Lankan doctor -- who teaches at a local university -- greets me in his hut and explains the three doshas (it seems I waver between pitta and vata), and then gently hands me a sarong, to disrobe and enter a wicker steam bed, lined with herbs. I lie under the wicker lid, eyes closed, and listen to his children call out to each other in Sinhala, in the courtyard, as their "aunties" laugh with them. The money for the treatment goes directly into a local ayurvedic clinic for Sri Lankans who come from miles around to heal.
Countdown. The New Year's celebration begins: the shore of the lake is hung with lanterns, and local drummers drum us towards midnight, while acrobats flip backwards and local bartenders serve lime juice mixed with Arrack liquor. Everyone dances barefoot in the warm sand to songs ranging from the Hindi '70s classic "Dum Maro Dum" to the South Korean hit "Gangnam Style." Owner Giles lights a kite that sails off towards the moon.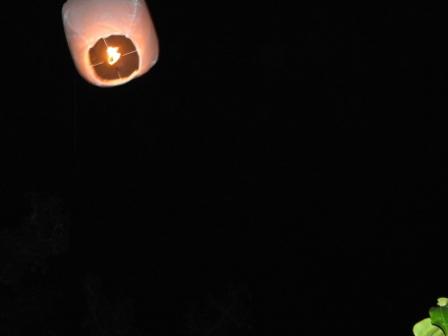 But the highlight for me of this new year was getting lost in the rocks, as I searched for a toilet, and finding my way back to the party by following Viren's 90-year-old uncle, once a famous camera man who defined the style of Sri Lankan cinematography for over 40 years -- and also worked with David Lean on Bridge Over the River Kwai. He walked slowly with his cane supported by two aides, who led him carefully up rock by rock up the mountain, he insistent -- in Sinhala -- that it was the wrong way.
"It's the blind leading the blind!" he chirped to me treading behind them. Finally, they found a bridge over a chasm -- a rope-twig ladder! -- which the 90-year-old man made up with his cane, twig by twig, with just a torch light flickering before us.
I also liked my encounter earlier that morning with a torque monkey and her newborn tucked in her arms, high in a tree, on the path along the lake.
The only thing I did not like about my experience at Ulpotha was the occasional ant that bit my bare feet. "It stings for 15 seconds," says Thierry to me with his big serious spiritual eyes. "Reminding you that you are alive."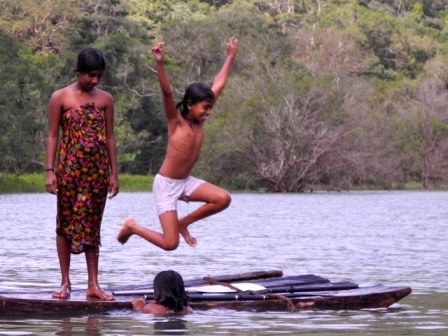 It is luxuriously posh, this lantern-lit retreat in the woods, and peaceful -- all the guests agree -- beyond expectation. Within two days of my arrival, I have detoxed on coffee, Internet and worries; by the end of the retreat, after one last swim at dawn, I feel Nigel is right, that I have drawn energy out of a rock.