When I find myself working too many nonstop hours, my general cure is a quick travel break. My idea of a perfect vacation is to wake up and go exploring, learn something new, or simply to sit around and do nothing. It's usually just the thing to get me back on the road to productivity. But lately, through a series of airline strikes, lost luggage and 25-hour flights, even vacations tend to be more stress than they're worth.
When I mentioned to a friend I was feeling excessively stressed out lately, she told me how a recent yoga retreat had left her feeling like a new person. I'm generally short on leisure time, so the idea of swapping my precious vacation time for a rigorously scheduled exercise getaway was not in the least bit appealing to me. But the more I thought about it, the more I realized that a yoga retreat could fulfill all my ideas of a typical vacation, and much more.
With an upcoming film festival job looming in my schedule, I realized that it was as good a time as any my stress factor was just going up and up. So I decided to take a week of mental preparation in the form of a six-day retreat.
After some scrutinous online research, I discovered Kaliyoga, a popular getaway in sunny Andalucía. This year they opened up a Kaliyoga in Provence, not far from aforementioned film festival. Not only was it one of the most affordable of the European retreats, judging from the online photos, it also appeared to be the most picturesque. If I found the yoga regime to be unbearable, I at least wanted to be in a gorgeous place to unwind.
It proved to be just the thing to melt away my stress and put me in the right mental state for the red carpet bustle ahead of me. It was, in fact, one of the most pleasurable vacations I've ever taken. Here are eight reasons you should book your next vacation a yoga retreat.

1. You don't need to be an expert yogi.
When it comes to devoting an hour to exercise, I like to invest in the kind of workout that gets my heart rate up rather than down. I've always appreciated yoga, but was by no means a regular practitioner.
The resort welcomed anyone from the absolute beginner to the daily devotee. And there was no air of showing off or pretense of keeping up. Everyone was free to go at their own speed whether that meant going slow with more challenging poses or pushing the limits on familiar ones.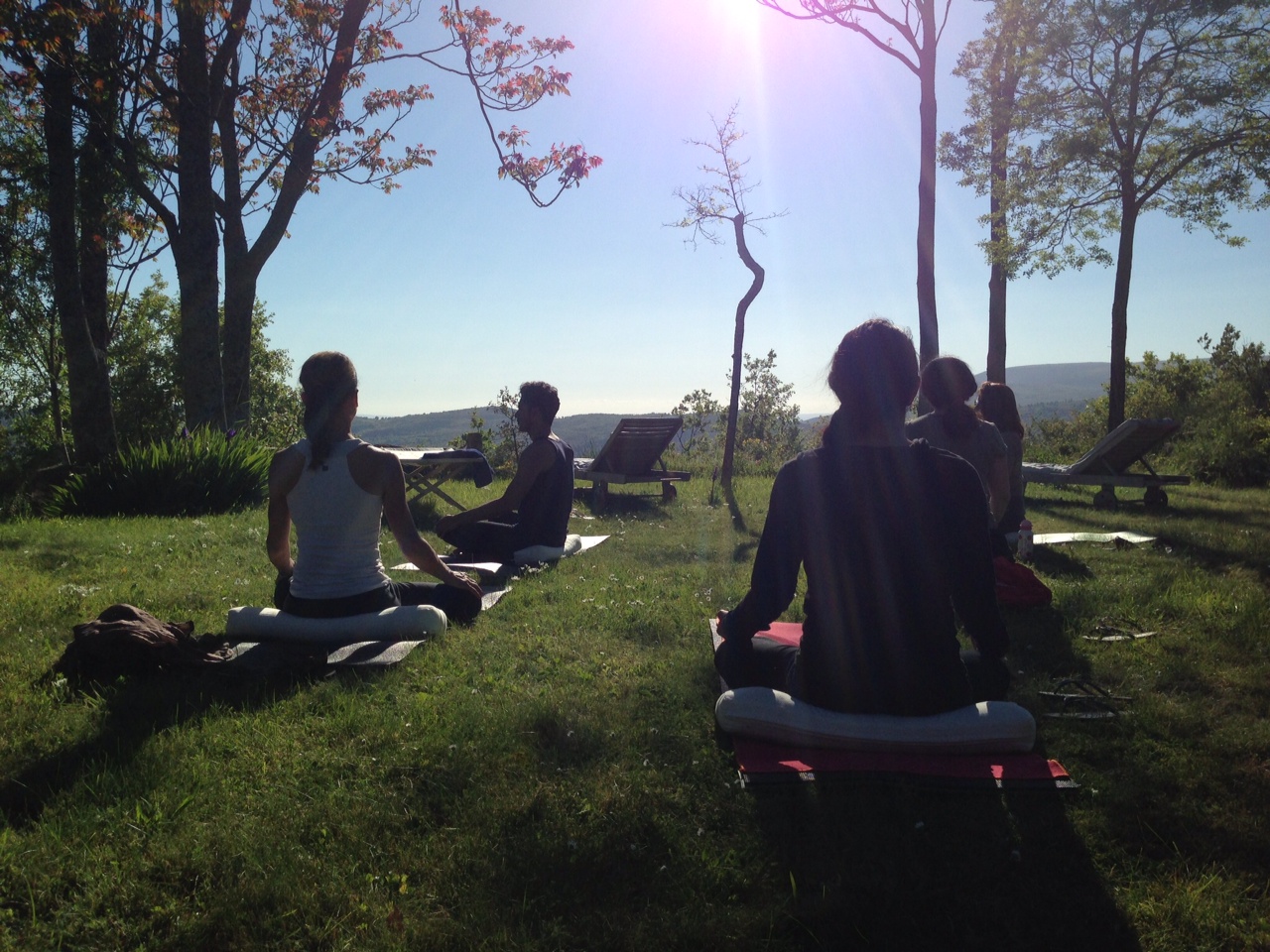 2. And if you are, take your practice outdoors.
With the wide offering of yoga retreats on the market today, it's essential to find one that goes beyond your essential priorities. For me, the deciding factor was location. You can have an amazing yoga class anywhere, but if you're in a windowless basement classroom dripping in sweat, it pretty much takes away any enjoyment.
A yoga retreat often lets you take your practice en plein air, amid beautiful scenery. Kaliyoga France is set amidst fresh green fields and the aromas of freshly grown thyme, fig and lavender. Fortunately for me, the yoga clicked, but I would have been just as happy spending a week in the Southern French landscape.
3. You'll leave feeling better than you came.
Even the most relaxing beach setting can often come with a long layover, extreme time zone adjustments, and few food options beyond a cheeseburger and fries. When your destination is a yoga retreat, remarkably all that stress can easily fade away. When traveling, just trying time to fit in a daily workout is a cause for worry. It was nice that this was all taken care of for once.
Our first yoga session was designed to melt away the pain in our muscles, built up from years of sitting in a cramped airplane seat or running around with heavy luggage. I walked into the room with completely tensed muscles and heavy limbs and through a variety of stretches and easy exercises left feeling light as a feather.
4. The days are structured, not ordained.
With any good yoga retreat, every activity is optional. In most instances, they've created a brilliant program so you don't have to worry about planning for the day. If you're someone who frets over finding the best local restaurant, booking the perfect tour guide, or bending over backwards to find something off the beaten track, try just sitting back and letting the schedule unfold before you.

When the purpose of the trip is to unwind, you don't feel bothered to find the best experience. It's right there in front of you to grab. And it's nice to know you can skip any activity and simply sit by the pool with a book or journal.
5. You're guaranteed to eat well.
In general, yogis eat well, and they tend to eat particularly well in the South of France. Local chef Sophie bought all local or organic ingredients to prepare gorgeous colorful meals. Breakfast started with fresh juice alongside granola with 15 toppings from chia seeds to bee pollen to dried cherries. The Kaliyoga organizers shipped in gluten-free flour from the U.K. for Sophie to make traditional French pastries.
And there were no judgments if we indulged a bit too much. Although the food was healthy, there was so many delicious offerings that it was impossible not to go back for seconds. Coffee was on hand for those who needed it, for while it wasn't recommended during the trip, no vacation is meant to deprive.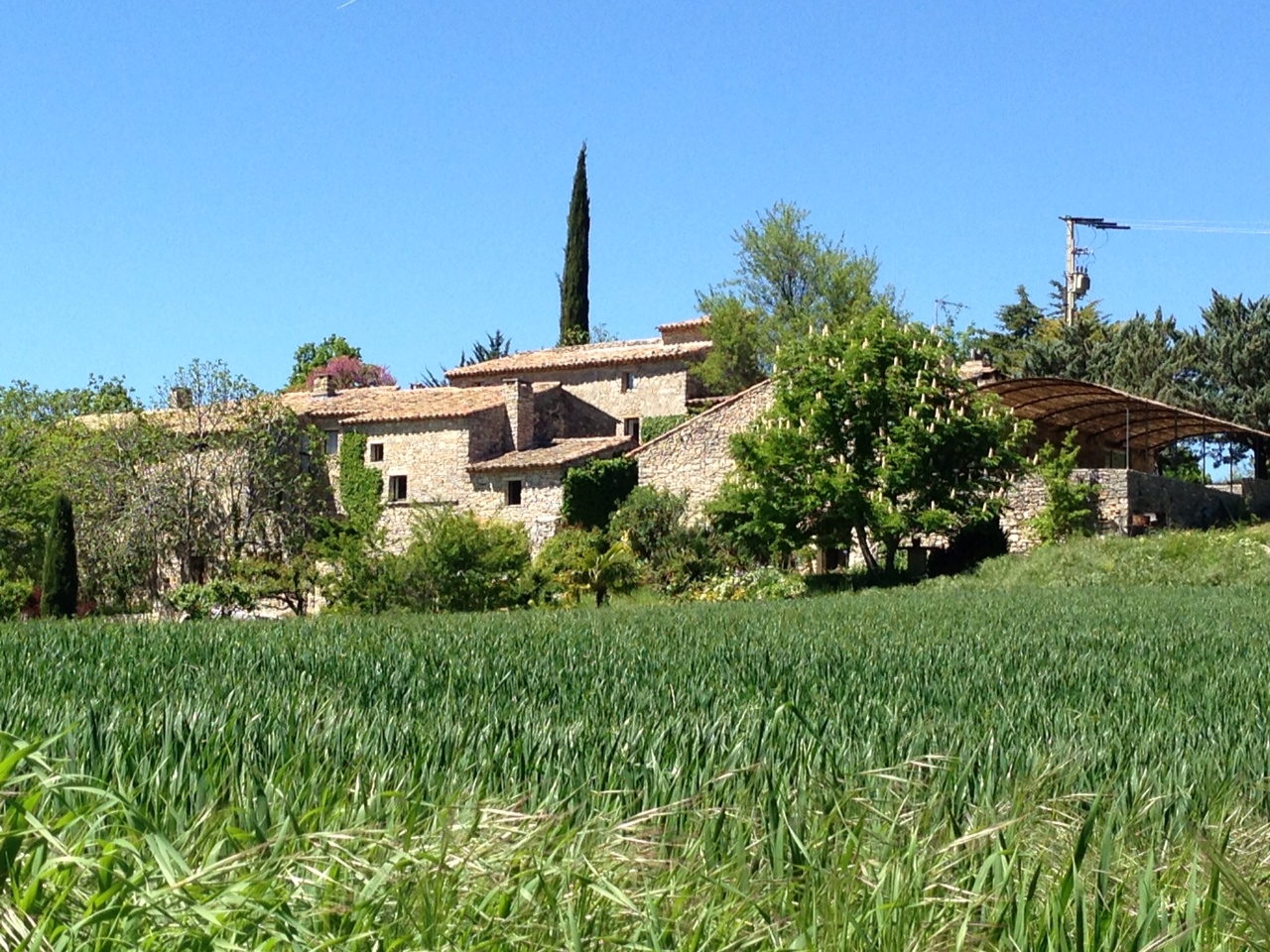 6. You'll feel like a houseguest, instead of a hotel guest.
A good yoga camp seeks out some of the most relaxing places in the world to set up shop. In the case of Kaliyoga France, this meant a 500-year old private hamlet owned by Britain's Fry family, the famous chocolate heirs.
The family purchased the property in the '60s for the incredible sum of £6000 and proceeded to fill it top to bottom with an impressive art collection from the same era. Green oaks and cypress trees encircle the sprawling limestone buildings. Guests can choose to share a villa with a friend, stay in their own home, or share a room in larger houses. It was nice to enjoy a bit of luxury in the middle of nowhere without shelling out for a five-star hotel.
7. You can stay active without it feeling like a punishment.
When I first signed up I was a bit worried the whole experience would involve being forced into a hot room filled with dozens of people churning out a 100 reps of sun salutations. It was completely the opposite. The active yoga sessions were twice a day and extremely gentle, designed as a form of self-meditation.
The New Yorker in me would complain that they were almost too relaxing. But we also got our daily calorie burn in with a series of hill walks, led by the village postman who took us into some of his favorite locations from wide mountain gorges to neighborhood pubs.
8. You can take the vacation with you when you leave.
Any worthwhile retreat will be structured to encourage you to bring the things you've learned into your daily life once back home. The purpose of Kaliyoga is to develop your own self-practice. After six days of yoga, it was easy to create a personal routine to take anywhere.
Everyone came to the retreat with different ideas, whether to distress, work on a yoga practice, learn how to breathe, or simply to put down the smartphone for an hour or two. Yet everyone left with a new sense of self and a great feeling of accomplishment. Not bad for a vacation souvenir.
For more on yoga, click here.
For more by Ariston Anderson, click here.