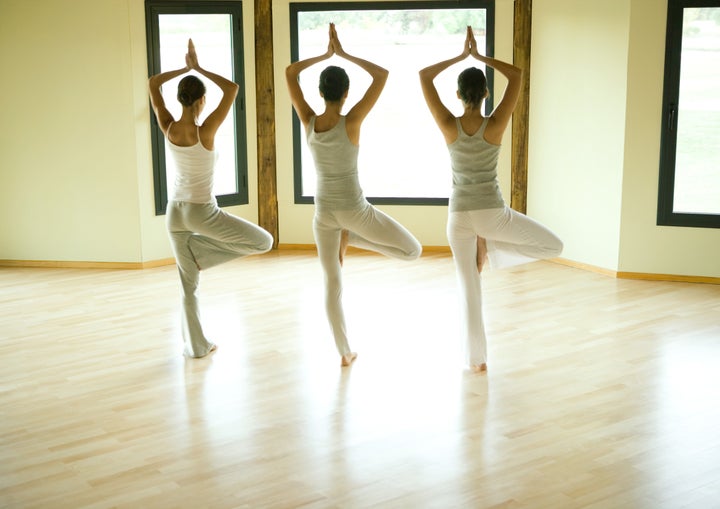 From the Mountain to Wall Street
Gone are the days of the loin clothed yogi meditating alone on a mountaintop, unless of course said loin cloth is made of wickable polyester blend, fits your body like a glove and retails for $100 a pop and the yogi in question has worldwide appearances and a DVD series purchasable on Amazon.com. Oh, and don't forget to check their Twitter feed.
In the ancient tradition of yoga, a teacher's modest living requirements were provided by their students. "Some may offer the teacher a bag of rice, a small bowl of sugar, some clothes, a place to rest, whatever one's capacity was," said Sister Sukanya of the spiritual organization Brahma Kumaris. "The teacher just shares the knowledge with the students... there was no commercial interest involved, the only interest was the transferring of knowledge."
Fast forward to present day where yoga in the West is a booming industry. Generating $7 billion in revenue according to a recent IBIS World report, with nearly 16 million or 7 precent of U.S. adults practicing and another 18 million or 8 percent of non-practicing adults stating they are extremely interested in trying it, according to Yoga Journal, and close to 70,000 certified teachers in the U.S. based on a 2005 study by North American Studio Alliance, and almost 26,000 studios counted by IBIS and major media outlets, including the Wall Street Journal, U.S. News and Inc. Magazine, write about the popularity of teaching yoga as a career choice and you get the point: Yoga is big business.
Mainstream. Commercial. Sellout. Whatever you want to call it, yoga has achieved the level of infamous popularity, mainstream accessibility and frantic commercialization in the West to earn the title.
So what happens next in a world where yoga is being used to sell everything from yogurt, air fresheners, pain killers and cars? Has commercialization diluted the practice to the point of triviality, becoming just another easily bought, packaged and sterilized commodity?
In other words, has yoga lost its soul?
Hardly. On the contrary, there is plenty of room for innovation and authenticity that can help retain and expand the art of the craft, even amidst the commercial reality yoga currently resides in, you just have to know where (and how) to look.
Nowadays, you can practice yoga not only at a yoga studio, but also at your local gym, office, school, hotel, grassy meadow and even at hospitals, in private homes and increasingly in prisons.
This proliferation of venues mirrors an increase of new yoga styles emerging in the West including laughter yoga, chair yoga, acro yoga, partner yoga, hiking yoga and dog yoga (that's actual dog as in canine, not downward dog) to go along with the more established, popular modern era styles including Power Yoga, Jivamukti and Bikram.
Whether you want to sweat, chant, meditate, dance or laugh, these days yoga styles are as diverse as the people that teach them and cater to a growing set of needs and interests expanding well beyond the yoga steeped in Hindu philosophy that first made its way to the West in the mid 19th century.
Yoga has also crossed gender lines. More men practice it than ever before with the U.S. military and professional sports teams from the NFL to the NBA adding yoga to their training regiment. Lebron James does yoga. Shaq does yoga. Even Hip Hop mogul Jay-Z references yoga in his music.
"There is a style of yoga for everyone... in the beginning, yoga students don't always know what they are looking for," said Clayton Horton, an Ashtanga yoga teacher since 1996 and director of Greenpath Yoga in the Philippines. "Beginning yoga students will find it helpful to snoop around to find a style of yoga that is appropriate for their mental and physical condition."
But is the yoga at an office or a school different from that offered in a gym or at a yoga studio? Fundamentally they are the same according to Rusty Wells, a Bhakti Flow teacher and founder of Urban Flow Yoga in San Francisco's South of Market neighborhood. "I hear teachers say, oh I just teach gym yoga. But whether gym yoga or hotel yoga, it's all yoga. You may have to change some of your approaches, but you can still teach the essence of [yoga] anywhere."
The more styles and venues that offer yoga, the more relevant it will be to different parts of our everyday life. Some will use yoga as therapy. Others as a way to get a workout. Others as a way to recover from injuries. Still others as a way to relax and spend time with themselves. There is even a growing body of research showing yoga's benefits on sexual performance.
With this expansion of the practice, teachers of yoga face the ongoing opportunity and the challenge of where and how to teach. The yoga studio is and will continue to be a go-to venue in which to practice yoga, but nowadays a teacher can offer classes at companies, schools, hospitals, stores and just about anywhere with four walls and a roof, or even outside if you like.
This opportunity also matches the interests of the teachers themselves, who often have other jobs and want to find a way to integrate yoga into what they already do on a part time basis, for example teaching a class at the company, school or retail store that they work for.
The future of yoga expands beyond the traditional studio's walls and within the multitude of spaces where we spend our daily lives. At the same time, yoga has the opportunity to address an ever-increasing list of needs and tastes as teachers identify creative ways to apply the ancient practice to better suit the modern urban dweller. Studios and teachers who connect to the tradition of yoga and understand how to effectively adapt, present, and teach it in a modern style and environment have the opportunity to help shape the course of yoga's speedy trajectory.
For more on yoga, click here.
For more by Justin Hakuta, click here.
Support HuffPost
A No-B.S. Guide To Life
Related
Popular in the Community