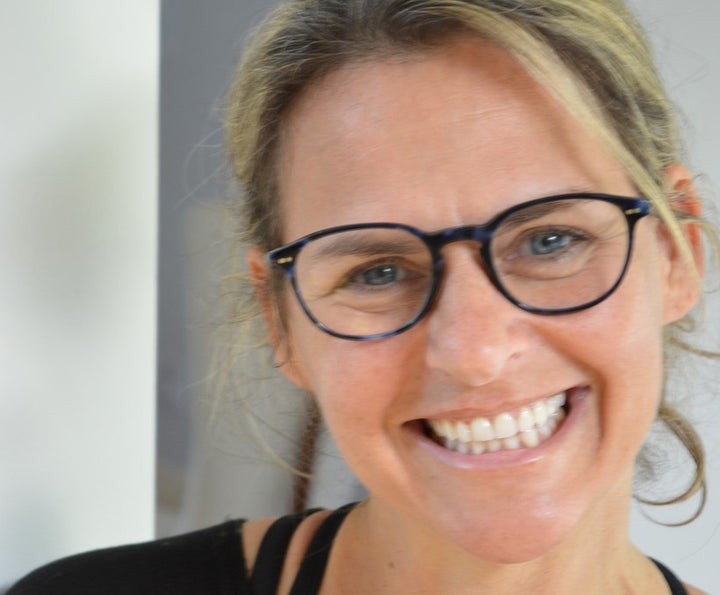 This is an interview with Candace Martin, founder of the Young Yogi Advocate Program and the Interfaith Yoga Project. Like many of us, Candace's yoga journey began by taking a class, liking how she felt, but not being sure why. Because she suffered from severe anxiety, yoga soon became a rare respite for Candace, and she felt drawn to explore more. She has studied with yoga master Rod Stryker since 2003, as well as Hala Khouri.
Rob: What draws you to work with interfaith groups?
Yoga unites. Through svadyaya (a Sanskrit term that means "self-study"), we come to know ourselves and humbly come to see one another. Rotating classes hosted by yoga teachers at their different places of worship creates an opportunity for positive interfaith experiences. There's something about yoga that transforms the fear we have of hearing something from a different faith perspective during a yoga practice. We might even connect to it, broadening our personal perspectives and enhancing our own beliefs.
It all started by co-creating multi-faith Ramadans and seders. These programs sometimes took place just as our world seemed to be plunging into greater violence and wars. Together we were dissolving away the anxiety and separation of our belief systems. At first we weren't doing physical yoga, but we were certainly in what I would call a "yogic" environment—taking the courage of stepping into a room together when the news seemed to be generating fear-based information. The idea of routinely meeting for yoga at different houses of faith followed.
What is the most rewarding aspect of your teaching experience with these groups?
People are now carpooling, getting baby sitters, and making time for our classes; this is rewarding! Many people who have never done yoga are showing up! Our intentions unite us despite our diverse spiritual backgrounds: in Judaism it's Tikkun Olam ("heal the world"); the Qu'ran emphasizes being in continual service of humankind; in the Unitarian church it shows up as "standing on the side of love"; and in Catholicism it's about ritual bringing us closer to God, encouraging us to be "the feet, the brains, the heart of God on this earth."
Yoga provides tools to help us physically embody the concepts that we wish to internalize, allowing for the veil of daily life to drop. We become vulnerable, peeling off the rhetoric, the judgments, the well-intended ideas we may have or the less-than-loving concepts we didn't even know we were carrying. We work in the classes to create a loving space, giving up shame around misconceptions or misguided ideas. We not only have an opportunity to unpack our thoughts about one another, but we can investigate our own relationship to Spirit. It's a safe space to explore, educate, and be together. Another rewarding revelation has been that no matter how we pray, we all meet at Ishvara Prahnidahna (a Sanskrit term for "surrender and duty to something greater").
What are some of the things your students have taught you?
I've learned a great deal about the similarities of some of the faiths that have historically been at odds. As we rotate through faith communities, we're learning to honor the differences in prayer styles and observances. We are connecting elements of science and vedic knowledge to respective faith themes as a way to deepen an understanding of a religious concept. We may speak about Shabbat, taking pause, or getting quiet, and we may also connect this to how the nervous system moves into a more restful, less reactive state during these times. Stillness is valuable, but challenging to arrive at without breath and movement. We can absorb Shabbat through our bodies more effectively with the infusion of breath and movement.
As we take turns hosting the project with our faith neighbors, we all get a chance to be seen, heard, and accepted. We all have to be willing to play and pray in each other's yards. This is what melts the separation, and, I believe, creates change for our future. It's been so moving to be warmly welcomed into different churches, synagogues, and community centers.
Here's something my teacher taught me: I remember Rod Stryker saying many years ago that meditating on a cross, or a Star of David, or a passage from the Qu'ran, is "a way in" or another tool to "taste" the infinite. The ability to rest even a bit in the divine while navigating through our differences in the material world is an invaluable tool. We meditate or go to church or mosque, and we hope we can remember that sweetness when as we return to our scheduled lives.
Often we hear claims of yoga as a means to positively changing the world. What in your mind is the relationship between a yoga practice and greater social change?
There is no separation. We get quiet, we hear the call and then it's up to us to move into action and answer that call. Whether it's the story of Arjuna and Lord Shiva or the words and actions of Hannah Senesh or the unwavering bravery and inner intelligence of Malala Yousafzai. The goal is the same. Practice brings us closer to sva dharma (Sanskrit term for one's own role in the social and cosmic order) and collective dharma. Yoga is the path to self-realization, the road to waking up.
What are some of your ideas about, or hopes for, the future of service yoga in America in the next 10 years?
Yoga studios are but a small slice of where people could have access to this ancient knowledge. Bringing this rich tradition and the skills of self-awareness to less traditional venues helps the all of us function and thrive. Many faith traditions agree that none of us are free until all of us are free, so my hope is that more loving spaces will come about for people to feel free to be who they truly are. And with that sense of freedom, we can all continue to cultivate compassion toward one another.
Are you a yoga instructor giving back to underserved populations? E-mail Executive Director Rob Schware if you're interested in being interviewed for this series. And thanks for all that you do in the name of service!
Popular in the Community