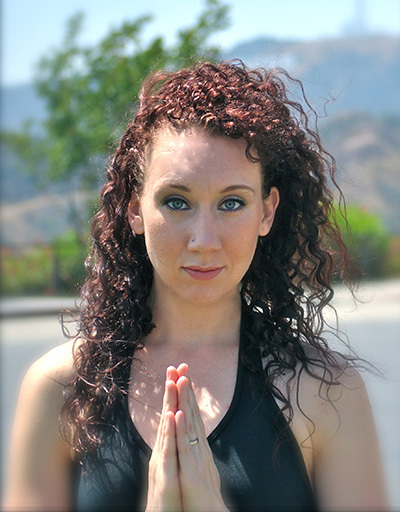 This is an interview with Olivia Kvitne, who started her service career in 2003 teaching low-cost private yoga sessions for people with disabilities who couldn't make it in to a studio (MS, high-risk pregnancy, etc.) in New York City. She also taught free yoga for her cast while dancing in the national tour of "The Producers." Now based in Los Angeles, she has created "Yoga for Heroes", free yoga workshops for vets, military, and first responders. Olivia donates proceeds from civilians to a veterans' organization. As a writer for two yoga publications, she has written articles for each of them about the science underlying yoga, how yoga affects and heals the nervous system, and why this is beneficial for veterans, military, and first responders. Olivia also teaches at the training center for the LA Fire Department.
Rob: What originally motivated you to do this work, and what continues to motivate you? How, if at all, has that motivation changed over time?
I've always been a patriotic person with so much admiration for service men and women and first responders. I wanted a way to serve my country in conjunction with a tangible offering to express my gratitude to real-life heroes. Both my grandfathers served in World War II; one of them was a Navy officer, and also a psychiatrist. He believed in the power of the mind to heal the body. That is my underlying motivation. It's not easy introducing yoga to anyone; there are common stereotypes and misconceptions. It is even more difficult to introduce yoga to this population, especially as a young woman with no military and combat experience. But when I see them being open to try, listening to what I have to say, learning something new, followed by a positive and healing experience, it keeps me motivated to continue to offer the benefits of yoga to a population that otherwise might be overlooked.
Is there a standout moment from your work with veterans and first responders?
Recently, a few veterans I taught in Iowa took their first yoga class with me. They tell me they continue to practice yoga, and describe the breakthroughs they are having. One of the vets said, "Olivia Kvitne is my hero!" That was huge for me.
What did you know about the population you are working with before you began teaching? What were some of the assumptions you had about this population, and how have those assumptions changed?
Through my training with Yoga Warriors International, as well as extensive interviews with veterans, and my own research, I know there is a broad spectrum of how PTSD can present itself. This population is trained to be tough, to show no weakness, and often those experiencing PTSD don't even seek help. Those who do may be placed on prescription drugs or in "talk therapy," and for many, these are either not helping, or giving them undesirable side effects. Some don't have PTSD at all.
My assumptions when giving my first workshop for veterans was that I was going to have to do a lot of convincing for them to even close their eyes and take a mindful breath. I prepared to have some chuckles, resistance, and everyone would want to get to the planks and chaturanga push ups. Surprisingly, everyone enjoyed the guided meditation during final relaxation more than anything else. I could tell their nervous systems were craving homeostasis.
What are two distinct ways that your teaching style differs from the way you might teach in a studio, and what are the reasons for these differences?
I approach all my yoga classes with a down-to-earth attitude, and especially so with vets and first responders. I try to approach these students from a "spiritual science" perspective: these guys (and gals) want proof. It's been shown through the recording of brain activity using an Electroencephalography (EEG), that yoga and meditation can shift brain wave activity, encouraging the increase of lower-frequency brain waves associated with the body's relaxation response. The students need to be able to relate to the practice, so they can experience that they are already yogis, and realize these concepts are not out of reach.
Most importantly, I am very careful about my use of language, and which poses we practice. I avoid words like "surrender" or "corpse pose." Instead, I will say "allow" or "deep relaxation." Opening up the throat, letting the chin tip back, and hands behind the back I also avoid, as to not trigger a memory.
What has been the greatest challenge in your teaching experience, and what tools have you developed for addressing that challenge?
The ego is difficult for most of us to overcome in our practice, and it's probably even worse for someone who is trained to be a hero. My approach is to remind them that it's not just about the pose, it's about observing our reaction and ego within the pose. The biggest challenge for me is convincing people that having the flexibility of an acrobat does not make a yogi. I see frustration when postures are difficult for someone, or when they are sweating a lot in a pose that looks so simple when I demonstrate it. Physical flexibility and strength are by-products, the practice is building mental and emotional flexibility and strength. I also might make a joke to lighten the mood; we can all find common ground in laughter.
What advice would you give to anyone who is going to teach in the population you work with?
Become trained in trauma-sensitive yoga classes. There are many affordable certifications. Don't try to force them in to your world, bring yourself to their world. If they are not ready for this kind of work, don't take it personally, just continue to offer it to those who are.
What are some of your ideas about, or hopes for the future of, service yoga in America in the next decade?
Yoga teachers have a very special and important job passing down these ancient principles and healing tools. I'd like to see hours of "service yoga" be required after going through teacher training, and I wish Yoga Alliance would require such hours every year thereafter. We all need reminders to work and teach from the heart of giving. If yoga is part of training systems for our military and first responders, and offered in every VA hospital, for example, teachers will have plenty of places they can contact to offer classes.
What other organizations do you admire?
Yoga Warriors International, Mindful yoga Therapy for Veterans, iRest, Yogafit for Warriors, Mindful resilience for Trauma Recovery are all great training systems for trauma-sensitive classes. I also love what Give Back Yoga, Veterands Yoga Project, YogaforVets.org, Operation Mindful Warrior and Honoring the Path of the Warrior are doing to make yoga and meditation accessible to vets. This yaer, Bhakti Fest offered free entry to vets and military.
Calling all HuffPost superfans!
Sign up for membership to become a founding member and help shape HuffPost's next chapter