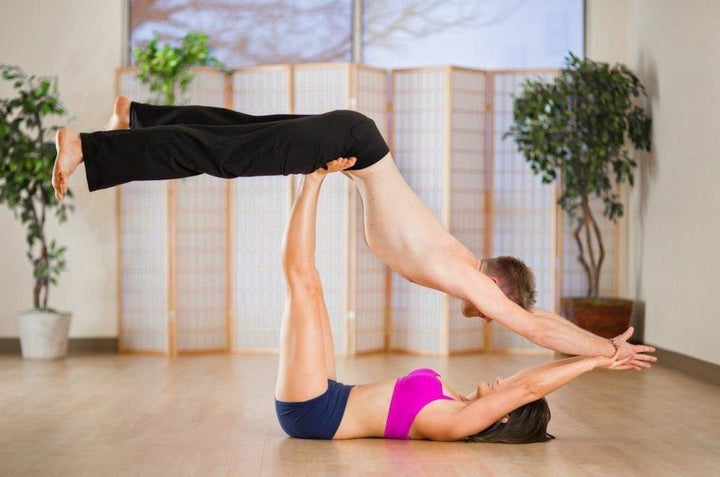 This kind of speed-dating focuses on slowing down.
A dozen single barefoot men and women wearing stretch pants and T-shirts are randomly paired up. They say their salutations, following by a shared sun salutation. Or they help each other stretch. Or attempt a balancing pose together. The bell jingles. The bodies rotate.
You could say partner yoga is the perfect mate for speed-dating, says Cliff Hoganson.
"The practice really prepares us for more honest engagement, to be more present with ourselves and our bodies," he says. "It feels like there's a lot more authentic connection that's possible in a community like that, as opposed to going to a bar to meet people."
The Denver man has attended a variety of different events organized by Colorado-based YogaDates. He has explored singles vinyasa, followed by mingling and healthy drinks; partner speed-dating; and even a couples' yoga class with another yogi he recently began dating. He didn't meet her through YogaDates, although the events have led to a couple of dates.
YogaDates started last January as a way to bring love and yoga together.
In honor of Valentine's, YogaDates is holding a couple's partner yoga event in Boulder on Friday -- a day after the actual day.
Partner yoga is similar to traditional yoga, but uses a partner to help deepen the stretches, build balance and support each other to maintain body alignment. It is not sexual.
"Experience how expressing love and compassion through non-verbal communication can be simple, honest and incredibly bonding," says a promotional flier.
Prevention magazine recently listed the event as one of the top five things to do in the nation in February.
Amy Baglan, of Denver, founded YogaDates initially as a way to bring singles together in a more conscious environment, she says. She had recently moved to Denver from New York City and was looking to connect with the yoga community here. Yet the classes she attended didn't seem set up for meeting new friends.
"It's weird because yoga is all about union and connection, but when people go to classes, they have their blinders on," Baglan says. "They get on their mat and don't talk to anyone. No one talks. It almost feels like you're not allowed to in a lot of environments -- especially in the opposite sex perspective."
At her events, people are encouraged to chat. After class, participants can "kick back, hang out and have a glass of wine or coconut water and have some snacks," Baglan says.
Some events are held at yoga centers, but she also has held events at Shine Restaurant and Gathering Place in Boulder and on the top of Table Mountain, followed by a family-style dinner at the Sherpa House in Golden.
"I think when it comes to the dating world ... it's frightening to put yourself out there and not know who might be on the receiving end of things," Baglan says. "A lot of people feel frustrated when they have a more conscious lifestyle, and I try to provide a safe space and an arena for those connections to happen organically."
The response has been overwhelming, Baglan says -- so much that she's set to open branches in other states. The demand led her to start offering couples events, not just for people who are newly dating through her events, but also for long-time lovers. She says all of her couples events quickly sell out.
"You put your hands where your heart is," she says. "There's a huge need to educate and demonstrate how touch can be used to show love and care and support."
Boulder yoga teacher and Thai Yoga massage therapist Yuki Tsuji-Hoening is teaching the Valentine's class.
"When you put two people on the mat, a lot of things can change," Tsuji-Hoening says. "You're going to be exploring it with other people, which not only involves the physical practice, but also involves how to be sensitive to each other, kind to each other and sensing each other's feelings without talking too much."
Visit yoga-dates.com for a list of more upcoming events.
What: Valentine's Couples Yoga: Intuition and Touch, organized by YogaDates
When: 6:30-8:30 p.m. Friday
Where: Solstice Center, 302 Pearl St., Boulder
Cost: $45 per couple in advance/$55 door
Bring: Yoga mat and pillow
(c)2013 the Daily Camera (Boulder, Colo.)
Distributed by MCT Information Services
Popular in the Community